By Amanda Barrow, M.A. candidate in Human Rights Studies at Columbia University
Which is more heavily regulated: the global trade of bananas or AK-47s?
In late June, activists led by Amnesty International (AI) highlighted a striking reality: there are more international regulations governing the export and import of bananas than there are on the trade of arms and ammunition. This is particularly problematic when considering the fact that the easy availability of weaponry—rather than, say, bananas—is what facilitates innumerable human rights abuses throughout the world. The indiscriminate transfer of arms undermines economic development, jeopardizes stability and security, and results in hundreds of thousands of deaths every year.
You need not look further than Syria, where repressive ruler President Assad has had his will enacted through the use of heavily armed, violent force. Describing Russia's continued arms sales to Syria in the midst of this crisis, U.S. Ambassador to the United Nations (UN) Susan Rice argued,"It is not technically a violation of international law since there's not an arms embargo, but it's reprehensible that arms would continue to flow to a regime that is using such horrific and disproportionate force against its own people."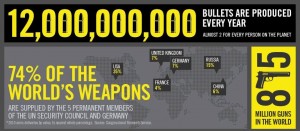 Of course, Ambassador Rice failed to address the fact that the United States is far from innocent when it comes to arming human rights abusers. Quite to the contrary, the United States is the world's largest conventional arms exporter, guilty of continuously supplying weapons to brutal governments. Tracing the various violent crowd control methods used against the peaceful protesters of the Arab revolutions, a recent AI report demonstrated that the U.S., Russia, and a handful of European countries supplied the majority of the weapons—ranging from sniper rifles to armored vehicles—that were used to terrorize citizens.
This should all resonate as quite duplicitous. After all, the U.S. was ardently vocal in its support for the protesters promoting democracy. Yet, it was simultaneously supplying governments with the tools to suppress these voices. Like the United States, the United Kingdom also engages in arms sales rife with hypocrisy. In 2010, the government issued its annual human rights report identifying 26 "Countries of Concern." However, in that same year, the UK approved arms exports to 16 of these countries, including Libya, Pakistan and Israel.
This is what the Arms Trade Treaty (ATT) was intended to remedy. The AI-led campaign in June aimed to affect the outcome of the United Nations Conference on the Arms Trade Treaty, held throughout the month of July.  Since 2003, civil society activists have called for a legally binding ATT to regulate transfers of conventional weapons and put an end to those deemed irresponsible. They imagined a treaty that would require governments to assess whether or not the weapons they were selling would be used to violate international humanitarian law or to commit human rights abuses. Under this framework, Russia's arm sales to Syria would be heavily scrutinized, if not forbidden.
The United States would also be forced to justify its decision to sell arms to the Democratic Republic of the Congo, where its weapons are continuously used to perpetrate gross violations of human rights, including mass scale rapes. According to a UN investigation of an early January 2011 incident, at least 47 women were subjected to sexual violence in the North Kivu province; several reported that the military fired their weapons to intimidate them before raping them. Devastatingly, this is not an isolated, extraordinary incident. As is increasingly recognized in the international community, sexual violence is often employed against civilians during armed conflict, with conventional arms often facilitating these acts.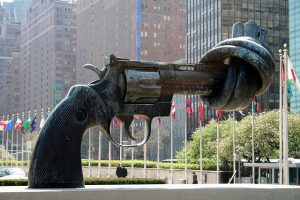 Friday, July 27th marked the end of the United Nations' unprecedented—and ultimately unfulfilled—opportunity to create an international Arms Trade Treaty. The 11-page treaty text, under which governments would agree not to export weapons that would be used to facilitate the commission of genocide, crimes against humanity, war crimes, and other crimes of international law, had to be unanimously approved. As a result of powerful opposition from countries like the United States, the conference ended in failure. The strength of the arms industry, the gun lobby, and the political calculations made by individuals who had the power to reduce human suffering are to blame for a truly disappointing outcome.
Yet, the UN has pledged to resume efforts to pass an arms trade treaty, and civil society organizations continue to work tirelessly to hold the body to its charter's arms regulation promise. With the help of Amnesty International, individual citizens can take action by showing their governments that the outcome of July's treaty negotiation conference was unacceptable. Until a new treaty is negotiated, bananas will be subject to more international regulation than the trade of military helicopters, battleships and conventional arms.
Amanda Barrow is a M.A. candidate in Human Rights Studies at Columbia University. She studies the intersection of gender and transitional justice.