We hope everybody's semester is getting off to a good start. It has obviously been a busy few weeks for human rights… The news from Burma last week of a ceasefire deal between the government and the Karen rebels and a declaration of amnesty for 651 Burmese political prisoners, 130 of whom were reconciled with their families on Friday, was a moment for celebration – even as we wait to see what it means more broadly for human rights in Burma.
In the US, on the other hand, the new year brought us the more concerning National Defense Authorization Act (NDAA), which signed into law the ability of the US government to indefinitely detain citizens. On the tenth anniversary of the opening of the US detention camp at Guantanamo Bay last week, hundreds of activists led a march to the White House to condemn Obama's betrayal of his promise to close the prison. Amnesty released this spoof video as a reminder of the mockery that Guantanamo continues to make of the US's commitment to human rights – entertaining, if it wasn't so scary.
[youtube]http://www.youtube.com/watch?v=uJPkILquXWo[/youtube]
And this morning the US and other English-speaking countries awoke to find a world without Wikipedia! The globe's biggest free encyclopedia, along with hundreds of other websites and blogs, are staging a 24 hour strike in protest against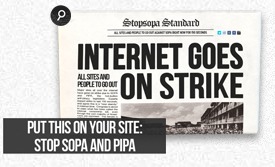 proposed legislation in the United States – the Stop Online Piracy Act (SOPA) and the PROTECT IP Act (PIPA) – that, if passed, would seriously damage freedom of expression and information on the Internet. Check back next week for a post exploring the human rights implications of these bills in more detail.
With so much going on, this semester will undoubtedly be packed with great events and speakers (you can check out what the ISHR has planned on their calendar). We really hope to capture what is happening around campus by including more write-ups on events and conferences, opinion pieces from students and interviews exploring a wide range of topics in-depth. However, we need YOUR involvement so we really encourage anybody who is interested in writing this semester to get in touch via the How to Contribute page!
Finally, be sure to check out our first great post of the semester tomorrow by Deborah Brown, Leo Nevas Human Rights Fellow at the UN Association-USA, exploring the implications of Libya's reinstatement to the Human Rights Council.