by Max Alles LL.M. '18
Each year, the Office of Social Justice Initiatives at Columbia Law School offers students the unique opportunity to participate in so called Spring-Break Caravans. These programs are organized and run by student organizations and are a great chance to gain practical experience in a particular area of law and contribute to society while fulfilling the mandatory CLS and New York State Bar Pro-Bono requirement.
I decided to spend my spring break at the Miami-Dade County Public Defender's Office. The program was organized by the Criminal Justice Action Network (CJAN), a student organization at Columbia Law School dedicated to careers in criminal justice. The number of participants is kept deliberately small to guarantee the maximum possible involvement and optimal support. We were three students from Columbia Law School, Andrew and Brendan, both JD 1Ls and myself, an LLM.
While public defense and, in general, criminal law, is not my primary area of expertise, looking back at this exciting week, I can say that it was an invaluable experience that gave me a better understanding of the US American criminal justice system and close insight into the daily work of a public defense attorney. Without reservation, I can recommend this experience: apply, get involved, and see it yourself!
Our first day started with a breakfast at the Public Defender's office where we had the opportunity to get to know the Public Defender of Miami-Dade County, Carlos J. Martinez. Carlos took office in 2009 and was re-elected in 2012 and 2016. He is now running the Public Defender's Office with nearly 200 attorneys. At the introduction session we also got to know newly hired attorneys — who were having their first day at the office– and witness how they received their appointment certificates.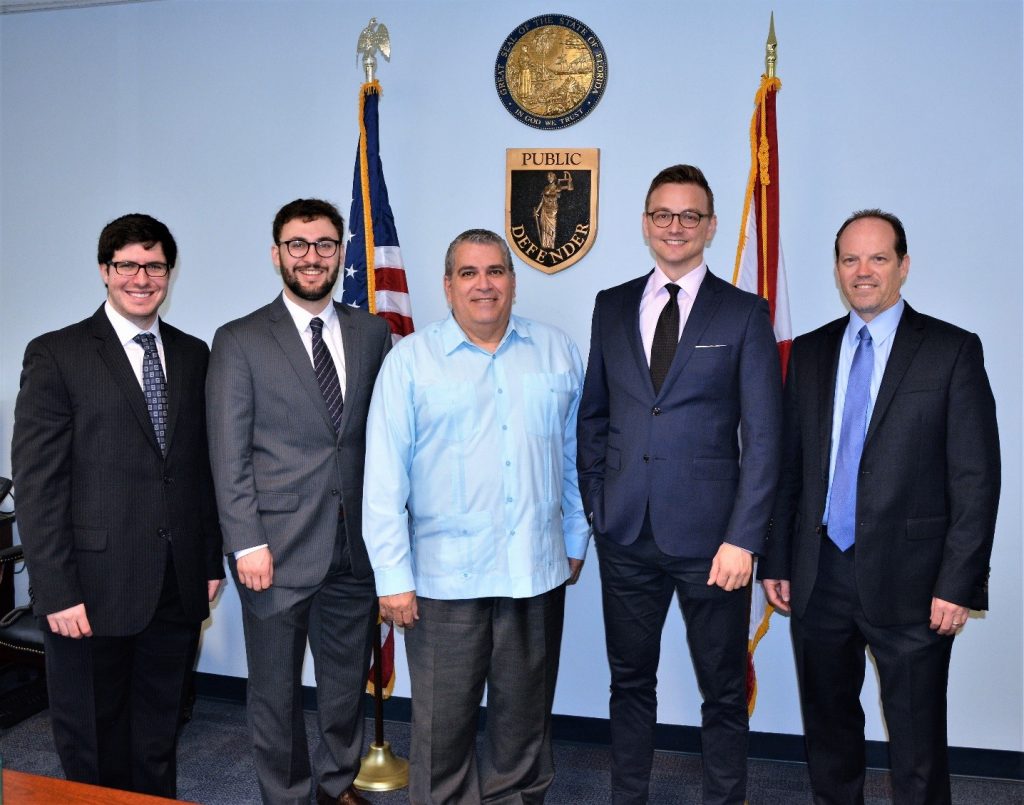 After meeting the attorneys, we were given our research project for the week. Although we cannot go into specific details, the three of us worked on a legal research assignment digging into the case history of a possible argument that some public defenders are planning on using in the future.
Our contact person was Kevin Hellmann, Director of Training and Professionalism and an experienced public defense attorney. He took us to court-hearings, explained the different stages of a criminal proceeding and the practical implications specifically relevant for a defense attorney.
As a German trained lawyer, it was particularly interesting to hear about the differences between the German and US American Criminal Justice system and to experience them in court; we attended a jury selection, heard opening and closing statements in an armed robbery case, and were even able to see a witness cross-examination in a murder trial.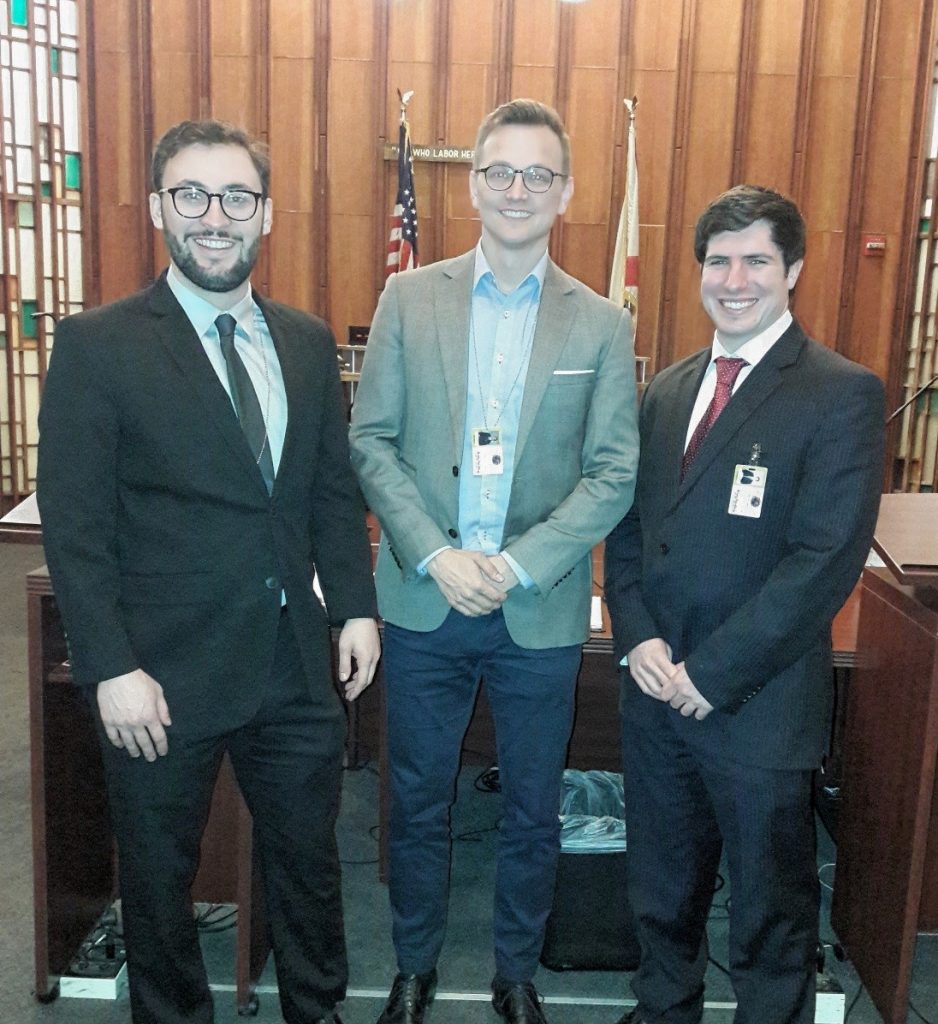 I was positively surprised by the relatively young team of attorneys and the level of sovereignty and self-confidence with which they presented opening statements, cross-examined witnesses and selected the jury for trials. It was not surprising to learn that the Public Defender's Office puts a particular emphasis on the training of its attorneys to ensure effective assistance and that they meet the professional obligation of competent and diligent representation.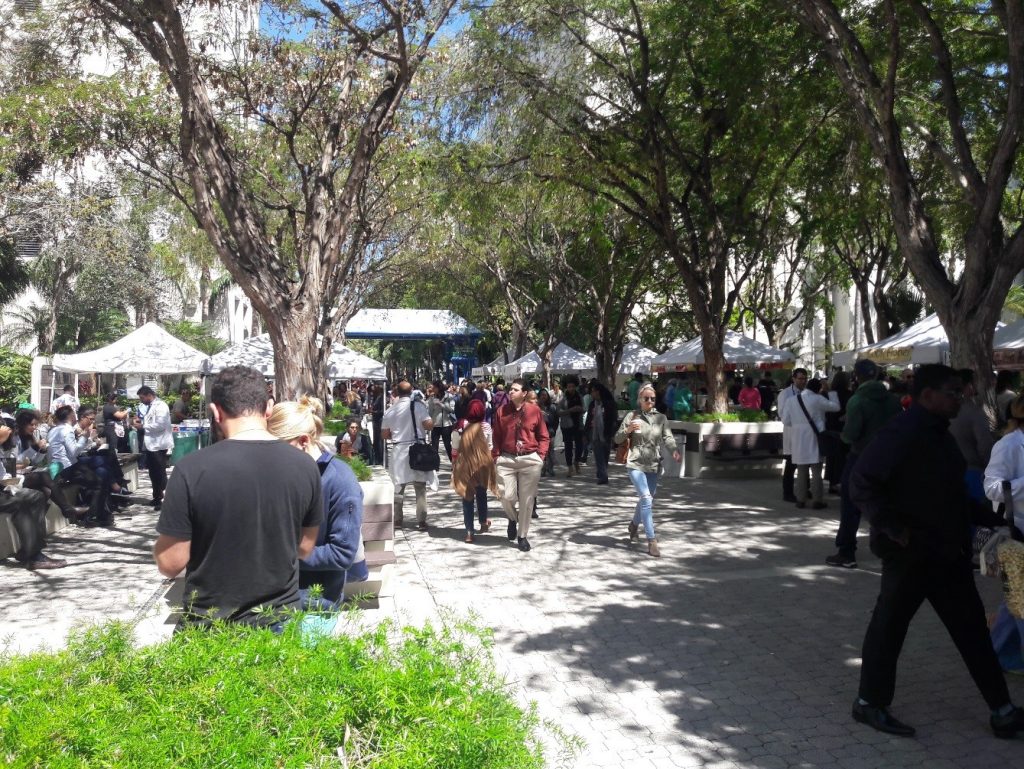 With this caravan, you can expect a high level of involvement in the daily work and first-hand experience with defense attorneys. If you are interested, you will also be able to accompany one of the attorneys to a meeting, advising their clients in jail. The office has a family atmosphere and the people are very supportive. Apart from giving something back to society, gaining practical experience and learning about the criminal justice system, you will also have a lot of fun during this week.

In summary, this week was definitely one of the most valuable experiences during my time at Columbia Law School, which is why I would like to encourage students to get involved in pro bono work and also to try out new things!

Max, Andrew and Brendan
Max is an LL.M. student from Germany. He earned his first law degree as well as his PhD in Germany. Before he came to Columbia Law School, he practiced corporate law at Latham & Watkins and Freshfields Bruckhaus Deringer in Munich.