by Tianyu Sun, '21 LL.M.
Hello from Shanghai, China!
My name is Tianyu Sun. I am an LL.M. candidate at Columbia Law School and I am taking the fall semester remotely from Shanghai.
I have prepared for the LL.M. program for a long time. Since my first child, Xiaobei, was born in 2017, I began to plan to take him with me for an adventure in the U.S. oneday. When I received Columbia Law School's offer at the end of 2019, it was literally like a dream came true. I was so looking forward to the year of 2020; it would be amazing!
The dream began to crack after the outbreak of Covid-19. I still remember in the first half of 2020, I lived in anxiety and diminishing hope every day. In July, I was so torn between the choices: should I choose the January option, should I defer to next fall, or should I wait for another 2-3 years? This felt like my last chance to go back to campus life again, and the last thing I expected was to experience that virtually. It was such a difficult choice, but somehow I stuck to the original plan and started my courses online in September. 
On the first day of Orientation, I dressed up formally, put on some make-up and sat in front of an iPad screen, wearing my high heels that no one could see on Zoom.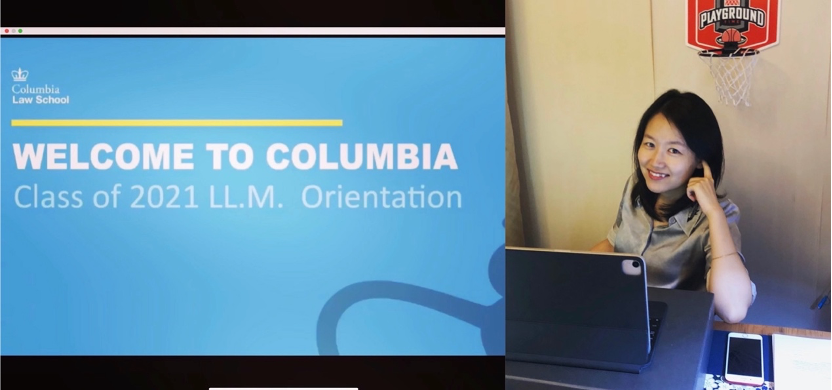 The first month was super challenging for me, especially the first week during which we had very intensive courses. Even though I barely had leisure time, besides that for eating and sleeping, I still could not finish the readings sometimes. It became better after the first week, but by the end of September, I felt very lonely: the courses were intellectually challenging and fascinating, but I was stuck in a corner of my living room day and night, hundreds of thousands of miles away from the community I belonged to, with a 12-hour time difference from my professors, faculty, and most of my classmates.
However, Columbia managed to bring the campus (or part of it) to China, to Shanghai, to me!
I was one of the first students to use the Columbia Study Space in the Shanghai WeWork. The place is gorgeous! It is located in downtown Shanghai and is only 20 minutes away by taxi from my home. I went frequently and watched more and more Columbia students join. The space is open 24-7 exclusively for Columbia students, so students felt free to come in in late afternoon and spend the nighttime taking zoom classes, discussing with classmates and completing their assignments.
I have made several friends in Columbia Space. I now know another Tianyu who is an MBA candidate in Columbia Business School. I know YinQi, a 1L JD student– we discuss Professor Kraus' classes. I feel very safe within the Columbia Space. It is like a giant Columbia bubble floating right in the center of Shanghai.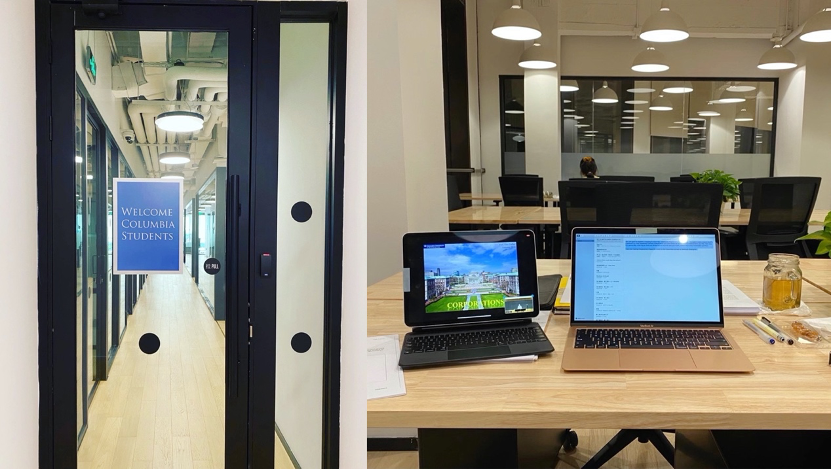 On a Friday afternoon, I was alone studying for Professor Ponsa-Kraus' Constitution Introduction class in a small room in the Columbia Space, and somehow I was touched by the class and the surroundings deeply. I felt that although I have never been to the New York Columbia campus, I arrived there in another way. I organized some students studying in the Columbia Space to take some photos for Columbia Global Centers and they got published in the newsletter a week later.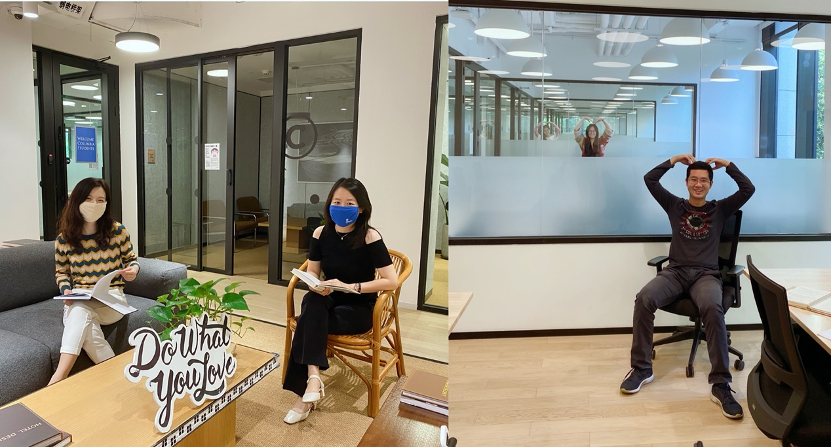 In October, I participated in several Columbia online activities, including the "Low Memorial Library origami challenge" for Columbia Giving Day" and "Postcards from…". The events make me socially connected to the Columbia community and an active member of Columbia's virtual world. The pandemic is really frustrating, but we still can be connected through technology and engagement. This semester and even the entire academic year is challenging for us, but we can still be there for each other.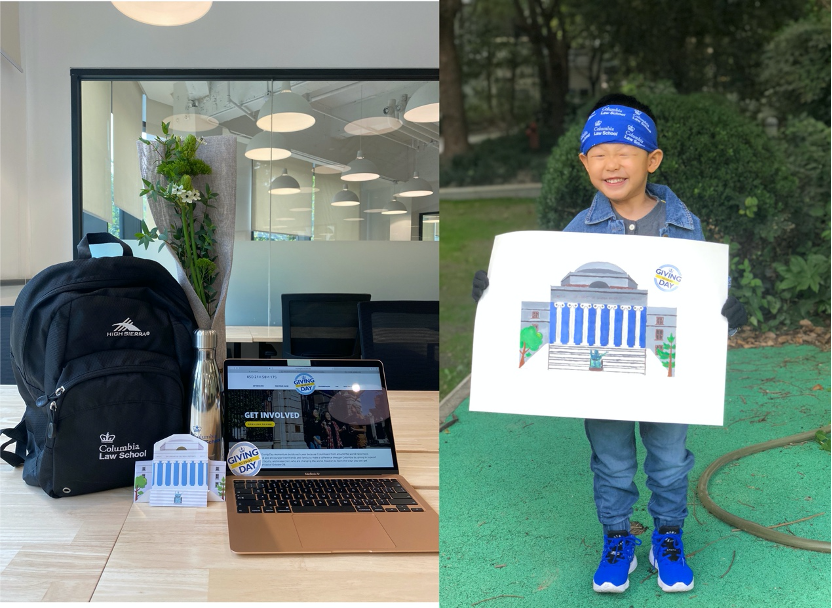 At last, I would like to quote a guest speaker from Professor Talley's Corporations: "Make the best use of this year and know better times are ahead!" And also Professor Kraus' words in his last IAL class of Fall 2020: "I hope we have a chance to meet in person someday. We will have a big party!"
Take care! We will have a BIG party someday!