We asked the Class of 2018 to nominate their peers — whether inspirational leaders in the classroom or a student group,  activists or artists around New York City, or simply great friends and pizza companions — to share what they've learned over the course of their LL.M. year. The result, the Lessons from the LL.M. series.
In Anand's nomination, a student wrote, "I have no doubt that [Anand] knows more about practicing law and life in general than most folks here. For these reasons, I would love to hear his thoughts regarding his LL.M. year."  Here are some of those thoughts:
Name: Anand Srivastava
Hometown: New Delhi, India
Pre-LL.M.: I am an equity partner at Link Legal India Law Services and have been practicing for over 17 years in India. I played a key role in the setting up and progress of Link Legal with over 35 partners and 180 lawyers across six offices in Mumbai, New Delhi, Hyderabad, Bangalore, Chennai and Gurgaon.
What's next?: I will be spending time in New York until January 2019 and will try and gain some work experience here. Thereafter, I intend to return to India and hopefully, make effective contributions to the legal profession in my country.
Three things you learned during your LL.M. Year:
1) Learning to step outside your comfort zone to maximise learning:
I have never practised or been associated with mediation in any way whatsoever. Given my keen interest in dispute resolution methods, I applied for "The Mediation Clinic program" and after a few hiccups and almost being rejected, was extremely lucky to be one of the 12 students at the clinic. The Mediation Clinic is a great program where I learnt life skills of conflict management.

I was the weakest student in the class since mediation — as opposed to contentious practice– is about self determination, and the mediator is supposed to be neutral and impartial. My reliance on facts as a trained lawyer was my biggest bane and I initially had difficulties identifying or hearing for feelings. Nonetheless, with persistent efforts from Prof. Alexandra Carter and Prof. Shawn Watts, I learnt the mediation skills satisfactorily and qualified as a trained mediator with the New York Peace Institute.

During the course of the clinic and under the guidance of Prof. Carter and Prof. Watts, I did extensive comparative study of mediator's skills in India and US and also prepared the training module for qualifying mediators for High Court of Delhi in the Fall term.

Our work was recognised and the High Court of Delhi has invited the Columbia Mediation Clinic to conduct an advanced Mediation Workshop for its mediators on skills training.

A team of Prof Carter and Prof. Watts together with 4 students delivered a workshop at New Delhi from April 13 to 15, 2018. The workshop would be presided over by the Hon'ble Chief Justice and 8 other justices from the Hon'ble High Court of Delhi. We also had the opportunity of meeting with Hon'ble Mr. Justice Madan B. Lokur of the Hon'ble Supreme Court of India and discussed ways in which Columbia University could contribute to India's learnings on mediation. The collaboration of learning with India is emerging as a result of these efforts.

During the course of the mediation clinic, I also was fortunate to deliver workshops at United World College at New Mexico and also at the United Nations at New York.

I also made friends for life and enjoyed working with J.D students. Working with younger minds gave me a great insight and a window into the present concerns and lifestyles of young lawyers. This experience was indeed very informative and I guess would place me better when I return to practice and enable me to empathise and lead a younger team, much much better. 
2) Manage rejection – every failure is an opportunity:
Even though I have worked for 17 years and created an organisation which is successful, I had forgotten how to manage rejection. I was almost rejected for the Mediation Clinic and also rejected for most of the courses I applied for during the spring term, since there is a very unforgiving add-drop system at Columbia University.

Nonetheless, these rejections prompted me to try new courses and I landed myself, after a selection process, a seat in the Leadership Class.

The Leadership Class turned out to be an opportunity in disguise. It is rare that any of us when we are practising would have the time, energy or inclination to focus on a formal course of 15 weeks on leadership (since most of us who have practised would appreciate that, even if we try our best, we are able to only do a week's learning and often do not get any opportunity to take exercises and practice our skills). The leadership course I thought would provide me with this missing opportunity. I applied to the course to undergo formal training on leadership and also to upskill myself with quality life skills. My expectations were more than satisfied.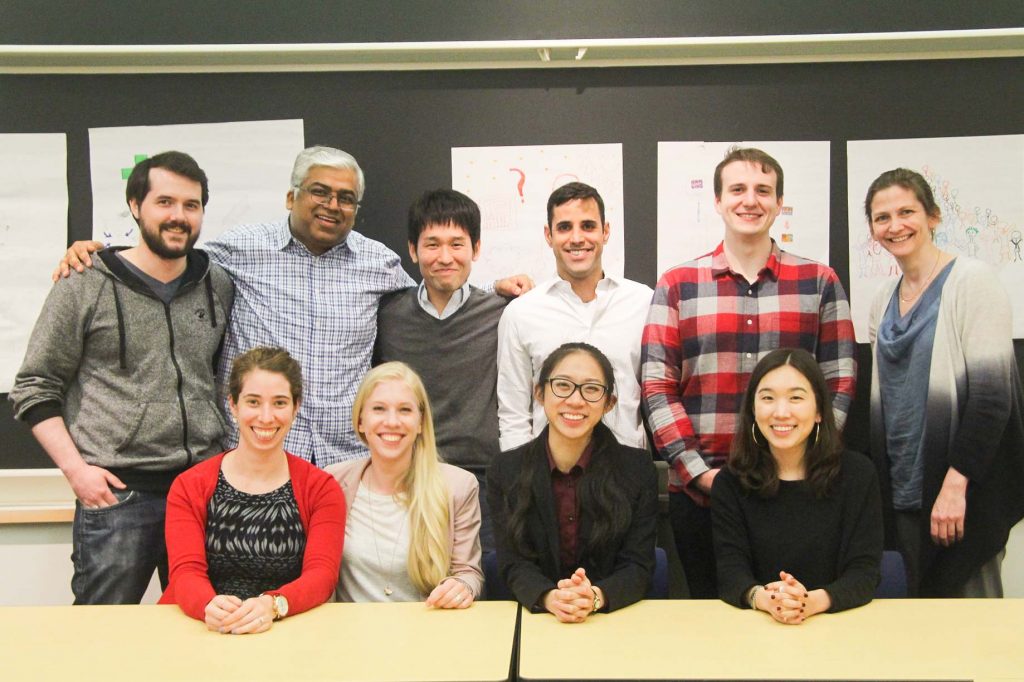 3) Extra-Curricular activities – learning to partner and collaborate:
I also was a Co-Chair of the Columbia Arbitration Day and had the unique opportunity to learn the aspects of organising an event and working very closely at the grass root level with JD students and LL.M. students who were at least 10 years younger than me in experience terms. I was indeed surprised at how different the organisation aspects of a conference had become as compared to early 2000's when I had last done these activities. Sharing my experience with my co-chairs at the Columbia Arbitration Day and also participating in equal measure with each of them, enabled me to also polish my organisational skills and learn to play on a team as opposed to being the single point decision maker in the previous role.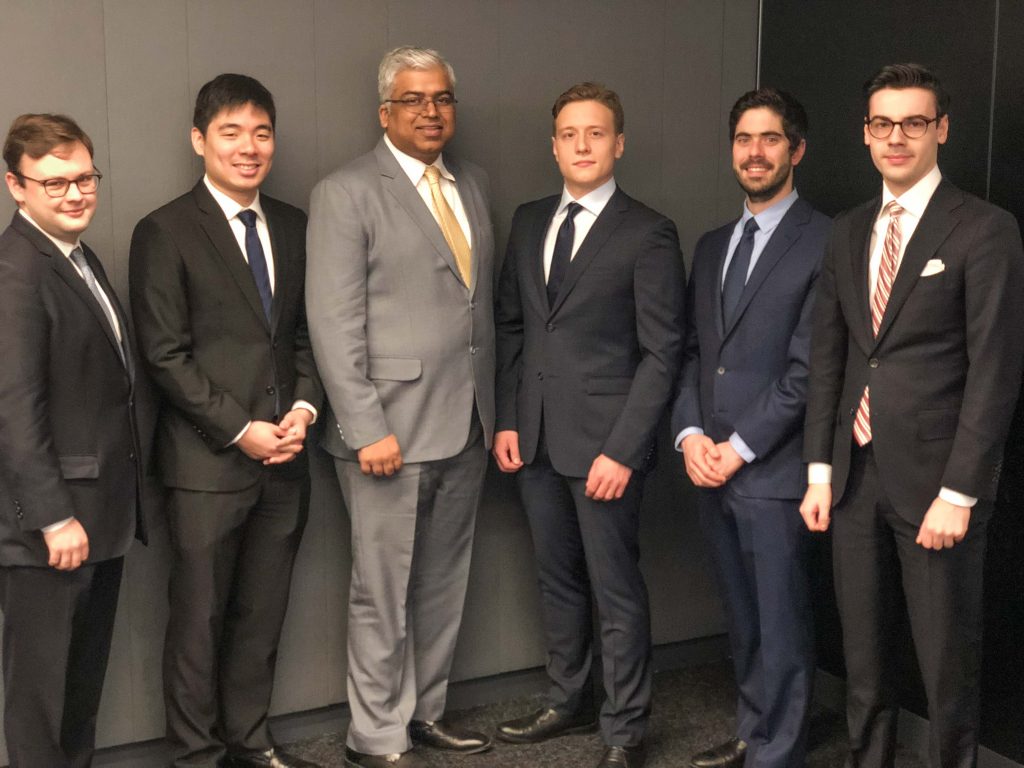 New York Moment: I came to New York with my wife and both sons. My wife is also studying (earning her M.S. –Sustainability Management– from Columbia University) and the boys were attending school in Battery Park. We enjoyed different entertainment opportunities at New York and also the food diversity that the city has to offer.

Besides, New York is a great city for family time with abundant opportunities for every interest. My sons participated and won several sports awards in table tennis, squash, golf and swimming. My younger son took part in two performances at Broadway shows as a choir member. New York has place for everyone's pursuit of interest.
Favorite Class: My favourite class was the Mediation Clinic. It is a very friendly environment where Professors Alexandra Carter and Shawn Watts have cultivated a culture distinct from the classroom environment. There is a feeling of progressive excellence and it is "okay to try and fail". Everyone helps everyone and the culture is collective and very collegiate. This is unlike other courses I attended where there is hardly any collaboration between students.

I also learnt communication, negotiation and conflict management skills. Besides, the Mediation Clinic offered me an opportunity to make a significant contribution to the standards of mediation in my own country and the Professors encouraged me with quick decision making and guidance for undertaking a workshop in India.