by Klaus Pateter LLM '18 and Rémy Bonnaffe LL.M. '18
One of the requirements for prospective LL.M. students at Columbia Law School is to have at least one year of work experience. Both of us worked in law firms prior to the LL.M.: Klaus at Held Berdnik Astner in Graz, Austria and Rémy at Freshfields Bruckhaus Deringer in Brussels, Belgium. As a result, we already had some understanding of the knowledge and skills that are important in order to succeed in a more and more globalized legal services industry. One trend that both of us had identified is the increasing importance of legal technology, or just "legal tech," a term referring to the use of technology and software to provide legal services.
The advancements made in the tech-industry, such as artificial intelligence, as well as the continuation of the more-for-less challenge (meaning that clients need more legal services for lower prices), has resulted in many actors in the legal services industry investing time and money to better understand legal tech and how it can provide a competitive advantage to them. One of the most promising applications of legal tech, for instance, is the use of AI and machine learning to help lawyers perform due diligence and e-discovery tasks more efficiently. For example, some months ago Davis Polk and Latham & Watkins, two top-tier US law firms, announced the adoption of Kira, a software that automatically scans and labels agreements and provisions in the context of contract review.
When our LL.M. year at Columbia Law School started, we both were committed to using the time to further strengthen our understanding of legal tech and to connect with faculty members, fellow students and other professionals who shared familiar interests. However, we noticed quickly that there was no strong platform at Columbia Law School that enabled this mission. While the Law School had numerous well established and interesting student organizations, such as the Columbia Business and Law Association, there existed no organization focused on legal technology.
As a result, we decided to establish a new student organization with the aim to centralize and develop education, community and innovation in the field of legal technology. Following countless conversations with our peers, we realized that there was a large body of students who were very keen to learn more about legal tech. We then reached out to the Columbia Law School Student Senate, which is the student body's representation towards the Law School faculty, and started preparing our application to be recognized as a student association. This recognition is crucial, as it allows the association to use the Law School's resources and to easily reach out to all students using a law school-wide e-mail account.
We drafted the association's bylaws, mission statement, and circulated surveys to all students through the Facebook groups for LL.M. and J.D. students to gauge their interest in joining the association. We were positively surprised by the amount of interest we received through the survey. Around 130 students joined our organization, of which around 25 students wanted to be actively involved. We filed our recognition application to the Student Senate and at the end of the Fall semester, the association was born: the Columbia Law School Legal Technology Association, also known as "CLS Legal Tech." At the time of writing, we have approx. 160 members.


The purpose of CLS Legal Tech is to centralize and develop education, community and innovation in the field of legal technology and to promote, encourage and assist Columbia Law Students in their pursuit of careers in law using or creating legal technology. CLS Legal Tech aims for its members to gain exposure to the broad scope of available legal technology, empowering the practices of all areas of law. CLS Legal Tech achieves this mission by hosting lunch talks, panel discussions, workshops and field trips in relation to various areas of legal technology. In addition, CLS Legal Tech conducts research in collaboration with legal tech initiatives and develops projects in order to help students to realize their legal tech projects and to create solutions using legal tech.
So far, we have already had numerous successful events. For our first lunch talk, we hosted two co-founders of Evisort, a legal tech startup founded by two Harvard Law J.D. students (during their studies) that harnesses AI to better manage contracts and other documents. The lunch lecture was particularly engaging, not only because it gave the attendants insights into how technology can enhance the practice of law, but also because it was interesting to learn how two law students founded their company. Another lunch talk we organized was a panel with four resident professors of Columbia Law School: Eric Talley, Katharina Pistor, Kathryn Judge and Joshua Mitts. The panel was interesting to learn how legal tech can be used in an academic context as well. Professor Joshua Mitts, for example, has used machine learning to write a paper on the three real justification for piercing the corporate veil. Other events have included lunch talks with Josh Becker, CEO of Lex Machina and Ron Dolin, Lecturer at the Harvard Law School.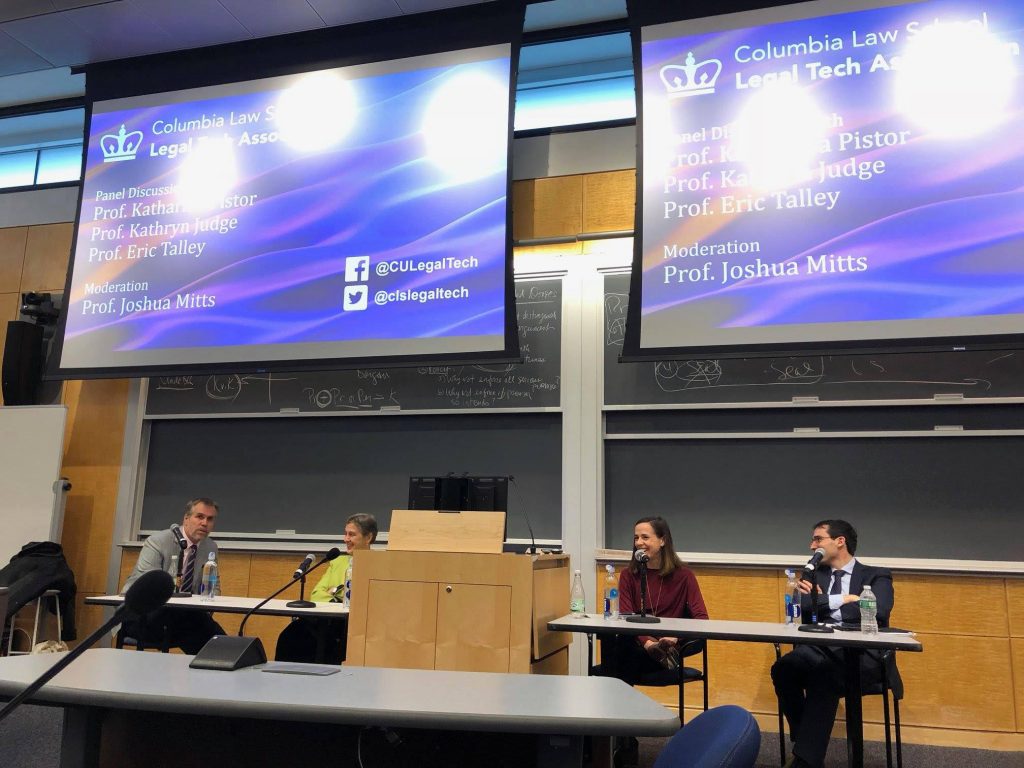 In addition, we have a number of other initiatives in the pipeline, which we believe will prove to be very useful for Columbia Law students. In the second half of March, we are hosting a lunch panel with representatives of established law firms on how they are using legal tech to better service their clients. The panelists include representatives from Hogan Lovells, Davis Wright Tremain and Orrick. Another project which is in the pipeline is to offer law students the opportunity to work on pro bono projects by conducting research and helping legal tech companies reach people who are in need of legal services. Access to justice is a critical issue in the U.S., and legal tech is an important tool to help increase this access. Since most law students at Columbia have a busy schedule, it is very helpful that their work in this context counts towards pro bono credits.
Summing up, we believe that the establishment of the CLS Legal Tech Association has had a very positive impact. More and more students have been able to learn about the topic, which has increased their overall interest in legal tech and in turn signaled that it is an area in which they would like to be more educated. It was perfect timing that in January, Columbia Law School launched a pilot project offering one week "J-Term" classes. One of the classes was "Data and Predictive Coding for Lawyers," for which we both enrolled. The class was very successful and taught students from a technical perspective how machine learning works and how it can be used in a legal context. In addition to this great innovation, CLS Legal Tech now functions as a platform for students and faculty members to come together and share ideas and expertise on legal technology. This will be invaluable, as legal technology will become even more important and law schools will increasingly aim to include legal tech offerings in their programs, both for J.D.s and LL.M.s.
On a personal level, establishing CLS Legal Tech has been an incredible experience and opportunity to connect with fellow students and faculty members of the Law School. We could not have met so many interesting professionals without having established the association. As a result, it is one of the most valuable activities we have pursued while being enrolled in the LL.M. Program at Columbia Law School, which is why we encourage all LL.M. students to actively participate in student organizations activities and keep a look out for opportunities.
Klaus & Rémy
Klaus is an LL.M. student from Austria. He earned his first degree in law as well as his doctoral degree in law from the University of Graz. Before he came to Columbia Law School, he practiced corporate law and IP/IT law at Held Berdnik Astner in Graz and Vienna.
Rémy is an LL.M. student from Belgium who earned his first law degree at Ghent University. Before he came to Columbia Law School, Rémy practiced corporate law at Freshfields Bruckhaus Deringer and was a member of the firm's Associate Innovation Group.