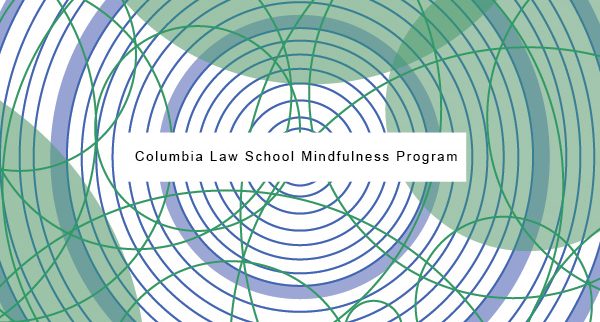 Being very into meditation, I see the Columbia Law School Mindfulness Program as the icing on the cake of my LLM experience.
I have been attending the CLS-wide mindfulness meditation sessions since the beginning of classes in September, and each week I get surprised with the increasing number of participants. Every Wednesday at Case Lounge in the main Law School building, students, staff and members of the faculty come together to practice meditation guided by experienced instructors (one of whom is a student like us, a 3L with an extensive background as a yoga and meditation teacher).
The weekly sittings usually start with a short mindfulness meditation followed by lunch, during which we engage in an open discussion about the benefits and challenges of mindfulness practices. It is a great chance to interact with peers, professors and staff in a different and more intimate way, helping to forge a sense of community in the Law School setting.
As part of the Mindfulness Program, last weekend we had the first day-long silent retreat at the Law School. For a whole day (10 a.m. to 5 p.m.), students, professors and staff members had the chance to go deeper in the practice of awareness. We experienced the benefits of doing different meditations and mindfulness practices, including the practice of silence. The invitation to stay away from our phones and other electrical devices for a period of time and to engage in a deeper reflection turned out to be surprisingly powerful. Personally, I was struck by the fact that an on campus retreat really helped me to take a break from my studies and from the intensity of NYC, and at the same time, that it strengthened this community that has been growing more and more overtime.
Rafael is an LL.M. student from Rio de Janeiro, Brazil, who has practiced as a state attorney for seven years.