Expertise From Margin to Center — Science, Politics and Democracy
April 14th and 15th, 2016
Columbia University, Sociology Department, Knox Hall
Conference Schedule
Thursday, April 14th
8:30am: Registration
8:45am: Opening Remarks by Diane Vaughan (Columbia University)
9am-10:30am: Panel 1- Space, Organization, Knowledge
Faculty Discussant: Diane Vaughan (Columbia University)
Moderator: Ryan Hagen (Columbia University)
David Reinecke (Princeton University, Sociology)
"When Funding Fails: Planetary exploration at NASA in an Age of Austerity, 1967-1981"
Robert Corban (Columbia University, History)
"Decentered Calculation: Knowledge, Place and the "Wandering Professors" of Italian Agriculture, 1885-1935"
Kevin Block (UC Berkeley, Rhetoric)
"Built on Books: The Avery Library and the Formation of American Architectural Expertise at Columbia University"
Pauline Lewis (UCLA, History)
"The Ottoman Empire and the International Telegraph Union: Performing Equality through Practicing Expertise"
11 am-12:30 pm: Panel 2- Global and Local Knowledge
Faculty Discussant: Gil Eyal (Columbia University)
Moderator: Abigail Coplin (Columbia University)
Susana Muniz (SUNY-Albany, Sociology)
"How many experts are too many? When the obsession with experts, evaluation, and obtaining results leads to failure"
Margarita Rayzberg (Northwestern University, Sociology)
"Fairness in the Field: How Practitioners of Randomized Controlled Field Experiments Manage Randomized Resource Allocation"
Gozde Guran (Princeton University, Sociology)
"Architects of Economic Reform: Building Syria's Social Market Economy"
Anna Hanson (Northwestern University, Sociology)
"The Securitization of Finance: New Alliances and Expertise in the Age of Terror"
1:30pm-  3pm: Panel 3- Governance and Social Movements
Faculty Discussant: Gianpaolo Baiocchi (NYU)
Moderator: Adam Obeng (Columbia University)
Florencia Arancibia (Stony Brook University, Sociology)
"Challenging the Safety of Glyphosate-based Pesticides in Argentina: Social Movements and Expertise"
Abigail Coplin (Columbia University, Sociology)
"The Limits of Politicized Science: Scientists and the State During China's GMO controversy"
Geneva Smith (University of New Mexico, Anthropology)
"Look North": Conspiracy, Expertise, and the "Soyazacion" of Argentina
Rosalind Donald (Columbia University, Communications)
"Indigenous Climate Change Activism: A genealogical approach to understanding green governmentality, conduct and counter-conduct"
3:30pm-  5pm: Panel 4 – Law, Regulation, and the Emergence of States in Historical Context
Faculty Discussant: Sheila Jasanoff (Harvard University)
Moderator: Joan Robinson (Columbia University)
Shira Shmu'ely (MIT, History, Anthropology and STS)
"Experts for Pain: Nineteenth-Century Boundary Work of Physiologists and Regulators"
Pierre-Christian Fink (Columbia University, Sociology)
"Ideologies and Governmentalities: How Shifting Alliances Laid the Cornerstone of the Continental Welfare State"
Gil Rothschild (UC Berkeley, Jurisprudence and Social Policy)
"Knowledge of Punishing: a Sociological Inquiry of Sentencing Expertise"
Steve Server (University of Chicago, Conceptual and Historical Studies of Science)
"Sanitary Juggernaut or Jalopy?: Public Health in Mexico During Cadernismo (1934-1940)"
5pm: Keynote Speaker Sheila Jasanoff (Harvard University)
Friday, April 15th
9am-10:30am: Panel 5- The Politics of Numbers
Faculty Discussant: William Deringer (MIT)
Moderator: Luciana de Souza Leão (Columbia University)
Zachary Griffen (UCLA, Sociology)
"Seeing Like a Firm: Economic Expertise from the "Education Production Function" to "Value Added Models"
Kouross Esmaeli (NYU, Media, Culture and Communications)
'Who's the Teacher Here? … Or… EdTech in the Age of School Reform"
Shreeharsh Kelkar (MIT, History, Anthropology and STS)
'Reconfiguring Educational Expertise: MOOCs, Computer Science, and the Study of Learning"
Ryan Hagen (Columbia University, Sociology)
'Acts of God, Man and System: Knowledge, Technology, and the Construction of Disaster'
11am-12:30 pm: Panel 6 – Doctors, Race and Marginality
Faculty Discussant: Ruha Benjamin (Princeton University)
Moderator: Anthony Ureña (Columbia University)
Eram Alan (University of Pennsylvania, History and Sociology of Science)
"First Contact: Foreign Medical Graduates Negotiate Expertise"
Alka Menon (Northwestern University, Sociology)
"Evaluating Expertise: How to Judge a Cosmetic Surgeon"
Sarah Brothers (Yale University, Sociology)
"A Good Hit Doctor is Hard to Find: Affective Construction of Expertise in Injection Drug User Assisted Injection Interactions"
Joan Robinson (Columbia University, Sociology)
'Bringing the Pregnancy Test Home from the Hospital"
1:30pm- 3 pm: Panel 7 – Body Knowledge
Faculty Discussant: Alondra Nelson (Columbia University)
Moderator: Adrianna Bagnall (Columbia University)
Cara Rock-Singer (Columbia University, Religion)
"Our Bodies, Our Judaism"
Madeleine Pape (University of Wisconsin-Madison, Sociology)
"Experts of "Fair Play": Contesting the Science of Sex Difference Before the Court of Arbitration for Sport"
Savina Balasubramanian (Northwestern University, Sociology)
"Communicating Contraception: Communication Scientists and the Politics of Population Control and International Development, c. 1951-1980"
3:30pm – 5 pm: Panel 8 – Interpretation of Evidence Using Technology in Biomedicine
Faculty Discussant: Stefan Timmermans (UCLA)
Moderator: Joan Robinson (Columbia University)
Andrew Hoffman (McGill University, Social Studies of Science)
"Pragmatic styles of laboratory involvement: Valuing engagement between and beyond expertise"
Kellie Owens (Northwestern University, Sociology)
"A Security Blanket or a False Idol?: Entanglements of Technology and Expertise in American Childbirth"
Claire Maiers (University of Virginia, Sociology)
"Interpreting Predictions: Reading Signs in the NICU"
Moran Levy (Columbia University, Sociology)
"Trial and Error: How The Search for Cancer Therapies Shaped Cancer Diagnosis"
5pm: Keynote Speaker Stefan Timmermans (UCLA)
6pm: Closing Remarks by Alondra Nelson (Columbia University)

***
Conference Poster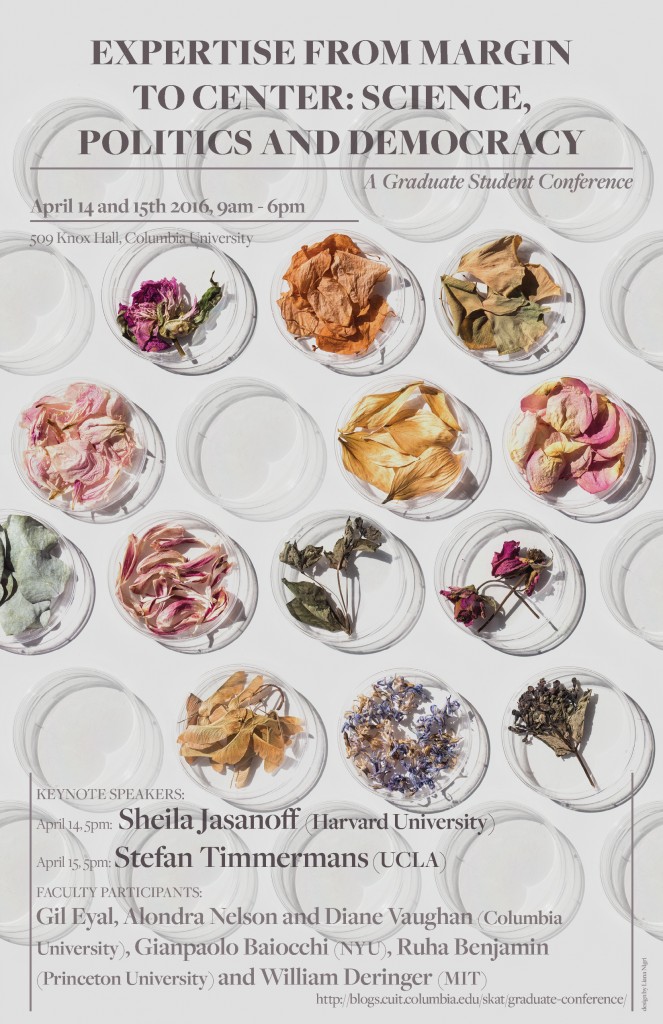 ***
Call for Papers:
Expertise from Margin to Center:
Science, Politics, and Democracy
A Graduate Student Conference
April 14-15, 2016, Columbia University
Abstracts Due January 29, 2016
Keynote Speakers:
Sheila Jasanoff (Harvard University), Stefan Timmermans (UCLA)
Faculty Participants:
Gil Eyal, Alondra Nelson, and Diane Vaughan (Columbia University)
It is a pleasure to invite you to the Graduate Student Conference "Expertise from Margin to Center: Science, Politics, and Democracy." The conference is organized by graduate students from the Columbia University Department of Sociology, with support from the Center of Science and Society, and will take place at Columbia University in the City of New York, on April 14th and 15th, 2016. The conference aims to strengthen STS scholarship by promoting research and network building among early career scholars, and participation is open to all graduate students.
The conference will be centered on the topic of expertise, as a concept designating the interface between the political and scientific orders, and its relation to processes informing social inequalities, such as gender, race, and class politics. We encourage contributions on the broad thematic of expertise from graduate students in all disciplines. Exemplary themes for papers include but are not limited to:
Origins of Expertise:

What are the historical origins of modern forms of expertise? In what contexts do experts emerge? How are knowledge and practice of expertise constructed and legitimated? How can we explain the contemporary significance of experts in realms such as law and policy making?

Democracy, Expertise and Power:

How are experts and stakeholders able to craft effective interventions in public affairs? How can we reconcile expertise and democracy? How is expertise manifested in credibility, control of material resources, network position, and/or ability to make a fact a fact?

Technology, Tools and Expert Tasks:

What relationships develop between experts and their tools? In what contexts do technologies reinforce expertise, and in what contexts do they threaten to replace experts?

Contesting Expertise:

How do individuals and groups contest expertise and with what long-term consequences for the interface between science and politics? Which marginalized individuals and groups have acquired the role or status of experts and how have they done so?  
The deadline to submit extended abstracts is January 29th, 2016. Abstracts should be approximately 800 words, include the name of the author(s), and their institutional affiliation(s). Successful applicants will be informed by February 12th, and full paper drafts will be circulated among participants in mid-March. Please submit your extended abstract in PDF to [email protected].
The conference will consist of paper sessions with up to 5 participants, and each session will be presided over by a graduate student and a faculty discussant.
Attendance is free and open to the public. Meals would be provided for speakers for the 2-day  conference period. Limited travel grants will be available to selected conference participants; students will be notified about funding opportunities once accepted to the conference.
If you have any questions, please email the organizing team: Luciana de Souza Leão, Moran Levy, and Joan Robinson at [email protected].
We look forward to seeing you in New York!