The Alliance Graduate Summer School is an event organized by the Sustainable Development Doctoral Society of Columbia University. The Alliance Graduate Summer School began as a student-led initiative in 2012 in an effort to promote interdisciplinary exchange between graduate students researching the nexus of science and policy at Alliance institutions. The Summer School brings together world-class professors, industry experts and graduate students for exchange of ideas, intellectual discourse, and joint-learning opportunities through a mixture of guest speakers and workshops.
The 2022 summer school will take place during 6th-9th of June 2022 in Paris, France.
The 2022 edition will feature the following speakers:
Antoine Dechezleprêtre, OECD
Marion Dumas, LSE
Philippe Drobinski, Ecole Polytechnique
Anouch Missirian, Toulouse School of Economics
John Mutter, Columbia
Slava Jankin, Hertie School
Peter Verburg, Vrije Universiteit
Liam Wren-Lewis, Paris School of Economics
The keynote speaker of the 2022 edition will be Professor Philippe Ciais. Professor Ciais is a senior researcher of Laboratoire des Sciences du Climat et de l'Environnement (LSCE) in France and holds a part time professorship in the Cyprus Institute. P. Ciais is among the leading scientists working on the global carbon cycle, climate and geosciences. He is a highly cited researcher and has been ranked among the most productive scientific authors in the field of climate change, with more than one thousand peer reviewed publications, including many in high-profile journals. P. Ciais acted as a co-chair of the Global Carbon Project and coordinated the carbon cycle chapter in the fifth assessment report of the IPCC. He coordinated the preparation of the ICOS European network of greenhouse gas observations in Europe and co-funded a Sino-French research institute with Beijing University. Currently, he leads a national convergence institute that deals with the role of cultivated ecosystems for climate mitigation and adaptation. Philippe Ciais was elected as a member of the French Academy of Sciences in 2019, and as foreign member of the Chinese Academy of Sciences in 2021. He received the Copernicus Medal and the silver medal of the Centre National de la Recherche Scientifique.
Apply here by April 15th, 2022.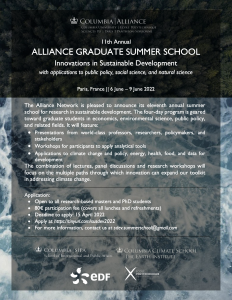 (click to enlarge)
Previous years
For reference, schedules from previous years are available here. Speakers from past summer schools include Joseph Stiglitz, Nobel Laureate and Professor of Economics at Columbia, Christian Gollier, Professor and Director of Toulouse School of Economics; Eric Maskin, Nobel Laureate and Professor of Economics at Princeton; Jeffrey Sachs, Director of the Center for Sustainable Development at Columbia University; Bob Watson, former IPCC Chair; Jean Jouzel, IPCC Group I Chair; and Laurence Tubiana, Special Representative for the 2015 Paris Climate Conference, among others.
Our sponsors