What is lead (Pb) and how could it impact me?
Lead (Pb) is a natural but toxic heavy metal that is particularly detrimental to childhood development. Studies continue to identify decreases in IQ in children with blood lead levels previously thought to be safe. Contaminated soils can pose a health risk today as children play and accidentally ingest some soil dust. Children are most susceptible to the health impacts of lead because they are most likely to be exposed through frequent hand-to-mouth behavior, they have a higher biological uptake, and they are in crucial development stages.
Why would lead (Pb) be in NYC backyard soil?
New York has a long industrial and residential history that may have caused environmental pollution with Pb. This includes presence of factories, incinerators, and the historical use of Pb in paint and gasoline. The legacy of Pb remains in soils as the levels of Pb may have built up over time. We are trying to better understand where high levels of Pb occur in our soils, and for this we would like to test soils in backyards for Pb.
Why did we choose your neighborhood?
In the past we have worked in Northern Brooklyn which represented a long industrial history and had elevated blood lead levels in children. However, there are several ways children can get exposed to lead, and we do not know for certain how important soil lead is for this exposure in New York City. We are now looking to collect soil samples and cores in backyards in your neighborhood to better understand what soil lead concentrations are in other parts of the city that do not have the same industrial history nor elevated blood lead levels in children.
However, in order to make the study manageable we do need to focus on only some areas of the city, so unfortunately we will not be able to offer free soil testing to everyone.
Our soil samples from 2017 in northern Brooklyn found highly elevated soil lead levels in backyards. While most samples collected in public parks and tree pits were below the residential soil standard of 400 mg/kg Pb, most samples from private property and backyards were above this limit.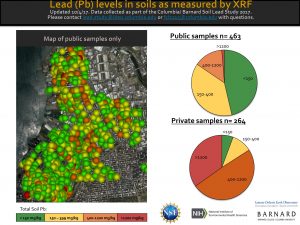 Previously, researchers at ​Brooklyn College published a map of median soil Pb values for many parts of New York City.  This map was created using soils sent to Brooklyn College.  However the map is not specific enough to answer certain questions about the sources and distributions of lead in residential areas of Brooklyn.  For this reason we are trying to test as many residences as possible.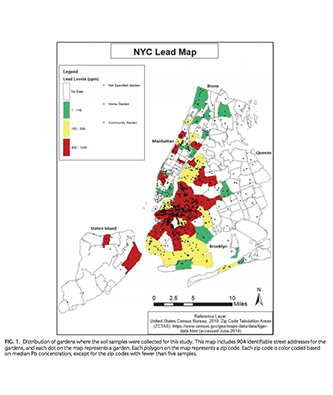 ​What data is available about exposure?
By New York State law, children  should be tested for lead at around one year and two years of age. This data is collected by the city and the state, and aggregated data can be found on the New York City Department of Health's  website about lead.  Reuters journalists and investigators published a more detailed map of blood lead levels in New York (click on the drop-down box to select NYC).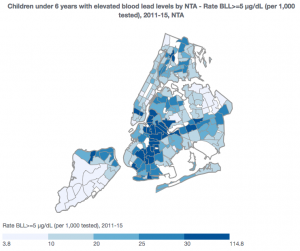 ​What is too much lead (Pb)?
The U.S. Environmental Protection Agency (EPA) sets a limit of 400 mg/kg lead in bare soil in children's play areas and 1,200 mg/kg in other soils. The NY Department of Environmental Protection (DEP) published soil clean up objectives (SCO) in 2010, and states 63 mg/kg as the unrestricted use, 400 mg/kg for residential and restricted residential use, 1,000 mg/kg for commercial use and 3,900 mg/kg for industrial uses. Check out the EPA website for more information.
To measure health exposure, lead levels are measured in micrograms per deciliter (mcg/dL) in children at ages 1 and 2 at your doctor's office.  In 2012, the U.S. Center for Disease Control (CDC) declared that "no safe lead level has been identified," and replaced its previous level of concern of 10 mcg/dL of blood with a reference level of 5 mcg/dL. Please look at the CDC website for more information.
What will we do with the data?
​All data we collect will be kept confidential.  This project has been approved by the Columbia University Institutional Review Board (IRB).  We will provide each person with the soil test results for lead (Pb) for their samples.  We will never publish a location and its values without your permission, but we will use the location data to compare Pb levels in soils in public and private areas.  In addition we will aggregate and report data in order understand soil contamination with lead. This data is important to help develop programs to prevent exposure and aid in remediation.
Will you test my water for lead?
Unfortunately, we will not be able to test water samples for this study. However, if you live in New York City you may request a free water test from the city by calling 311 or through this website.
I have a garden – do I need to be careful about lead levels?
Yes, while gardening in a city is a great way to get outdoors and enjoy nature, urban gardens are more likely to have contaminants such as lead. Common advice for gardeners is to grow in raised beds, use new soil and compost, wash produce before eating, wash hands frequently, and leave dirty shoes and equipment outside. Mulching the paths between your beds is also recommended as this dirt could still expose children even if the raised beds have clean soil.
There are a number of resources available to urban gardeners, such as these resources from the Healthy Soils, Healthy Communities consortium, which is led by Cornell University, Cornell University Cooperative Extension-NYC, NYS Department of Health, and GreenThumb/NYC Department of Parks and Recreation.   New York State also has great resources about urban gardening here.
Is there any other way  I can test my soil for lead (Pb)?
Yes! You have many options to test your soil for lead, even if you do not get selected to participate in this study. You can contact the Urban Soils Institute out of Brooklyn College. You can also look at this website from the NY  State Department of Health for how to test your soils.
What happens if I sign-up on th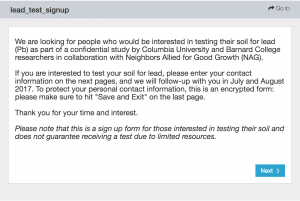 e interest form?
The sign-up form leads you to an encrypted online form where you can enter your contact information. We'll contact you in July or August 2017 to let you know if you are selected to participate in this study and receive a free soil lead test. If you are contacted, you can still choose not to participate.  If you choose to participate, we will arrange with you how to collect your soil samples, and send you the laboratory results.
I'm interested. How do I sign up to show my interest?
Great question! Just click here to sign up!
Please note that this is a sign up form for those interested in testing their soil and does not guarantee receiving a test due to limited resources.