Thought Leadership Forum on the Future of the City
Monday, April 9th, 2012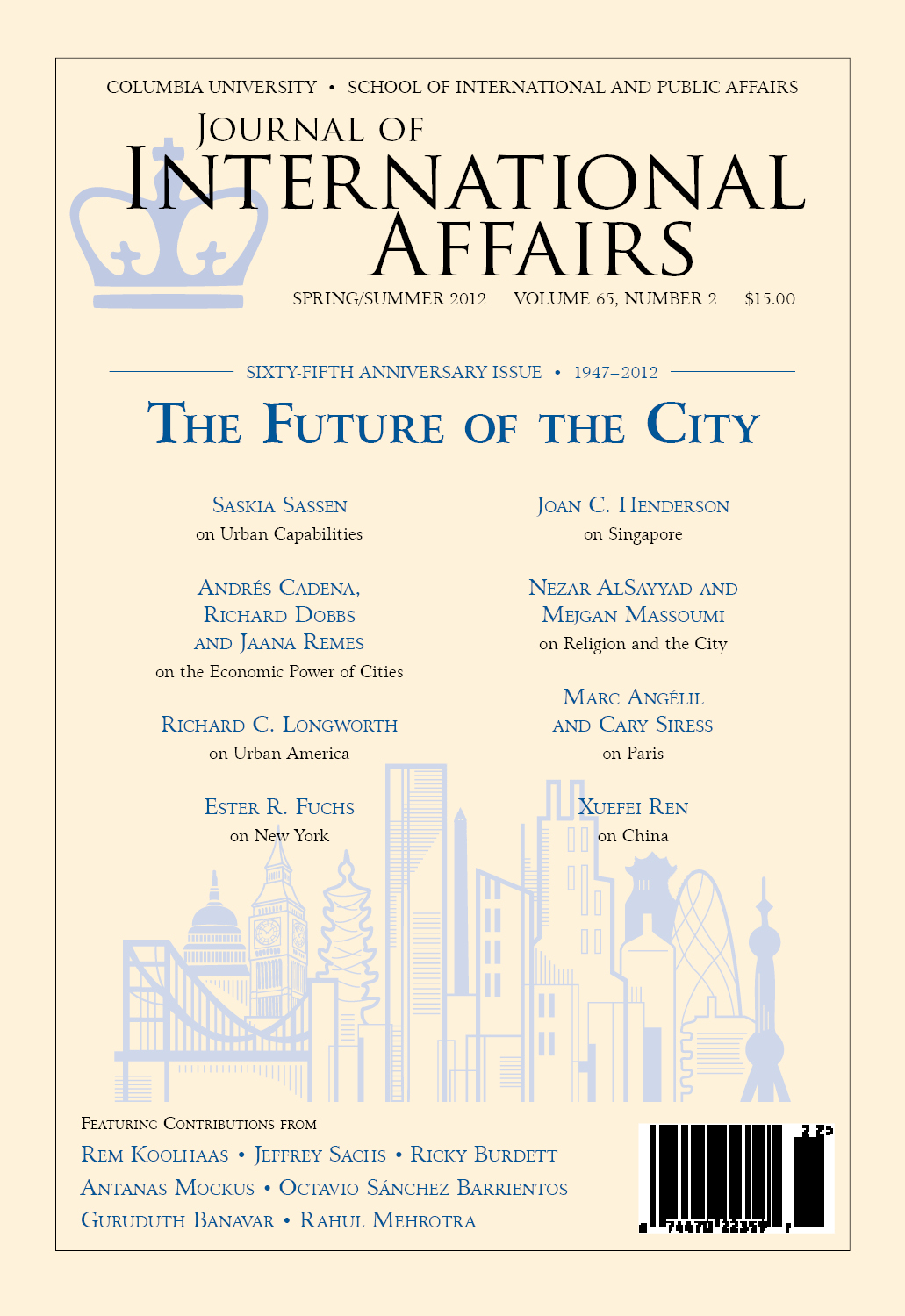 Event: Thought Leadership Forum on the Future of the City
Date: Monday, April 23, 2012
Time: 6:30 pm
Location: Columbia University School of International and Public Affairs, Kellogg Conference Center, International Affairs Building, 420 West 118th Street, 15th Floor
Event Description
The Journal of International Affairs is pleased to present its Thought Leadership Forum on the Future of the City. Co-organized with the World Policy Institute and the Graduate School of Architecture, Planning and Preservation at Columbia University, the forum will mark the launch of the Journal's 65th anniversary issue for spring/summer 2012.
Titled "The Future of the City," this issue is an exploration of the pressing global challenges in governance, development, social equity and the environment approached through an urban lens. With over half the world's population already living in cities, urban problems will become, almost by definition, national and international problems. Cities will become the workshops within which many of the world's most intractable issues—from poverty alleviation to environmental sustainability—will be solved.
The forum is the Journal's signature event; it is an opportunity for students and thought leaders to engage in intellectual debate with the rigor and spirit of inquiry that fosters a more nuanced understanding of the issues. Bringing together the collective expertise of our participants, the discussion will focus on the transformative effect that mass urbanization is having and will have on the political, economic, social and structural fabric of cities around the world. Featured speakers include:
Keynote Address
Scott Stringer, Manhattan Borough President
Panel Discussion
Alexander D. Garvin, Adjunct Professor at the Yale School of Architecture and President of AGA Public Realm Strategists, Inc.
Jeffrey Inaba, Founding Director of C-Lab and Principal at INABA
Greg Lindsay, journalist and author of Aerotropolis: The Way We'll Live Next
Kavitha Rajagopalan, Senior Fellow at the World Policy Institute
Carne Ross, Executive Director of Independent Diplomat
Saskia Sassen, Robert S. Lynd Professor of Sociology and Co-Chair of The Committee on Global Thought at Columbia University
Jesse M. Keenan, Research Director of the Center for Urban Real Estate, Columbia GSAPP
The event will be moderated by Ester R. Fuchs, Professor of Public Affairs and Political Science and Director of the Urban and Social Policy Program at the Columbia University School of International and Public Affairs. The event will be followed by a reception with wine, hors d'oeuvre and live music.
"The Future of the City" will be available for purchase at
www.jiacolumbia.org
or as an e-book on Amazon.com from April 18, 2012. Copies will also be on sale at the event.