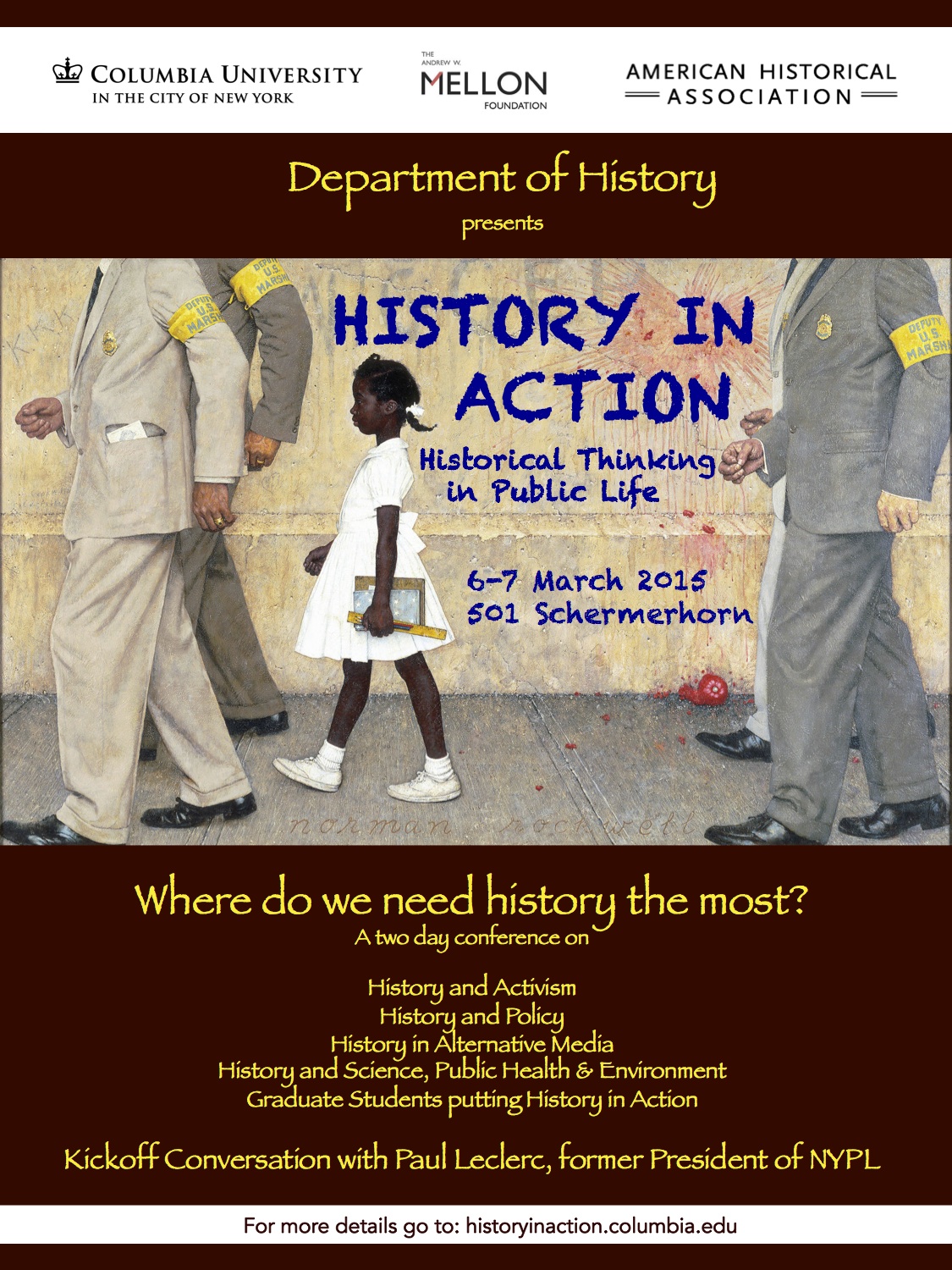 History in Action: Historical Thinking in Public Life
Columbia University, 6-7 March 2015
501 Schermerhorn
Theme:
The moniker 'History in Action' describes, in shorthand, a set of goals and ideals for the expansion of historical thinking in public life.   These guiding sensibilities all extend from a commitment to increasing conversation between university-trained historians and the wider non-academic world.   This conference takes as its generating premises the interlocking notions that historians need to engage with the contemporary, living world in which they think and write,  that larger publics stand to benefit from academia's cultivation of and commitment to critical thinking, and that those larger publics are themselves crucial partners in the production and application of historical knowledge.
The inaugural History in Action workshop-conference (HIA I, 2013) brought together a variety of academics and non-academic professionals to discuss the multiple professional routes that history graduates could productively pursue.  Thereafter, the generous support of the Mellon Foundation and the American Historical Association made possible the launch of a wider Columbia University History in Action program, under the auspices of the AHA-Mellon Career Diversity Initiative.  The second iteration of this conference, History in Action 2015, is organized around the question, "Where is history needed the most?"  Where outside academia can graduate training in history be productively engaged?
Over the course of a day and a half, the HIA II conference will serve as a gathering point for a series of wide-ranging conversations between graduate students, professors, and professionals working outside the academy.  In dialogue with each other and their audiences, invited speakers will explore the current status and place of historical thinking in public life and assess the roles and responsibilities of the historian today.   These exchanges will take place over the course of five thematic panels, a kickoff conversation, and, following the success of the 2013 final plenary session, a concluding small group discussion which aims to generate concrete future plans for the growth of Columbia's History in Action program.
Organizers: We recognize the effort and labor of Tania Bhattacharyya, Zainab Azarbadegan, Noah Rosenblum, Sarah Petrak, Andrew Leibovitch, Suzy Ferguson, Katie Lasdow, Dan Morales, Sayantani Mukerjee, Pat Morel, Maison Francaise.
Please see below for the conference schedule, panels, and speaker details.
 Schedule:
Friday, March 6th
4:00 PM
Welcoming Remarks
Professor Alondra Nelson, Dean of Social Sciences, Columbia University
Professor Adam Kosto, Columbia University
 4:15-5:45 PM
Panel 1: History and Activism
Chair: Prof. Alice Kessler-Harris, Columbia University
Panelists:
Prof. Roxanne Dunbar-Ortiz, California State University, Native American rights activism
Prof. Nicola Foote, Florida Gulf Coast University, Histories of Choice: community-based learning around Roe v. Wade 
Prof. Mary Poole, Prescott College, Maasai Community Partnership
5:45-6:00 PM: Break
6:00 PM
Kickoff Conversation:
Paul Leclerc, Ph.D., former President of the New York Public Library, introduced by Professor Mark Mazower.   In conversation with Tania Bhattacharyya and Noah Rosenblum.
Saturday, March 7th
8:30-9:00 AM: Breakfast
9:00 AM
Introductory Remarks: Tania Bhattacharyya, Columbia University
9:15-10:45 AM
Panel 2: History and Policy
Chair:Prof. Elazar Barkan, Columbia University
Panelists:
Prof. Edward Berkowitz, George Washington University, history and public policy
Ambassador John Campbell, Council on Foreign Relations, former U.S. Department of State Foreign Service Officer
Tatiana Carayannis, Deputy Director, Conflict Prevention and Peace Forum, Social Science Research Council
10:45-11:00 AM: Break
11:00-12:30 PM
Panel 3: History and Science, Public Health & Environment
Chair:  Prof. Pamela Smith, Columbia University
Panelists:
Merlin Chowkwanyun, University of Wisconsin-Madison, public health, racial inequality, and health activism
Dr. Elise Lipkowitz, AAAS Science and Technology Policy Fellow, National Science Foundation
Prof. Roderick Mather, University of Rhode Island, Marine Archaeology and Applied History
 12:30-1:30 PM: Lunch
 1:30-3:00 PM
Panel 4: History in Alternative Media
Chair: Prof. Manan Ahmed, Columbia University
Panelists:
Prof. Jennifer Brier, University of Illinois at Chicago, History Moves: A public history project on wheels
Mary Marshall Clark, Columbia University, Center for Oral History Research
Prof. Richard Breyer, Syracuse University, documentary film and history
3:00-3:15 PM: Break
 3:15-4:45 PM
Panel 5: Graduate Students putting History in Action
Chair:  Prof. Casey Blake, Columbia University
Panelists:
Jess Lee (Big Onion tours)
Romeo Guzmán (South El Monte Arts Posse)
George Aumoithe (#BlackLivesMatter)
 4:45-5:00 PM: Break
 5:00-6:30 PM
Concluding Workshop