Topics in the History of Music Theory in China with Dr. Guangming Li
有朋自远方来,不亦乐乎?
Wouldn't it be a delight to receive friends from afar?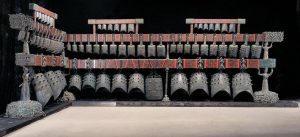 The Ji-Fu-Zeng Pitch System Discovered From the Inscriptions on the Bell-Chimes of the Marquis Yi of Zeng (433 BCE)
"Classical Chinese music theory consists of two categories of subjects.  One is the lüxue, or the studies of setting up proper pitch system, or standard pitch reference, or tuning, or temperament.  The other is yuexue, or the study of scales and modes.   This talk explores the former, the lüxue, and consists of two segments: 1) major theories and theoretical thoughts that developed and were known to the Chinese since 7th century BC till 17th century AD chronologically, and 2) topics that Chinese scholars have worked on; however, I would like to give weight to those that are instantly pertinent to my evening presentation "New Findings on Non-mathematical Methods of Constructing the 12-Lülü Chromatic Scale with the Monochord in Ancient China" and mention other subjects or publications in passing…"
Speaker:
Guangming Li is a scholar, performing artist, and educator. His academic research has covered issues in archaeology and history, music and politics, world music theory, music ethnography, music cognition, music education, and performance theory.  He received his PhD in Music from University of California, Los Angeles (Los Angeles, CA, 2001), MA in Music from Wesleyan University (Middletown, CT, 1986), and BA in Erhu from the Central Conservatory of Music (Beijing, China, 1982).  He has taught courses of music aesthetics, music perception, music and nationalism, world music, Chinese instrumental music etc., at University of California, Los Angeles, University of Oklahoma, University of Pittsburgh, the China Conservatory of Music (Beijing, China), and currently serves as Director of the Bright Institute of Music.  His works have appeared in Music in the Air, Yinyue Yanjiu (Music Research, 2010), Proceedings of the International Conference on the 30th Anniversary of Marquis Zeng Bell-Chime Excavation, Proceedings of the 2th International Symposium of Music Archaeology of East Asia, WSESA Transactions on Signal Processing, Music in China, Selected Reports in Ethnomusicology, Zhongguo Yinyue (China Music), among others.  As a recording artist, he is credited in the music of a number of movies and TV shows, including the Ramen Girl (2007), Spy Game (2002), The Prince of Egypt (1998), and Xena: the Warrior Princess (1998).

Chair:
Matthew L. Jones (James R. Barker Professor of Contemporary Civilization at Columbia University), studies the history of science and technology, focused on early modern Europe and on recent information technologies. A Guggenheim Fellow for 2012-13 and a Mellon New Directions fellow for 2012-15, he is writing on book on computing and state surveillance of communications, and is working on Data Mining: The Critique of Artificial Reason, 1963-2005, a historical and ethnographic account of "big data," its relation to statistics and machine learning, and its growth as a fundamental new form of technical expertise in business and scientific research.  His publications include: "Querying the Archive: Data Mining from Apriori to Page Rank," in L. Daston, ed. Archives of the Sciences (Chicago, 2016); Reckoning with Matter: Calculating Machines, Improvement, and Thinking about Thinking from Pascal to Babbage (Chicago, 2016); "Improvement for Profit: Calculating Machines and the Prehistory of Intellectual Property," in Mario Biagioli and Jessica Riskin, eds., Nature Engaged: Science in Practice from the Renaissance to the Present (Palgrave-MacMillan, 2014); The Good Life in the Scientific Revolution (University of Chicago Press, 2006).