Tiffany J. Huang is a PhD student and Paul F. Lazarsfeld Fellow in the Department of Sociology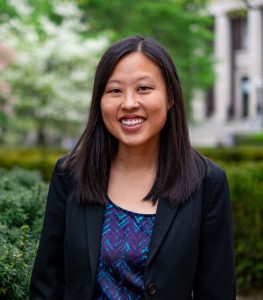 at Columbia University. Her current research focuses on race and immigration. Her most recent paper, "Revisiting the Asian Second-Generation Advantage", co-authored with Van Tran and Jennifer Lee, appears in Ethnic and Racial Studies.
Prior to undertaking doctoral studies, Tiffany worked at the National Association of County and City Health Officials (NACCHO), where she helped local health departments advance health equity and social justice through community health improvement planning. With two NACCHO colleagues, she co-authored the article, "Navigating Degrees of Collaboration: A Proposed Framework for Identifying and Implementing Health in All Policies", which appears in the peer-reviewed Journal of Environmental Health. Previously, she served as a Public Health Association Program fellow at the Centers for Disease Control and Prevention.
She holds a Master's of Public Health from the University of Michigan School of Public Health, where she was a recipient of the Dean's Scholarship and the Ken and Pat Warner Endowed Scholarship, and a Bachelor of Arts in Public Health and French from the University of California at Berkeley.