I use both qualitative and quantitative methods to examine questions relating to immigrants' and the second generation's outcomes and racialization, racial attitudes, intergroup relations, and diversity. My most recent work focuses on these questions in the college admissions context. Here's where you can find my published work.
Race & college admissions
"Translating authentic selves into authentic applications: Private college consulting and selective college admissions." (Online first, Sociology of Education).
This paper draws on my dissertation work, in which I use the lens of private college consultants to look at how the rules of college admissions are interpreted and taught to students. This paper focuses on what the imperative to "be authentic" in college applications actually requires, and the racial and class constraints of authenticity.
"What We Talk About When We Talk About Ethnicity: Hispanic Self-Classification and Appraisal in an Online College Forum." 2023. Sociology of Race and Ethnicity 9(4):502-517.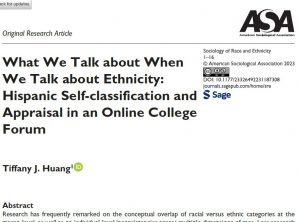 In this paper, I use data collected from online college admissions forum posts in which prospective applicants ask, "Am I Hispanic?" Findings reveal norms of self-classification and social appraisal that interlocuters draw on in their interpretation of ethnic boundaries.
Racial attitudes and intergroup relations
"Misperceptions of Immigrant Flows and Their Associations with Anti-Immigrant Attitudes." 2023. Journal of Ethnic and Migration Studies 49(19):4870-4886.
In two papers (the first solo-authored, and the second with Maria Abascal and Van Tran, below), we conduct an original nationally-representative survey experiment to test possible levers for changing anti-immigration attitudes.
"Intervening in Anti-Immigrant Sentiments: The Causal Effects of Factual Information on Attitudes Toward Immigration" (with Maria Abascal and Van C. Tran). 2021. The ANNALS of the American Academy of Political and Social Sciences 697(1):174-191.
"Perceived Discrimination and Intergroup Commonality Among Asian Americans." 2021. RSF: The Russell Sage Foundation Journal of the Social Sciences. 7(2):180-200.
I use data from the 2016 National Asian American Survey to examine the association between Asian Americans' perceived experiences of discrimination and their feelings of commonality with Black & Hispanic Americans, as well as of linked fate with other Asians. I briefly discuss this paper in this NBC New York story on relations between the Black and Asian communities.
Asian Americans' experiences in the labor market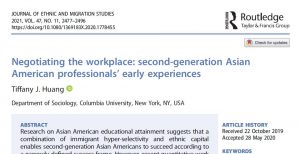 "Negotiating the workplace: second-generation Asian American professionals' early experiences." 2021. Journal of Ethnic and Migration Studies 47(11):2477-2496.
I conducted 30 interviews with 1.5- and 2nd generation Asian Americans (of both East & South Asian origin) on their early-career experiences, focusing on the ethnoracialized barriers they faced and how they responded. (This paper is great for teaching! It's been taught in at least two Introduction to Sociology courses that I know of.)
"The Integration Paradox: Asian Immigrants in Australia and in the United States" (with Van C. Tran and Fei Guo). 2020. The ANNALS of the American Academy of Political and Social Science, 690(1):36-60.
In this co-authored paper, we compare the labor market outcomes of four Asian immigrant groups in Australia (which has historically privileged skills-based migration) versus the United States (which privileges family-based migration).
"Revisiting the Asian Second-Generation Advantage" (with Van C. Tran and Jennifer Lee). 2019. Ethnic and Racial Studies 42(13): 2248-2269.
Book Reviews and Other Publications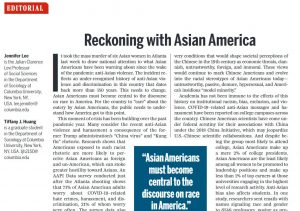 Op-Eds