Columbia University
MFA Playwrights 
Newsletter
March 2018 Edition
First Year Collaboration:
Round 1 Performances
The first round of performances as part of our Collaboration course performed on February 19 in the Schapiro Theater. Each playwright or team of playwrights wrote a ten-minute play around the theme
Adaptation
:
SERVICE by Kate Pressman
Directed by Velani Dibba
SANDWICH INDUSTRIAL COMPLEX by Sam Grabiner
Directed by Jonathan Seinen
TIDES by Zizi Azah Majid and Paola Alexandra Soto
Directed by Anna Rebek
FAVORITE THINGS by Johnny Lloyd
Directed by Keenan Tyler Oliphant
ORLANDO: A BIOGRAPHY OF VITA by Julian Mesri and Daniel Irving Rattner
Directed by Logan Reed
SAINT HOWARD by Martin Murray and Andrey Uspenskiy
Directed by Jen Pitt
Second Year Projects
Five of the seven playwrights in the Class of 2019 have had their second-year projects staged in the Schapiro Theater this past January and February. There are two more productions listed in Upcoming Performances!
Leaving | To Be Left by Jack T. Calk
Directed by James Monaghan
January 26-28
The sun hasn't risen over the town of Harding, Missouri since 1992, leaving the town stranded in an eternal night. But the morning Nathan Brooks is diagnosed with a terminal illness, the sun returns- just for a moment. The citizens of the town, including a generation raised in the darkness, must wrestle with mortality, morality, and plagues of every shape and size. Mad prophets, the spirits of the dead, and self-professed good men characterize Leaving | To Be Left.
2076
Written and Directed by Elisabeth Frankel
February 2-3
By the year 2076, climate change has pushed America underwater. Set within the confines of a rescue ship, these survivors keep their spirits up with exercise, sing-alongs, and relationships. But the memory of loved ones left behind, and fear of the earth retaliating against the abuse it's been given, might become too much to handle.
Alphabet City by Emily Wiest
Directed by Miriam Grill
February 9-10
Alphabet City chronicles the lives of three best friends as they battle their heroin addictions.  Kenny, Floyd and Paloma are full of love for one another but when one of them decides to change their life it throws a wrench in the group's dynamic.  Come discover what happens when three friends are pulled together by a substance that could eventually rip them apart. 

Heifer by Gethsemane Herron-Coward
Directed by Paul Bedard
February 16-18
"Heifer" follows the Greek goddess Hera, and an incorporeal Voice, as they traverse world history and survey the violence upon women by men. At once a ghost story, a poetic warning, and a magical folk tale, "Heifer" is a play that asks what we spoiling creatures– humans– provide? What is gained and lost in policing bodies? What good is good intention to those who must bear the fallout? How do we move forward in this world poisoned by rape and violence?
skin flick city by Anna Jastrzembski
Directed by Daniel Adams
March 2-3
Set within the adult film industry of 1990s Los Angeles, an aspiring porn star and a washed up Greek oracle explore how language constructs our beliefs around gender and the body. As one ascends and the other begins to fade, skin flick city asks us to consider the effects on an individual raised in a society that inextricably links sexuality to shame and values masculinity as the ultimate form of power.  
Other News and Updates
Andy Boyd (3rd Year)
 travelled to Detroit from February 15th to 21st on a Dean's Travel Grant in order to do research for his upcoming thesis play 
River Rouge
.
Nora Sørena Casey (3rd Year) received a workshop production of her play Tragic Greek Sitcom with the Athena Theatre, February 22-28.
Angelica Chéri ('13)'s play Crowndation: I Will Not Lie to David to a workshop production by the National Black Theatre, February 21-25.
Elisabeth Frankel (2nd Year) is the winner of the 2018 Planet Earth Award, as part of the Kennedy Center American College Theatre Festival, for her ten-minute play Two Dinosaurs Talking About Climate Change.
Gethsemane Herron-Coward (2nd Year)'s short play The Falling Man performed as part of The Fire This Time Festival at the Kraine Theater, January 18-28.
Kate Mulley (16)'s musical Razorhurst was produced at Luna Stage in West Orange, New Jersey, February 2 to March 4.
Gina Stevensen (3rd Year) was selected for the Joust Theatre Company's 2018 Writers Round Table. ​Her thesis play The Colony has advanced as a finalist for the Kennedy Center's 12th Annual MFA Playwrights Workshop.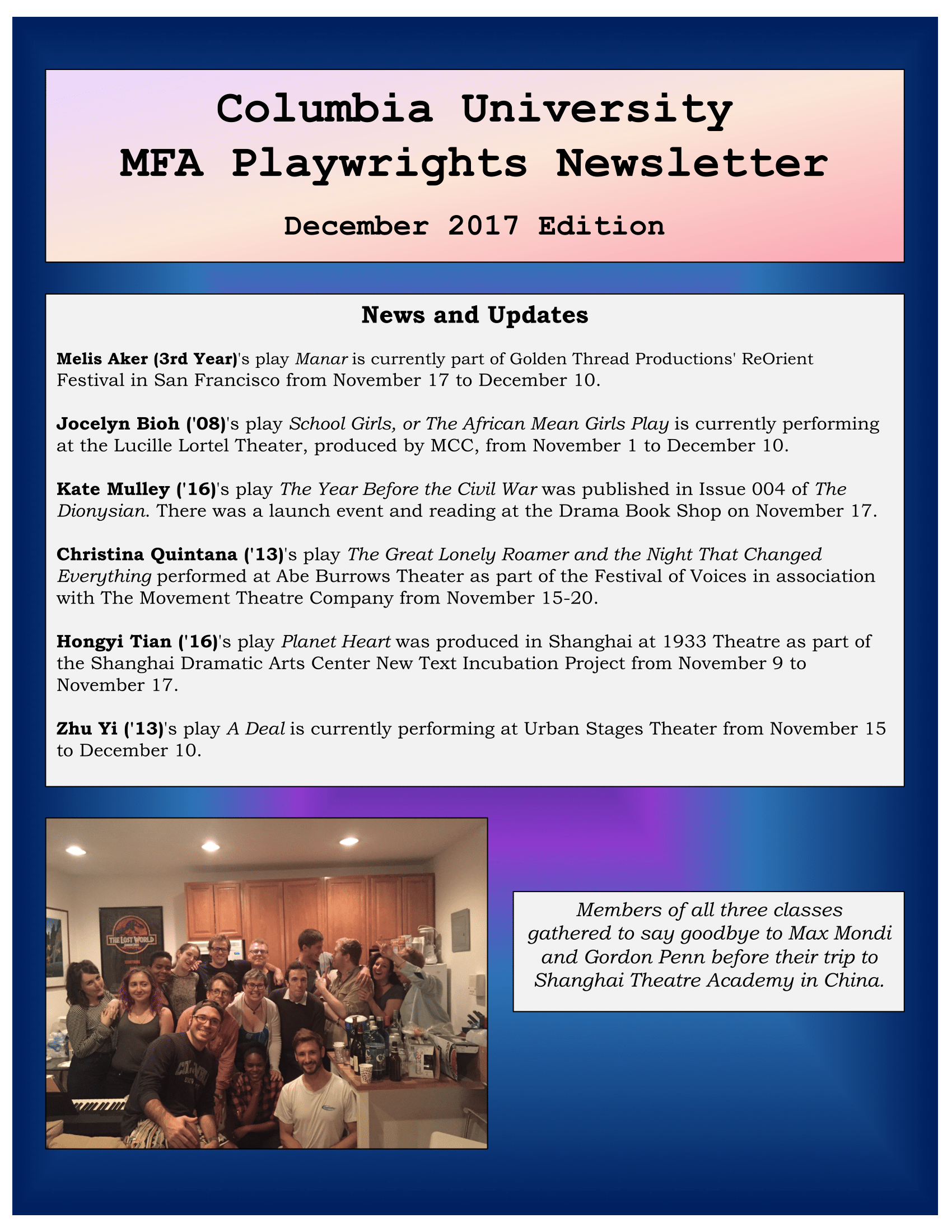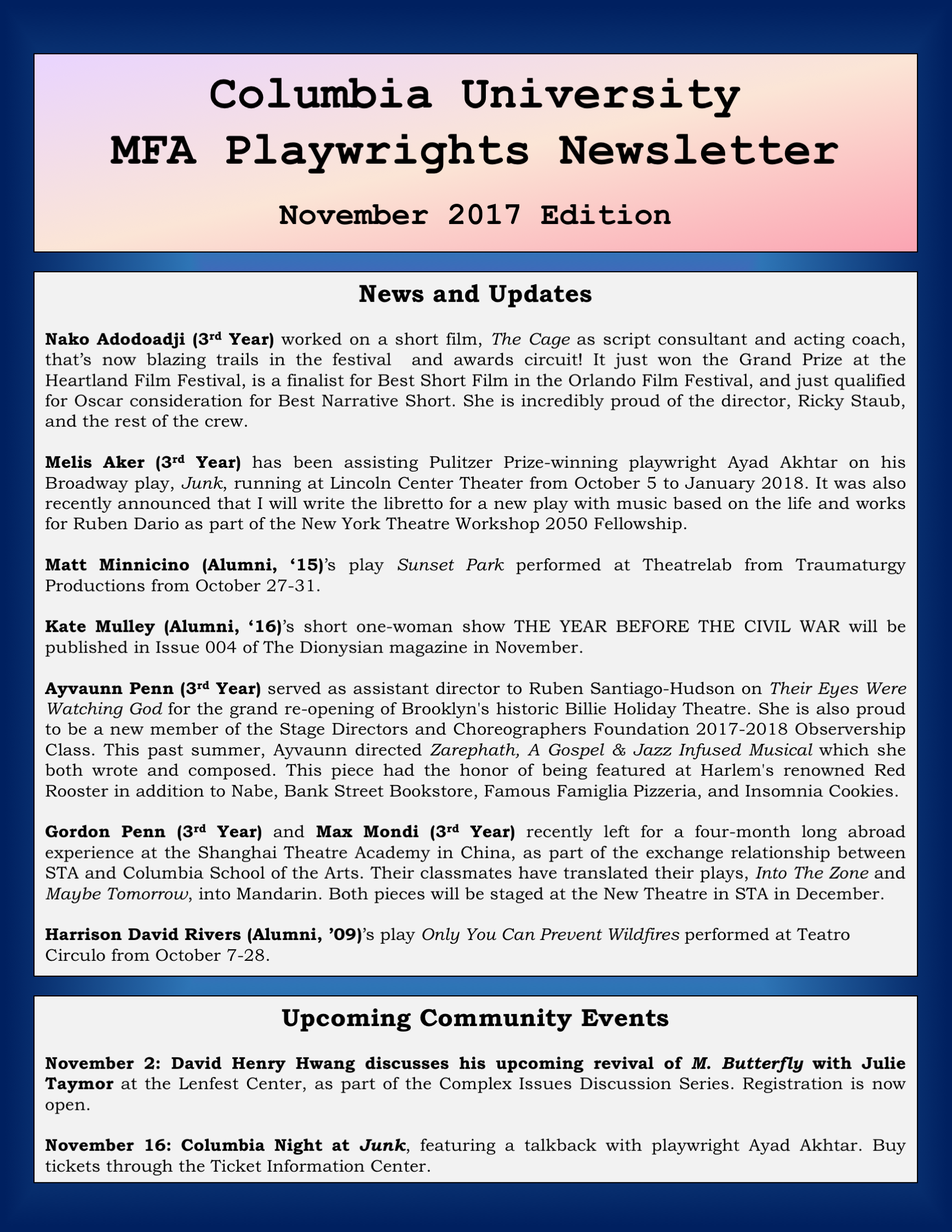 ---