Hometown: Goiânia, Brazil
Focus Area: I have a Government / Administrative Law background, but I saw the LL.M. as an opportunity to also get a glimpse of different fields.
Experience Prior to LL.M.

I got my law degree from the University of São Paulo in 2015 and then a Master of Law degree from the University of Cambridge. Before coming to Columbia, I worked as an attorney in matters involving government contracts, competitive bidding, and regulatory issues. I also taught administrative and constitutional law as an adjunct professor.
Serving on the Student Senate and as LL.M. Co-Chair of the Graduation Committee

The Graduation Committee is part of the Student Senate, the student body's liaison to the Law School faculty and administration — in which the LL.M.s have 12 representatives, elected by popular vote at the beginning of the year. The Senate plays a vital role in students' life and activities, mainly because it is responsible for funding and allocating resources to all Students Organizations; being part of it is also a unique opportunity to participate in important decisions regarding daily life at CLS and also to get to know more J.D.s and the administrative body.
The Senate has specialized groups of work you can join. The Graduation Committee, which has a particularly generous budget, is responsible for organizing most of the graduation- related events and activities. During the year we planned various activities, ranging from managing graduation social media profiles and producing class swag to renting a private suite for NBA games (photo below!), organizing a cruise on the Hudson River, preparing Graduation Ball and, of course, taking part in the Graduation Ceremony itself. Given the fact that we actively interact with graduating students through these events, the members end up having an special role throughout the year.
Traditionally the Committee has both J.D.s and LL.M.s, but only J.D.s are picked as Co-Chairs. This year we changed the rule, and I apparently became the first LL.M. to be a Graduation Co-Chair in the history of CLS! To be honest, I had no idea of the amount of work and dedication I would have to put into it when I signed up for the job – but I loved being part of it, and I am super proud of all we accomplished. Hopefully, the decision to have an LL.M. Co-Chair will last, and the next classes will be able to have their representative as well.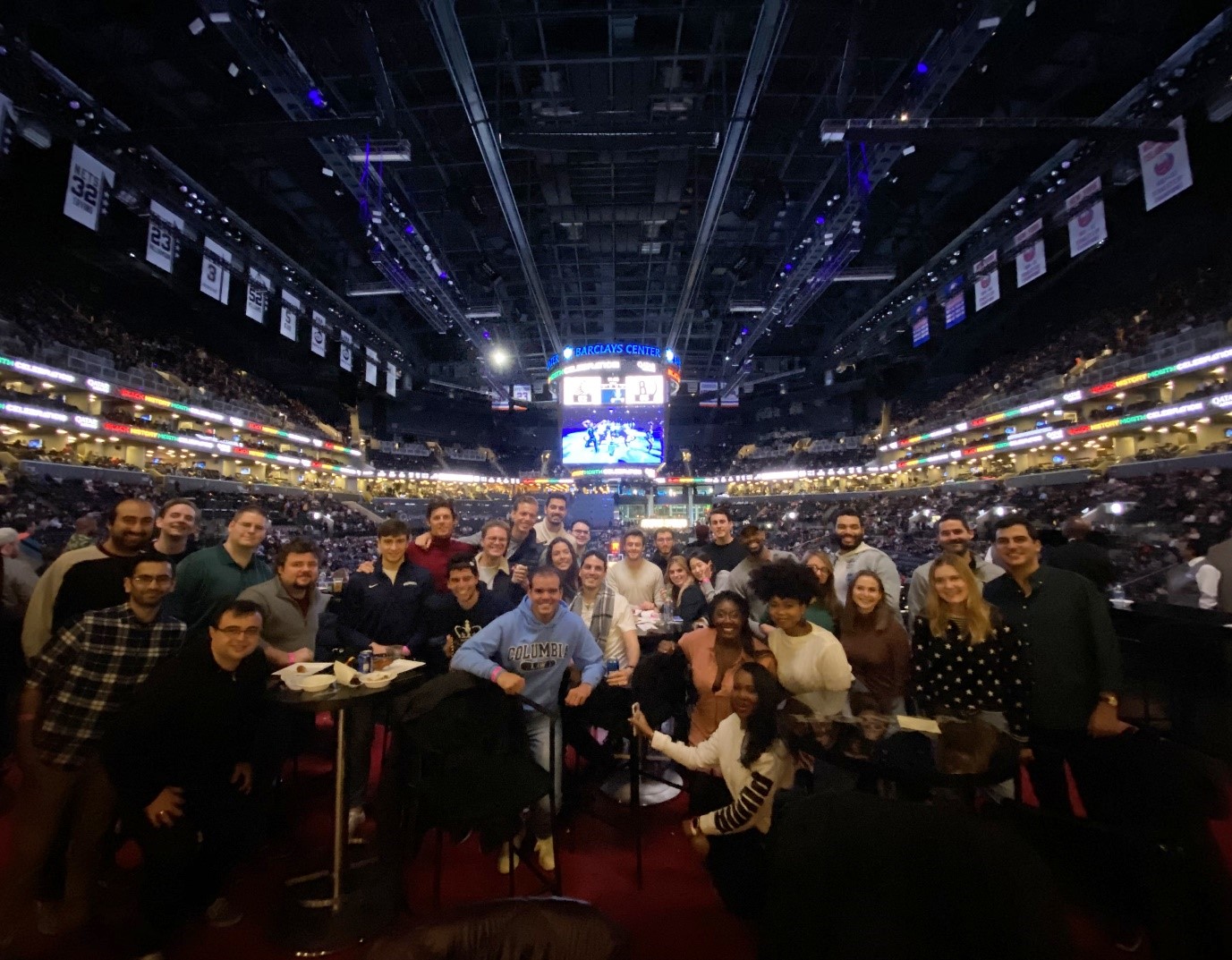 Life After the LL.M.
I am staying in the US to take the New York Bar Exam and maybe working during the OPT time, but right after that I want to return to Brazil. I believe my work can produce a more significant impact there than it would here.
Three Things You Learned During Your LL.M. Year:
1) There is a different Columbia Law School for each one of us; the possibilities and combinations are endless. And if you think there's not one, create one (!), as a few colleagues and I did by founding the Columbia Air & Space Law Association last year.
2) Be proactive in exploring the resources at Columbia. Do you want to take a class outside the Law School which was not initially listed as a cross-registration option? You can make it happen if you put in enough effort.
3) Professors, even the most famous ones, can be incredibly open to talk and help you, take advantage of it (and they also have a nice budget to take students out to lunch, so…).
Favorite Class: Negotiations Workshop (in my case with Professor MGK). This class was different – in a very positive way – from everything I had seen before and it can be useful no matter what is your area of practice. Just make sure to research the professors before picking your section; it makes all the difference.
Best Coffee Spot
Student Services provides free coffee (of actually very good quality, for American standards), cookies, and cakes almost every day (5th Floor of Big Warren) – this can save you money and also allow for socializing.
Best Place to Study
Enter the Law Library, take the stairs up, go straight until the end of the corridor, and you will find nice armchairs separated by concrete pillars and facing the SIPA building.
LL.M. Protip
Doing an LL.M., going to Columbia, can be a dream to many for various reasons (New York City, professors, reputation, etc.). Despite that, even during this fantastic year we are constantly planning the next steps and struggling to achieve new goals.
That is fine, but in this process we sometimes forget that our present is also a reward for our past efforts, something we fought hard to achieve. Make sure to remind yourself from time to time – maybe crossing the campus from the subway to Law School, during a walk in Central Park or whatever fits you – that you are living the accomplishment of a dream.
Would You Change Anything?
Being very picky, it would be nice to have two weeks to "shop" classes instead of one. Apart from that, I would only change what is beyond our control: COVID-19 and its impact on our class.