by Samarth Patel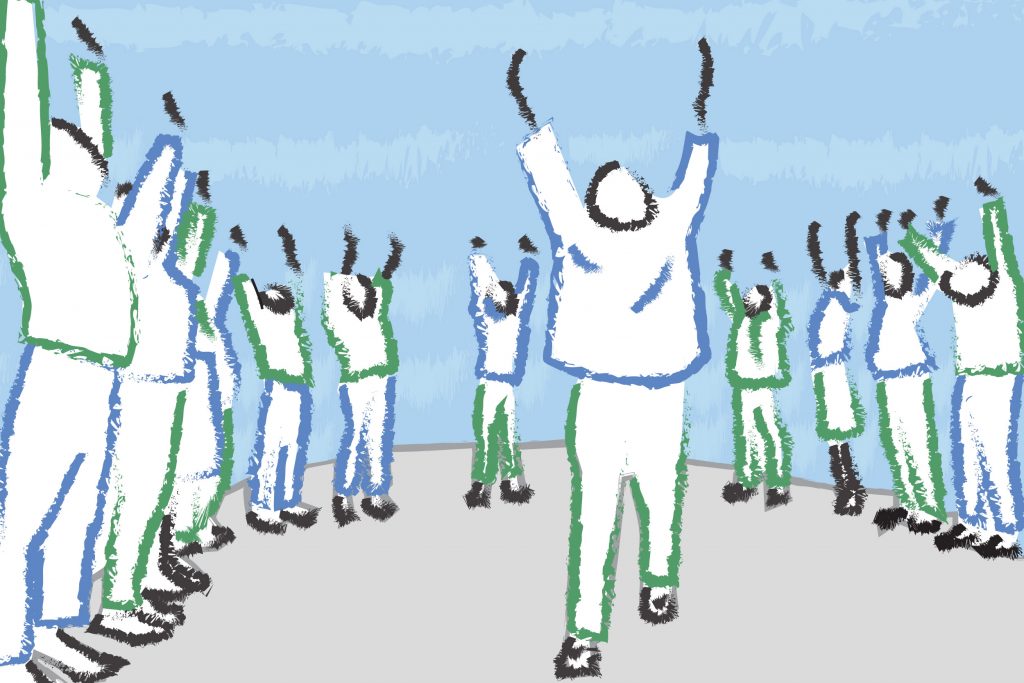 I've been able to choose a lot of courses at Columbia that built on my professional experiences, which had been advising on white-collar criminal matters, economic sanctions and arms embargoes. For instance, I completed my LL.M. Writing Project in a class on Enforcing International Law taught by renowned international law scholar, and former State Department official, Professor Lori Damrosch. I wrote about sanctions cases before the International Court of Justice, and it was interesting to explore sanctions from an international law and relations perspective in class. 
But I also came to the LL.M. with an open-mind.  Legal education and practice unfortunately have a predilection towards predictability.  I thought the LL.M. would be a great opportunity to take classes that at first blush might not have appeared to make much sense based on where I had come from, and where I (thought I) wanted to go.
One such class was Professor Susan Sturm's "Theater of Change: Artistry, Law and Activism" seminar that was being offered in Columbia's J-Term. The J-Term is a week-long, optional term in January, just before the Spring semester starts. Students can choose to take a range of classes for credit during this week, spanning workshops on data and predictive coding to comparative constitutional law classes. I eschewed these excellent options (some of which you can read about on this blog) and applied for Professor Sturm's class. I wasn't entirely sure what it would involve, but was told it was a brand-new "practicum" in partnership with the Broadway Advocacy Coalition, which brought together law students, artists and community organizers to collaborate on change-work projects.
The class proved to be one of my most formative experiences during the LL.M. The class instructors – Professors Sturm, Wexler and Levingston – had taken great care in choosing a diverse range of talented participants from the legal, artistic, and organizing communities. We spent virtually every day on our feet, beginning with performance-related exercises to warm-up. Over the course of the week, we interviewed and shared personal experiences with each other: some came from art-activism, some came from their organizing work in over-policed and under-served communities, others brought their experiences from being incarcerated and interacting with the criminal justice system. We used tableau performances to express our stories, learning from a masterclass with the Tony Award-winning composer Jeanine Tesori. We then spent the week working in groups to scope out policy arenas where we could employ the arts to humanize a story, to help lobby for change and raise awareness. On the last day, each of our groups staged work-in-progress showcases, which ranged from musical performances, to dramatized police interviews and client meetings, to spoken-word poetry readings.
This certainly wasn't how I imagined law could be taught in a law school. And I hadn't really ever thought about how the law, arts and community engagement could work in this way before. But learning how to create narrative, to express that narrative in a compelling way, and, ultimately, to create a story, has universal relevance no matter which area of law one practices in. Learning how to engage with an individual and empathize with their situation has universal relevance whatever you end up doing in life.
I've since enrolled in Professor Sturm's "Social Vision, Action and Social Change" seminar this Spring semester. This class has enabled me to continue working with the Broadway Advocacy Coalition to develop the projects we worked on in January, which also intersect with the work I'm undertaking as part of my externship at The Bronx Defenders. This has been particularly valuable to me because I previously worked with The Bronx Defenders' community organizing team when we all met during the J-Term.  I am also collaborating with some of the artists I met in class to develop artworks that particularize the law's impact on society, including a creative performance that addresses 14th Amendment case law. All of this to say, there's much to be said for taking a chance during your LL.M. year.
Samarth Patel is an LL.M. from the U.K. Before coming to Columbia Law School, he practiced in white collar crime and government enforcement at Skadden, Arps, Slate, Meagher & Flom LLP.