Come And Join Us at 2018 Fall-ASA DataFest
---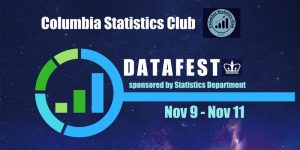 ——————————————————————————————————————————————
Date:
November 9th, 2018 6:00 PM – November 11th, 2018 6:00 PM
Location:
Havemeyer 309 (November 9th, 6:30 PM – 8:30 PM)
                         Alfred Lerner Hall – Lerner Jed D.Satow Conference Room (November 10th, 10:00 AM – 4:00 PM)
                         International Affairs Building 417-Altschul (November 11th, 10:00 AM – 6:00 PM) 
---
All team leaders please send an email to [email protected] with a list of your team members (University ID or email address) and team name.
Grading is based on a cumulative grade with the following criteria:
Model completeness, Presentation/visualization, Business insight, Best use of external data
The final criteria may change at the judges' discretion.
Make sure to present your methodology and results as best as possible on your slides and presentation.
---
 Details:
All participants will be grouped into teams of 5 or less.

Each team will receive a real-world dataset on Friday (11/09) evening. Teams can develop their own topics / questions of interests to work on.

There are about one and a half days to complete a project for each team.

Each team is also asked to give a presentation on Sunday afternoon (11/11).

Any software and programming language is welcomed to be used for project / presentation.

Comments will be given by judges. (Judges are introduced below.)

During the event, we will also have tutorials from our guest speaker Prof. Patrice Derrington.
Many rewards, including gift cards and prizes, will be distributed to the teams who perform well in the presentation.
Food and drinks will be provided.
Competition Judges: 
Prof. Tian Zheng, Associate Director for Education, Data Science Institute at Columbia University
Dr. Rosemary, 

Scanlon Former Economist of the NYNJ Port Authority

Dr. Patrice, Derrington Marc Holliday Professor of Real Estate Director of the MSRED program, Columbia University
Jonathan Miller, Founder & CEO Miller Samuel Residential Market Data
Adam Swietek, MSRED Student, Columbia University 
Our Mission for the DataFest:
To give all students who love exploring data a hands-on, real-world experience. It does not matter what software and analysis methods you are using. Coding or programming is not our major purpose for this event, good ideas is indeed the take-home message we are trying to create for you. As long as you are interested in playing with real-world data, please come and join us at Nov 9th!
Agenda
Friday Night (11/09):

6:00pm – 6:15pm:

Introduction to the DataFest

6:15pm – 6:45pm:

Tutorial by Mr. Ke Shen. (Data Scientist from Jet.com

6:45pm – 7:10pm:

Introduction to the Datasets and requirements

7:10pm – 9:00pm:

Group forming

Saturday (11/10):

9:00am – 4:00pm:

Project preparation

Sunday(11/11): 

9:00am – 2:00pm: 

Time for group work

2:30pm – 4:00pm: 

Presentation

4:30pm – 5:00pm:

Evaluation from judges