For information on the 2021 summer school, please refer to this 2021 summer school website.
The Alliance Graduate Summer School is an event organized by the Sustainable Development Doctoral Society of Columbia University. The Alliance Graduate Summer School began as a student-led initiative in 2012 in an effort to promote interdisciplinary exchange between graduate students researching the nexus of science and policy at Alliance institutions. The Summer School brings together world-class professors, industry experts and graduate students for exchange of ideas, intellectual discourse, and joint-learning opportunities through a mixture of guest speakers and workshops.
The 2021 summer school will take place between the 12th-14th and 19th-20th of May 2021 (8am-2pm EST), online.
Apply here by April 5th, 2021!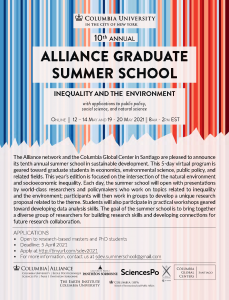 (click to enlarge)
Previous years
For reference, schedules from previous years are available here. Speakers from past summer schools include Christian Gollier, Professor and Director of Toulouse School of Economics; Eric Maskin, Nobel Laureate and Professor of Economics at Princeton; Jeffrey Sachs, Director of the Center for Sustainable Development at Columbia University; Bob Watson, former IPCC Chair; Jean Jouzel, IPCC Group I Chair; and Laurence Tubiana, Special Representative for the 2015 Paris Climate Conference, among others.
Our sponsors