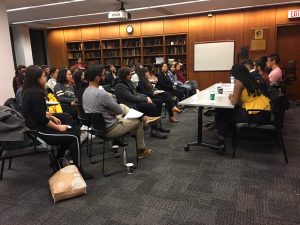 Multi-Industry Advising Panel (Fall 2019)
On December 6, 2019, QASR and QMSS jointly hosted the Multi-Industry Advising Panel, a career development event which brought together five data professionals from different industries to provide career advice to QMSS students. The panelists included Nikole Williams, Edmond Wong, Wayne Lee, Reza Rad and Marco Morales.
QMSS students fully packed the room to listen firsthand to the panelists, and the panelists did not disappoint! The event started with questions posed to the professionals by the event's moderators, Paarth Malkan and Bolim (Sydney) Son. The eclectic experiences of the panelists brought out great advice regarding numerous topics, from skills necessary for success in the workplace to company cultures and the impact that has on job satisfaction. Much of the advice came with the simple yet important context of "knowing yourself," an idea agreed upon by each of the professionals. After the moderators asked their questions, the attendees had the opportunity to pose their own questions directly to the panelists. Following the end of the traditional section of the panel, panelists and students got to casually speak with each other and enjoy the remainder of the event with food and drinks.
The professional success and approachable nature of each panelist made the Friday evening workshop a productive and fun night for the attendees! A big thank you to each panelist and to everyone who attended!