Hi! It's a new semester in unprecedented (*people need to stop using this word*) times but not all things need to be unprecedented! We are happy to resume our alumni interview series. Our alumni interview series showcases the most interesting QMSS alumni from a diverse set of fields and industries so this is a great opportunity to figure out what your interests might be after graduation.
First up in the 2020-2021 series is our amazing alumna Sally Son '19!
---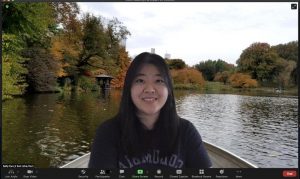 Hi, Sally! Thanks for doing this interview. To start, what is your job title, company name and location?
Data Analyst 2. Stanford University School of Engineering. Palo Alto, California.
What do you do in your current role? What does that look like day-to-day?
In short, I do institutional research to help the school make data-driven decisions.
I analyze various kinds of data that the school has on topics such as student enrollment, finance, fundraising, faculty life, and human resources and help the school leverage data-driven insights in making its decisions.
On an ordinary work day, I might pull fresh data from the database, do some exploratory analyses using R, and find any unusual outliers or missing data. After cleaning the data, I'd plug the data to Tableau Desktop to create visualizations and publish dashboards on the school's Tableau server. Finally, I'd share the updated dashboards with my team and the leadership along with some summaries of what's new, concerning, or important.
What skills are most important in your current position and field?
I'd say the two very important skills in my current position and field are 1) attention to details and changes and 2) critical thinking skills that would help you decode the story that the data is telling. With attention to details and changes, you identify flaws, missing information, outliers, and odd observations in your data.
Then using critical thinking skills, you ask yourself why there are outliers and flaws in order to tackle challenges using your data-driven insights.
How did QMSS help you with your career?
QMSS prepared me with quantitative skills such as being able to use R and Python to analyze and model data.
More importantly, QMSS influenced how I work with data.
The three things that I keep in mind when I work with data are reproducibility, repeatability, and responsibility.
What is your favorite class at QMSS?
I liked all the classes I took at QMSS, and if I had to choose, I would choose Advanced Analytic Techniques and GIS & Spatial Analysis in Social Sciences.
What advice do you have for current students who want to get into your field?
To set yourself ahead of others in data analytics in higher education, I'd say look into creating data visualizations with Tableau Desktop, survey design, and program evaluation method.
This or that:
1. Beach or mountains?
Beach
2. Waffles or pancakes?
Hmm…this is tough because I love all forms of brunch. If I must choose, it'd be waffles.
3. Dogs or cats?
Ah, this is also a tough question because I'm allergic to cats and afraid of dogs.
But I will say I like looking at cute puppies from far away.
4. City or countryside?
City.
---
Thank you again for the interview, Sally!