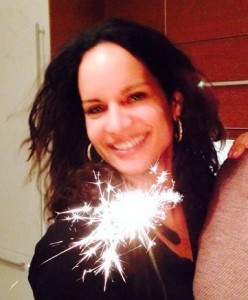 Nina Collins, now working in her second year at Maimonides Medical Center in Brooklyn, has pioneered new paths for narrative medicine since she received her Masters degree. Formerly a literary agent, she began to focus on the topic of end-of-life experience while she has been (and still is) writing a memoir about her mother who passed away when she was a teenager. After she received her degree in Narrative Medicine, she created a role at Maimonides working on a variety of projects surrounding employee and patient experience and communication. She calls herself a "Narrative Medicine Consultant."
At Maimonides, Nina developed an "Empathy Curriculum" for Internal Medicine residents and administered the OSCEs (Objective Structured Clinical Examinations) to assess their absorption of the subject matter. She can really connect with the residents she works with because they are so smart and dedicated, yet come from such diverse backgrounds. One of her most memorable moments occurred in a narrative medicine writing workshop she facilitated last year. One of the residents wrote a beautiful Haiku (shared with permission):
Last Fall
Mistakes Made
Now I keep my mouth closed shut
Nose to the grindstone
Also serving on the BioEthics committee and the committee for the Schwartz Rounds, Nina helps find and develop cases focused on compassionate care. If you are not familiar with Schwartz Rounds, read this article from the New York Times. She also works on the Patient & Family Experience initiatives in the Cancer Center and Ambulatory Clinics and has become a TeamSTEPPS master trainer as well. TeamSTEPPS in a national initiative adopted by Maimonides Medical Center to minimize communication failures by improving quality, safety and efficiency across healthcare through the use of practical and adaptable materials, training and teamwork. In addition, she is on the committee for a new "Resilience" study in the Obstetrics & Gynecology Department. However, her favorite part of the week happens when participates as faculty for the weekly bio/psycho/social rounds with Hematology/Medical Oncology Fellows.
Nina is thankful that her degree in Narrative Medicine helped open the door for her to create this job and even though what she does now is different than what she studied in the program, she points out, "the ideas, the interest – of communication in healthcare, of the experience of the body – these are everywhere in what I do."
What's next? Since Nina is currently focused on the staff and clinician side of narrative medicine, she wants to gain more experience working directly with patients. Therefore, she just enrolled in the New York Zen Center's Foundations in Compassionate Care Program. Upon completing this program, she plans to continue their interfaith chaplaincy training which involves monthly classes a weekly chaplaincy internship role at Lenox Hill Hospital. She hopes adding chaplaincy training to what she does now will help position her even better for continuing to work in healthcare on communication, end of life, and patient/family experiences.