The Great Debate: Mining in Latin America
Friday, April 26th, 2013

To celebrate the launch of the Journal of International Affairs' issue on "The Rise of Latin America," the Journal collaborated with the Morningside Post to produce a special edition of the Morningside Post's Great Debate series. The fourteenth debate in the series seeks to answer the question, "Will Mexico assume clear leadership in Latin America?"
---
Mining represents a great opportunity for economic growth, especially for emerging economies. It is often seen as the path to prosperity. However, the mining industry is a double edged sword. Countries in Latin America are managing to attract significant foreign investment. In Chile, the extractive sector's participation in the economy has tripled in the last 10 years, reaching 15% of GDP. In Colombia and Peru, it has doubled to 10% of GDP. The Santos administration in Colombia has made mining one of its top policy priorities.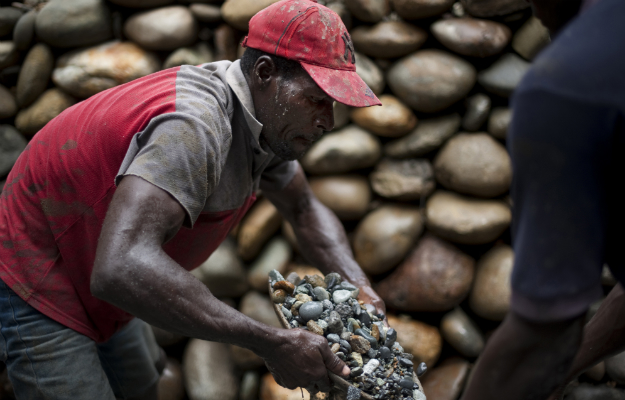 However, there may be significant downsides to mining, as governments are forced to offer favorable conditions to mining companies and investors. This is having negative consequences for the environment, national revenues, and human rights. If badly managed, the mining boom might even harm long-term economic growth. This week, communities from Colombia, South Africa, Mongolia, and the U.S. will demonstrate in London against some of the world's largest mining companies.
Is Mining the Key to Latin American Prosperity?
---
Claudia Jiménez, Large Scale Mining Association
As a strategy to achieve economic growth and overcome poverty, the specialist recommends building on strengths. In Latin America, these strengths are the natural resources (removable and non-removable). As a consequence, the big challenge is to improve the life quality of the population living in a country that is rich in biodiversity but is considered poor.
It is well known that the prosperity of Latin America is based mostly in the richness of its lands. In addition, the presence of a responsible industry assures for these countries licit resources, employment, safety, social responsibility and social infrastructure. Antofagasta in Chile is an extraordinary example of overcoming poverty, through efficient investment of the tax and royalties revenues of the mining.
The strengths of the natural resources are literally a "golden opportunity." As an example, in terms of innovation — not just through STI — the extractive industry encourages new technologies as new drilling systems, environmental innovation, new technologies for the creation of biofuels, productive linkages, promotion of the small and middle mining, optimization of green business, and others.
The Latin American region has been experiencing a boom of investment in the mining sector, as predicted by the Copper Study Center of Chile (CESCO); Latin America would receive $250.000 million by 2020, which according to the Metals Economic Group represents approximately 26% of the total world mining investment. This makes Latin America the first destination for mining investment.
It would be irresponsible not to encourage part of the development of the region, through the sustainable use of its natural resources.
Claudia Jiménez is Executive Director of the Association for the Large-Scale Mining Sector – SMGE. The association represents the thirteen biggest companies that explore or exploit mineral resources in Colombia. Claudia Jimenez has been Minister-Counselor to the President of the Republic and served as Ambassador Extraordinary and Plenipotentiary of Colombia to the governments of Switzerland and Liechtenstein.
---
Christopher Sabatini, Americas Quarterly
Mining alone isn't the key to Latin American prosperity. But for those countries with natural resources, mining plus effective government policy and inter-governmental coordination can be.
There are two realities about mining. The first is that given the patterns of global economic growth, the demand for minerals and metals will remain a constant. Prices and demand may fluctuate, but the market for minerals and metals is a reality of development and growth today. The second is that mining is rarely pretty. It has a long history of abuse—environmental and labor—and booms and busts. In addition, there is the matter of geography: Resources that are mined are often in rural areas and—particularly in Latin America—on lands often occupied by indigenous groups living in poverty.
The goal of government policy has to be to develop policies and the capacity of the state to address the potentially distortionary and abusive effects of mining. Governments need to ensure first that communities are genuinely consulted by investors and included in decisions that affect their lives. Governments also need to ensure that the revenue generated from mining is effectively invested in the social development of the communities and the broader nation and in supporting more value-added sectors of the economy.
This is no easy task, though. It means developing independent, effective budgeting and state administrative capacities, and coordinating with other governments to establish standards (labor, environmental, tax, and regulatory) for investors.
Christopher Sabatini is the founder and editor-in-chief of Americas Quarterly, senior director of policy for Americas Society/Council of the Americas and associate adjunct professor at Columbia University's School for International and Public Affairs. He will be one of the panelists of the Thought Leadership Forum.
---
Lisa Sachs, Columbia University
Foreign investment in mining can contribute significantly to sustainable development, through the transfer of capital and technology, job creation, linkages with local industries, infrastructure development and capacity building. However, the extent to which these benefits actually accrue to host countries depends heavily on the policies of the host country and the investor, and the institutions available to find mutually satisfactory outcomes for both. And the stakes are high— mining has sometimes been a springboard to development and at other times a source of corruption, social degradation, and environmental catastrophe.
Successful resource-based sustainable development requires a multi-pronged collaboration among governments, companies, communities and international partners to ensure a long-term mutually beneficial framework for all stakeholders.
First, governments must have transparent and robust legal frameworks and fiscal regimes that maximize government revenues, implemented and monitored by strong governmental and societal institutions.
Second, governments must incorporate mining in their development plans, including the strategic allocation of revenues into priority public investments.
Third, governments and companies should leverage potential synergies between government priorities and company investments — for instance, developing downstream industries, capacity-building for local suppliers and leveraging mining-based infrastructure (e.g. transportation and power) for broader development.
Fourth, governments and their partners should support integrated development within and beyond the mining regions to ensure that local communities are benefiting from the mineral extraction.
Finally, governments must understand and manage the environmental impacts of potential investments, especially in ecologically vulnerable regions.
Mining can be transformative for development but requires proper planning, policies, transparency and collaboration.
Lisa Sachs is the Director of the Vale Columbia Center on Sustainable International Investment. Her academic research focuses on extractive industries, foreign investment, corporate responsibility, human rights, and integrated economic development. She is a member of the UN Sustainable Development Solutions Network thematic group on the Good Governance of Extractive and Land Resources.
---
Arturo Wallace, BBC
Your own introduction makes clear that the abundance of valuable mineral resources offers as many opportunities as risks, but probably there's no bigger risk than assuming than the prosperity of any given country (or region) can depend on one single resource or activity.
In other words, mining can certainly play an important role for the further development of Latin America, but it cannot be seen as the key for a better future.
After all, the region's minerals are, by definition, a finite resource.
And mining's contribution to sustainable development will therefore depend, to a large extent, on how the riches it produces are used (or, more accurately, on how they're invested).
So far, the dominant trend does not invite optimism: A significant part of the wealth generated by mining leaves the region, and plenty of what stays disappears through the cracks of mismanagement and corruption. In a way, things are actually not that different from what happened during the Spanish conquest. But there's still plenty of time to devise a different ending.
Arturo Wallace (@bbc_wallace) is a Nicaraguan journalist and the current BBC World Service correspondent in Colombia.
---
Leonith Hinojosa, University of Manchester
Mining is not "the key," but could play an important role in mineral-rich countries' development. Everything depends on the "rules of the game."
Since the early 2000s, mining has fueled growth. Many conflicts associated with the expansion of mining are, in fact, about the distribution of the benefits, in part due to national and local governments' weak capacity to accountably invest their mineral rents in social development.
Yet, it is also true that mining practices have affected, irreversibly, the environment of host localities, and thus opportunities for the development of alternative economic activity. Also, due to the ways in which companies have related to communities, either paternalistically or arrogantly, at times with bribes, local conflicts have affected the social structures on which rural societies rely for their development. Local and international protests against mining are a response to both of these concerns.
The long-term change of mineral-rich communities and countries is not limited to the impact of the mining industry; however, its presence could accelerate it.
For this to happen, at least four conditions would have to be considered: a fair tax system that not only attracts capital but ensures full compensation of the economic and environmental costs of extraction, strategic CSR policy that significantly invest in positioning mining companies as development partners, decentralization policies that redistribute mining revenue not just to mitigate social protest but to enable equitable development across a country's territory, and accountable environmental policies that facilitate long-term resource security and inter-generational environmental justice.
Leonith Hinojosa is External Research Fellow at the School of Environment and Development and the Brooks World Poverty Institute in the University of Manchester. She researches, teaches and publishes on topics of economic development and sustainability. As a consultant she works with international and development organizations on sustainable impact assessment of trade and evaluation of economic and development projects.
---
Jamie Kneen, MiningWatch

Conflicts between mining and other more sustainable land uses — principally agriculture and tourism — are growing in number despite the often severe repression and violence protesters face from security forces and interested third parties. Yet even where governments have responded to public pressure to back more sustainable forms of development, they are subject to pressure and intimidation by corporations and foreign governments.
Costa Rica is a prime example. The country is famous as Central America's "Garden of Peace" with no army, and a pioneering eco-tourism destination, but it's also a country of independent farmers. After a disastrous experience with large-scale gold mining at Macacona in the 1980s, it was no surprise that subsequent gold mine proposals met with widespread and sustained opposition.
Costa Rica banned open-pit gold mining in 2002 but was forced to approve the Bellavista mine in 2005 after the company threatened to sue under Costa Rica's free trade agreement with Canada. People's fears were borne out when the mine's heap-leach pad started to collapse after barely two years in operation and it was forced to close.
Yet just this month, another Canadian company, Infinito Gold, threatened to sue — this time under the Canada-Costa Rica Foreign Investment Protection Agreement — because Costa Rican courts have prohibited the building of its Crucitas mine in the far north of the country.
Ultimately, the question is really whose prosperity counts, and who gets to make that determination? And what happens if a government decides to respect the will of the people in the face of pressure from international interests and its own business and political elite?
Jamie Kneen is Communications and Outreach Coordinator at MiningWatch Canada. His responsibilities also include the organization's Africa program, as well as uranium mining and environmental assessment policy and practice in Canada.
---
Jenik Radon, Columbia University
In 1971 the Uruguayan writer, Eduardo Galeano, bemoaned that Latin America had worked for almost 500 years "as a source of oil and iron, of copper … raw materials … destined for rich countries which profit more from consuming them than Latin America does from producing them." Now just more than 40 years later, the question is whether history will repeat itself as Latin America confronts a minerals frenzy.
In Peru, the epicenter of this get-rich mania, the extractive industry, including oil and gas, in 2011 accounted for a phenomenal 70% of exports, totaling $32 billion. But, are these huge sums bettering the lives of ordinary Peruvians? Recent Peruvian headlines are telling the story of an erupting social crisis, which has escaped international attention: "World Heritage Site ripped up by [mining] quarry"; "The Devastating Costs of the Amazon Gold Rush"; and "Peruvians ask Washington-based human rights commission to halt Newmont's Conga project."
Newmont and other companies, of course, have the legal license to operate; but mining companies regularly overlook the fact that they are, by definition, long-term investors and long-term operators. A single mine will often have an exploitative life of 40 plus years. Such decades-long investments, if they are to be socially and therefore politically sustainable, also require a social license, an acceptance by the community in which such investments are made. Otherwise, social protests and upheavals will become a regular occurrence, as is now happening in the mining areas of Peru. The consequence is that investors will scale back their operations, export revenues will decrease and local employment will drop.
The nations of Latin America have it in their power to prevent social unrest and, better yet, usher in a great big beautiful tomorrow for all of their citizens. To start, governments must not only enact strong mining and environmental legislation, but also enforce them. They need to ensure equitable distribution, and productive investment, of their natural resource wealth for their present, as well as for their future, generations. The establishment of sovereign wealth funds, which offer investment security and benefits for many generations, will be and is a necessity. But will Latin America meet this challenge? Or will there be a future lamenting Galeano?
Jenik Radon is Adjunct Professor at Columbia University's School of International and Public Affairs. He is founder and director of the Eesti and Eurasian Public Service Fellowship, which provides students the opportunity to intern in emerging nations. Radon served as a lecturer at Stanford University, and as a visiting professor at the Indira Gandhi Institute for Development Research in Mumbai, India. He regularly teaches at Monterrey Tech, Queretaro, Mexico, which named him Distinguished University Professor. His opinion can be read in full length in the TMP artcicle 'Will Latin America Beat the Resource Curse?'

---
Carolina Ocampo-Maya, Columbia University
Natural resource wealth represents a great opportunity for Latin America, but doesn't guarantee prosperity. To translate its mining resources into sustainable development, the region must meet four premises: consolidate legal frameworks and strong institutions, establish proper taxation regimes, align development plans with resource revenues, and create policies that incentivize other sectors of the economy.
First, solid legal frameworks and institutions are key to attract responsible investment and address socio-environmental impacts of mining operations. Negotiation and contract transparency can tackle issues such as information asymmetry between parties and unclear deals. For instance, Peru makes contracts publicly available, illustrating a good regional practice.
Second, proper taxation systems can seize mineral resource revenues. Given the vulnerability of commodity prices and demand, taxes and royalties must address price changes, including windfall mechanisms that allow countries to benefit from booms. Sovereign funds also stabilize economies and inflation during booms and provide a healthier environment for business. Chile and Colombia's funds, for instance, help balance out resource revenues when commodity prices fall.
Third, if development priorities are aligned with resource revenues, Latin America can continue strengthening its middle class and insuring high-quality provision of basic services. Human rights should be a priority and mining companies also require socially stable environments to operate. Latin American nations with a strong middle class and sophisticated civil society will ensure more effective and equitable use of mineral resources.
Lastly, Latin America must develop other sectors of the economy, avoid its de-industrialization, and become more than a source of raw materials. The region must use resource revenues to improve its innovation capabilities, create more value added and continue adding better jobs to the economy.
If Latin American countries are able to fulfill these four premises, yes, mining is key to prosperity. Otherwise, Latin America could miss the extraordinary opportunity to strategically translate its mineral assets into long-term sustainable development.
Carolina Ocampo-Maya is a Master of Public Administration in Development Practice Candidate at SIPA. She holds an MBA and has worked several years in Latin America's agroindustry, She now specializes on extractive industries and sustainable development. Carolina is currently a Research Associate at the Vale Columbia Center on Sustainable International Investment and a consultant for Mozambique Governance Watch.