Extractive Industries: What Should Be Disclosed?
Monday, April 22nd, 2013
In a world in which corporate disclosure is becoming an expanded norm, the release of non-financial information related to companies' social, health, and environmental impacts is also becoming more common. Investors and civil society are looking favorably upon sustainability indexes, which are promoted by stock exchanges, and sustainability reports, which are published by companies. Increased corporate social responsibility and transparency can improve the image of a company in the eyes of the public and incentivize the taking of measures to continue such practices. Specifically regulators and investors are beginning to realize the benefit of improved disclosure and transparency for companies in­ the extractive industries—oil, gas, and mining—as well as other sectors, because increased transparency of seemingly unimportant issues as environment increases their knowledge of potential financial risks in a company's operations. Social, health, and environmental issues can impede the operations of companies in the extractive sector; and herein lies the risk as well as the opportunity for the oil, gas, and mining industries.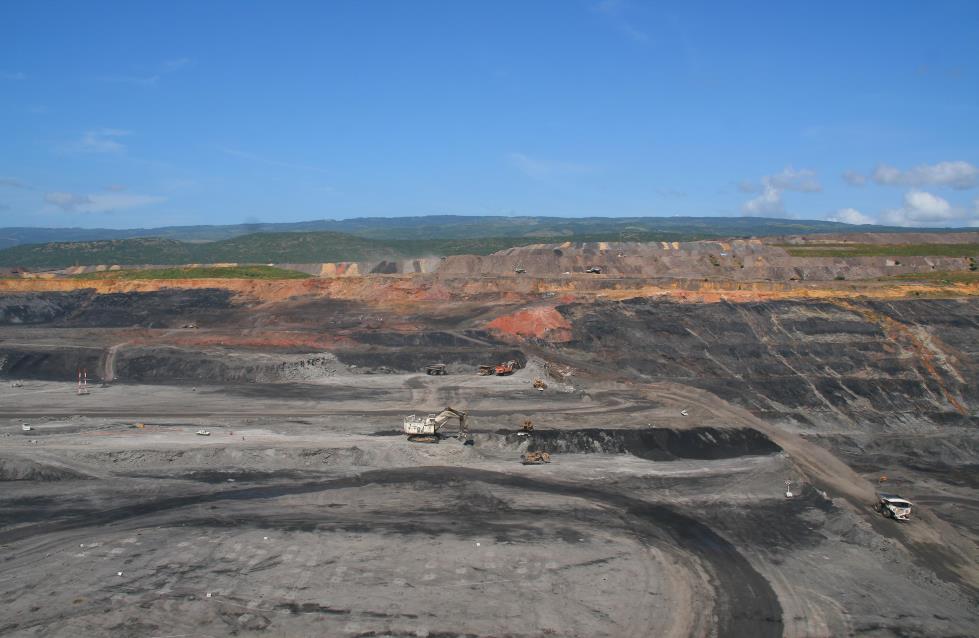 An open-air coalmine operated by Cerrejón in La Guajira, Colombia. The students met with Cerrejón's Manager for Social Standards and International Relations as well as staff and executives of other oil, gas, and mining companies during research trips conducted in Colombia and Brazil in March 2013. Photo by Tanenhaus (CC BY 2.0).
The Shanghai Stock Exchange (SSE), which is governed by the China Securities Regulatory Commission, has become the preeminent stock market in China. It follows the principles of "'legislation, supervision, self-regulation and standardization' to create a transparent, open, safe and efficient [financial] marketplace."[i] In the last several years, the SSE has taken steps to increase the disclosure of the environmental and social impacts of its member companies, through initiatives such as the development of a Corporate Governance Index in 2008 and a Corporate Social Responsibility Index in 2010. It has also created a measurement of the Social Contribution Value Per Share (SCVPS), which can be included in annual corporate social responsibility reports. SCVPS is a calculation of a company's value creation for its shareholders, employees, and customers, as well as for society as a whole.[ii]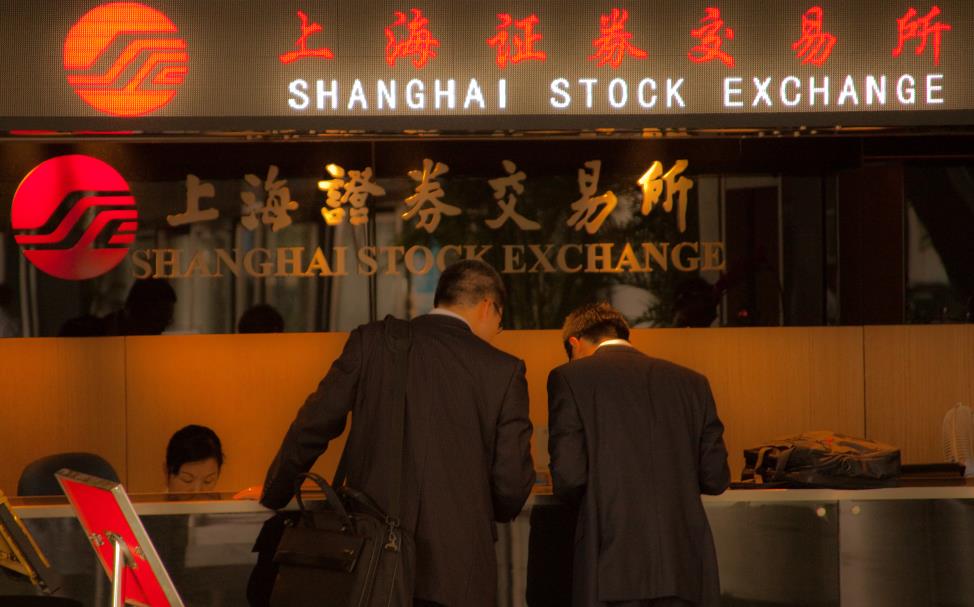 A 2 June 2009 photo of the Shanghai Stock Exchange. Photo by Aaron T. Goodman (CC BY ND 2.0).
In spring 2013, a Capstone team of students from Columbia University, comprised of eleven master's candidates—eight from the School of International and Public Affairs and three from Columbia Law School—served as a consulting team for the SSE's Capital Markets Institute under the supervision of Professor Jenik Radon.[iii] The institute tasked the team to propose guidelines for the disclosure of critical non-financial information by member companies of the SSE, since information not directly related to finances can nevertheless have an impact on a company's bottom line when, for example, production activities or levels are affected by environmental concerns or community resistance to a mining project. The goal of the proposal is to determine what information extractive industry companies should release about their operations abroad and, accordingly, in China. Specifically the proposed guidelines will define the SSE's reporting and disclosure requirements for its extractive sector member companies in overseas markets with respect to natural resource use and sustainability.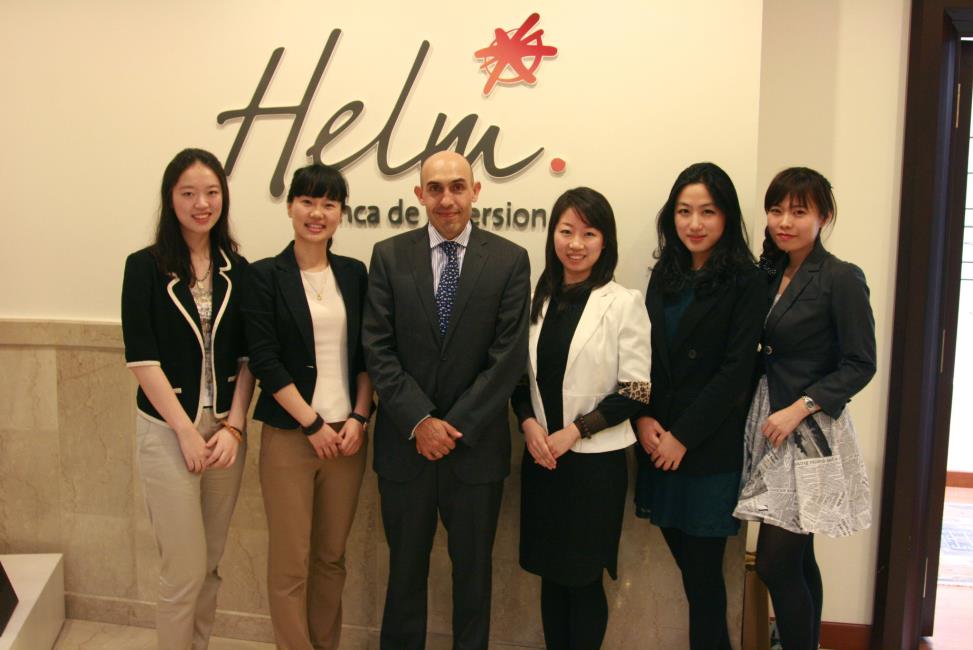 Capstone team members meeting with Vice President Germán Sandoval C. of Helm Bank, in Bogotá, Colombia on 20 March 2013. Present, from left to right are: Xingyu Liu, MPA 2013; Han Hu, Master of International Affairs (MIA) 2013; Germán Sandoval C., Vice President, Helm Bank; Yang He, MIA 2013; Zhiyao Ma, MIA 2013, and Yang Zhang, MIA 2013.
The team conducted research in Colombia and Brazil in March 2013. During this research trip, team members undertook interviews with extractive industry companies, NGOs, long-term investors, lawyers, and government authorities. The interviews provided information on the impact of foreign companies—from China, Canada, South Africa, and elsewhere—as well as that of domestic extractive companies. From this research, the students were able to appreciate the varying perspectives of industry, government, and investors and accordingly form comprehensive and inclusive recommendations to the SSE.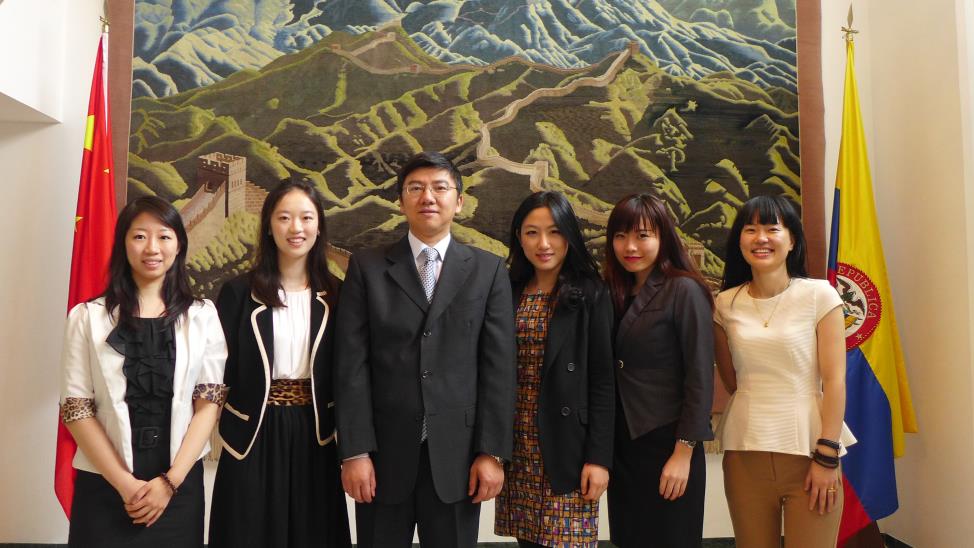 Capstone team members meeting with Commercial Counselor Quan Zhou of the Embassy of the People's Republic of China in the Republic of Colombia in Bogotá, Colombia on 18 March 2013. Present, from left to right are: Yang He; Xingyu Liu; Quan Zhou, Commercial Counselor, Embassy of the People's Republic of China in the Republic of Colombia; Zhiyao Ma; Yang Zhang; and Han Hu.
In addition to field interviews, the team researched laws and guidelines of a number of jurisdictions, such as those recently adopted by the U.S. Securities and Exchange Commission—in particular the Dodd-Frank Act—proposed laws and regulations of the European Union, and International Finance Corporation guidelines. They also surveyed investment vehicles such as pension and hedge funds to gauge the investment community's concerns about various non-financial risks when investing in an extractive company. The analysis of the collected information will set forth what stockholders, investors, and other entities examining a company's reports that are required by the SSE should know in order to properly evaluate the short- and long-term prospects and risks of these companies.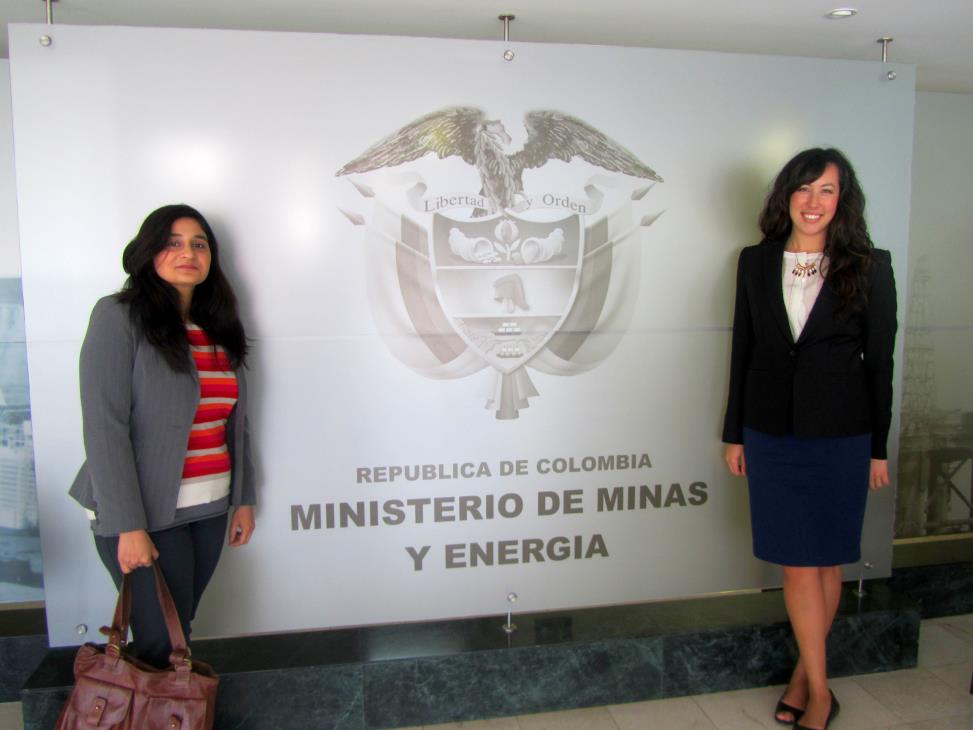 Capstone team members at the Colombian Ministry of Mines and Energy, Bogotá, Colombia on 19 March 2013. Present, from left to right are: Muna Baig, Master of Laws (LLM) 2013; and Sherry Goldberg, MIA 2013.
The Capstone team will present its final report to the Shanghai Stock Exchange in the summer of 2013 when Professor Radon expects to again visit Shanghai, China. If adopted, the non-financial disclosure guidelines recommended in the report will allow the SSE to build upon its recent progressive efforts to increase social responsibility, sustainability, and corporate governance of Chinese companies. Moreover, it will serve as a model for stock exchanges worldwide, to continue and further elaborate the concept of disclosure—the foundation of transparency—and simultaneously improve the practices of extractive companies around the world. This will herald the Shanghai Stock Exchange as a global leader among New York, London, and other international stock exchanges.
Sherry Goldberg will complete her Master of International Affairs degree from Columbia University's School of International and Public Affairs in May 2013. Her work focuses on the intersection of environment, development, and human rights, especially in the context of the extractive industries, business and human rights, and climate change.
[iii]
The capstone team includes Sherry Goldberg, MIA 2013; Muna Baig, LLM 2013; Zhiyao Ma, MIA 2013; Xingyu Liu, MPA 2013; Maria Isabel Aninat Sahli, LLM 2013; Yang He, MIA 2013; Hongxiang Huang, MPA-DP 2013; Lindiwe Knutson, LLM 2013; Osaretin Osarenren, MPA-DP 2013; Yang Zhang, MIA 2013; and Han Hu, MIA 2013