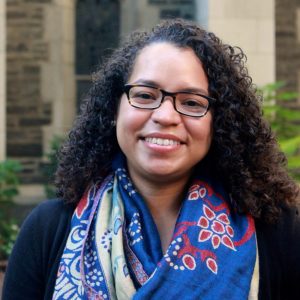 Anna is a Doctoral Candidate in the Department of Sociology at Columbia University. She is broadly interested in how our relationships with others impact our life trajectories and outcomes. Her dissertation is an ethnography in northern Peru of the relationships between local men and the foreign women who visit their town as tourists. She examines what these relationships can reveal to us about intimate identities and relationships in a modern, transnational context. Her prior work examined how networks impact professional outcomes in academia, specifically for those with a marginalized identity within the academy.

Dominic is a Doctoral Student in the Department of Sociology at Columbia University. His work examines questions at the nexus of race, identity, neoliberalism, and the cultural politics of education. More specifically, he is examining how the logic of racial capitalism structures notions of racial progress and social mobility in education spaces. His current project is an ethnographic study of identity work (construction, negotiation, and presentation of identities) among students of color in transitional school programs: non-profit organizations that recruit poor and working class students of color and prepare them to transition from mostly public schools in urban communities to elite, private schools.

Tey Meadow is an Associate Professor of Sociology at Columbia University, where she teaches courses on gender and sexuality, queer theory, qualitative methodology, law, and the analytics of risk and uncertainty.
Meadow's published work focuses on a broad range of issues, including the emergence of the transgender child as a social category, the international politics of family diversity, the creation and maintenance of legal gender classifications, and newer work on the ways individuals negotiate risk in intimate relationships. Meadow is the author of Trans Kids: Being Gendered in the Twenty-First Century (University of California Press, 2018), and the co-editor of the volume, Other Please Specify: Queer Methods in Sociology (University of California Press, 2018).