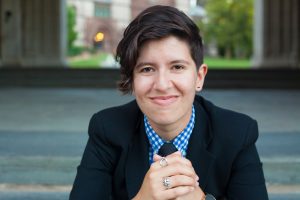 Estela is a Doctoral Candidate in the Department of Sociology at Columbia University. Estela's research interests center on issues of culture and inequality. Her dissertation examines families navigating the admissions process to private ongoing schools, beginning with entry at preschool or kindergarten. Prior to beginning her doctoral studies, Estela worked as an undergraduate admissions officer at Princeton University. She holds a M.A. in Sociology from Columbia University and a B.A. in Sociology (with honors in sociology) from Princeton University. Her work is supported by the National Science Foundation (NSF) Graduate Research Fellowship Program and the Mellon Mays Undergraduate Fellowship Program.
I am a Ph.D. Candidate in sociology at Columbia University. My areas of specialization include the state and society, organizations and organizational change, the sociology of punishment, health and medicine, and civil-military relations in the U.S. Using a historically-informed ethnography, my dissertation brings these areas together by examining how military veterans––one of the earliest and lasting beneficiaries of the American welfare state––endure the conditions and consequences of an adjacent and evolving state arena: the criminal justice system. I specifically look at how judges, prosecutors, case managers, treatment staff, and representatives from the U.S. Department of Veterans Affairs work to obtain and relinquish control over a category of people caught between the promise of care and the condition of constraint.

Tey Meadow is an Associate Professor of Sociology at Columbia University, where she teaches courses on gender and sexuality, queer theory, qualitative methodology, law, and the analytics of risk and uncertainty.
Meadow's published work focuses on a broad range of issues, including the emergence of the transgender child as a social category, the international politics of family diversity, the creation and maintenance of legal gender classifications, and newer work on the ways individuals negotiate risk in intimate relationships. Meadow is the author of Trans Kids: Being Gendered in the Twenty-First Century (University of California Press, 2018), and the co-editor of the volume, Other Please Specify: Queer Methods in Sociology (University of California Press, 2018).