Fall 2020 Colloquium Calendar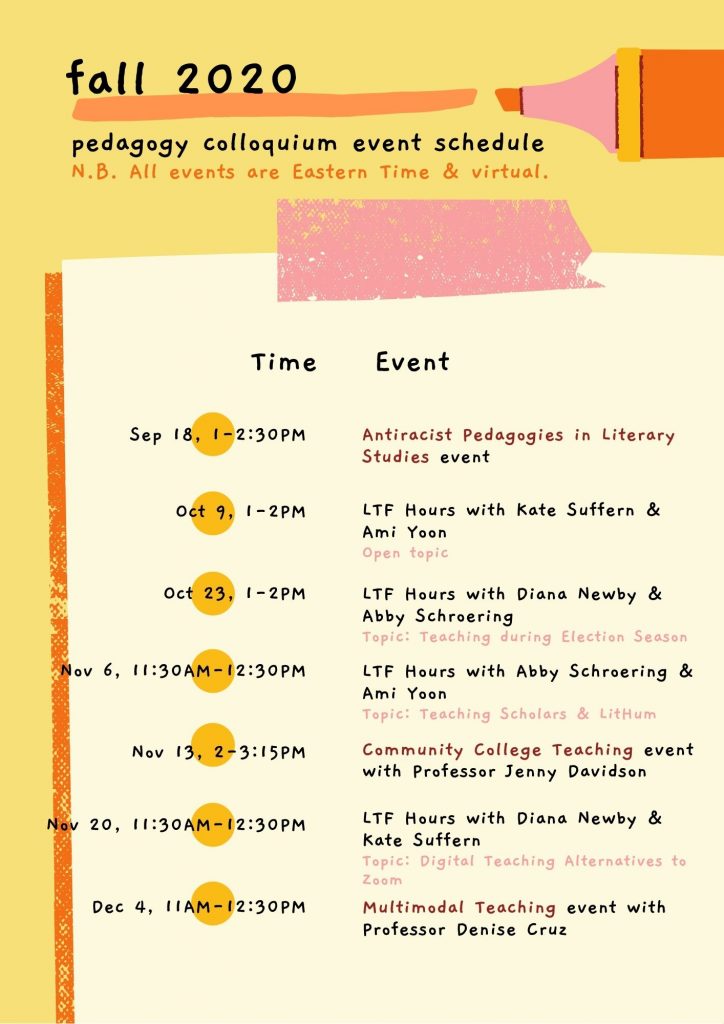 Please note that all events listed will take place at Eastern Time. Zoom links and registration information (where relevant) will be circulated via the Columbia English Department listserv before each event.
Key: "LTF Hours" are one-hour group discussions dedicated to informal conversation among English & Comparative Literature students on a range of teaching-related topics. Each session will be facilitated by two Lead Teaching Fellows (LTFs), who serve as liaisons between the English department and the Center for Teaching & Learning.
LTF Hours with Kate Suffern & Ami Yoon: Friday, October 9, 1-2pm
This session will be "open topic": participants are encouraged to bring any teaching-related questions or topics that they would like to discuss with the Lead Teaching Fellows and other graduate students.
LTF Hours with Diana Newby & Abby Schroering: Friday, October 23, 1-2pm
This session will be dedicated to preparing to teach the whole student in the days and weeks leading up to and following the presidential election.
LTF Hours with Abby Schroering & Ami Yoon: Friday, November 6, 11:30am-12:30pm
Community College Teaching Event: Friday, November 13, 2-3:15pm
Professor Jenny Davidson will facilitate a conversation about teaching at access-oriented institutions, featuring a panel of three community college instructors: Jamylle Carter, Matthew Nelson, and Kathleen Urda. Graduate students who are interested in learning more the qualifications and requirements for AOI instructional positions are particularly encouraged to attend. Co-sponsored by Jenny Davidson's "Work Inside and Outside the University" seminar.
LTF Hours with Diana Newby and Kate Suffern: Friday, November 20, 11:30am-12:30pm
This session, we will be joined by
Jonathan Reeve
, with whom we will explore digital teaching technologies that are alternatives to Zoom.
Multimodal Teaching Event: Friday, December 4, 11:00am-12:30pm
Professor Denise Cruz will lead a session on multimodal teaching tactics. Resources and tools explored may include (but are not limited to) readings available by podcast, embedded multimedia discussion boards, and keyword quizzes in multimodal forms.