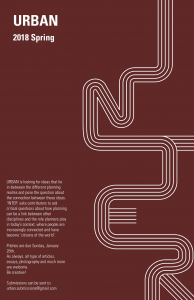 Dear URBAN Friends,
We are delighted to invite you to submit a pitch for our upcoming Spring 2018 issue, INTER.
INTER is looking for ideas that lie in-between the different planning realms and pose the question about the connection between these ideas. 'INTER' asks contributors to ask critical questions about how planning can be a link between other disciplines and the role planners play in today's context, where people are increasingly connected and have become 'citizens of the world'.
Pitches are due Sunday, January 28th. As always, all type of articles, essays, photography and much more are welcome. Be creative!
Submissions can be sent to urban.submissions@gmail.com.