October 23rd, 2014 by Kaitlyn Wells
On our Admissions Blog, we love sharing deadline reminders, scholarship announcements, and Seeple profiles with you. But we realize there are more ways to connect in this digital landscape. So we are now extending our reach, and will be sharing more admissions-related info on our Facebook and Twitter feeds. (Don't go anywhere, as there's still plenty of information to learn from our blog!) 
But that's not all. To show you more about student life at SIPA, we are now even on Instagram! For the latest images about SIPA student life and events, follow our username @Columbia.SIPA or find us at http://instagram.com/columbia.sipa.
Here's a taste of the images to come: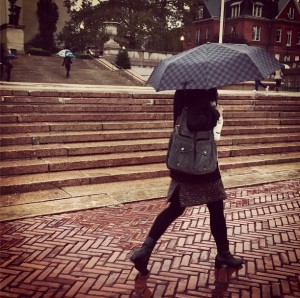 Stay dry today Seeple!
-Admissions Staff