Remangate
Date: Thursday, April 4th, 2013
Time: 3:00PM to 6:00PM
Location: Ramp Tables, Lerner Hall, Columbia University
The Lend Your Leg Campaign is a civil society initiative born in Colombia in 2011 to raise awareness about the problem of landmines.
Relevé in co-sponsorship with Sabor Dance Troupe
Date: Friday, April 5th, 2013
Time: 8:00PM
Location: Wein Lounge, Columbia University
Releve is Sabor's high school community impact initiative. Through this program the team aims annually to evoke the interest of high school students to seek a higher education; mimicking the action defined by the French noun, Releve strives to motivate students to rise.
The Latino Education Gap
Date: Saturday, April 6th, 2013
Time: 6:00PM to 8:00PM
Location: Satow Room, Lerner Hall, Columbia University
The CU Chapter of the Hispanic Scholarship Fund, Columbia PorColombia, and the Chicano Caucus are seeking to raise awareness on Columbia University's campus regarding the national education gap affecting Latino students.
As a major issue in larger conversations of inequality, we believe that it is crucial to shed more light on the subject to increase support for our community and create a think tank of ideas to solve the problem. We are hosting a panel discussion with professional experts on this topic, ranging from early childhood education to political movements.
This will be a great experience to listen to different perspectives and experiences on the U.S. education system and its disparities.
The list of guest speakers includes:
Jackie Vimos from the New York Immigration Coalition,
Carlos Blanco, CC'12 and current TFA teacher,
Dr. Carlos Vargas-Ramos, a professor at Columbia University and Hunter College
Natalie Cortez, TC'12 and counselor at the Double Discovery Center at Columbia
Moderator: Diana Puñales Morejon, PhD, MS, NYS Licensed Psychologist, BC '84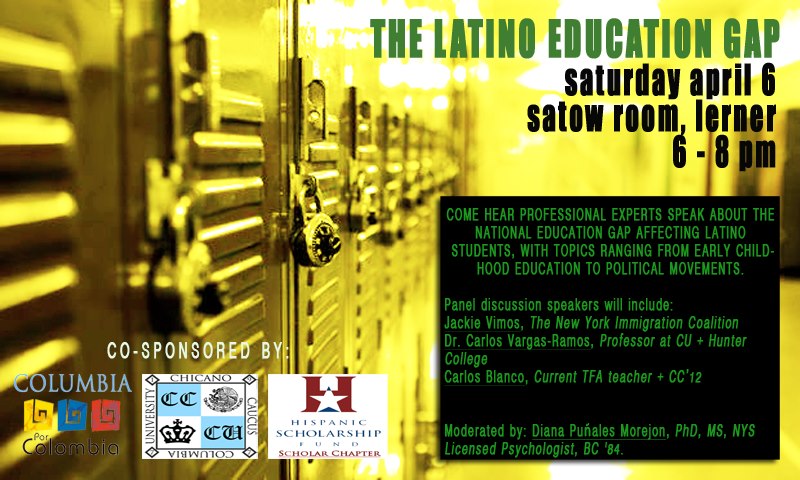 Nuestra America Cultural Explosion: Colombia 
Date: Saturday, March 30th, 2013
Time: 9:00PM to 11:30PM
Location: Lerner C555, Columbia University
Join the Student Organization of Latinos and the Mu Chapter of Phi Iota Alpha Fraternity, Inc. at our semesterly cultural showcase! This semester our Nuestra America cultural explosion will be on Colombia! There will be Colombian music, food and some dance lessons as well!
$3 Tickets! https://web.ovationtix.com/trs/pe/9770549 Buy your tickets now!!
Proceeds will go to Latino Graduation
Non-CU ID please e-mail jo2300@columbia.edu to be placed on the guest list!
Cosponsored by 
Grupo Quisqueyano 
Chicano Caucus
Sigma Lambda Gamma
Sigmba Lambda Beta
Lambda Pi Chi
Organiz
ation of Latin American Students
Live At Lerner
TIC
Columbia Por Colombia
A Taste of Spring
Date: Wednesday, March 13th, 2013
Time: 7:00PM to 8:30PM
Location: Lerner C555, Columbia University
Come take a break from midterms and grab some amazing food!
The Brothers of the Epsilon Delta Chapter of Sigma Lambda Beta International Fraternity, Inc., in cosponsorship with Columbia PorColombia, Grupo Quisqueyano, Haitian Student's Association, and Hermandad de Sigma Iota Alpha, Inc. invite you to join us in a potluck exploring the diverse cultures at Columbia University.
Hope to see you there!