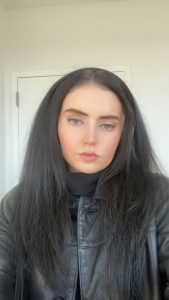 Jess Gallagher (they/any) is a Human Rights MA student at Columbia University where they currently serve as the Co-Editor for RightsViews and the Co-President of the Human Rights Graduate Group (HRGG). Jess serves on the National Advisory Board, National Museum Committee, and the Collections, Archives, and Museum Inventory Committee at Pennhurst Memorial and Preservation Alliance (PMPA), advocating for the creation of a National Museum of Disability History, Culture, and Civil Rights. They also work as a Production Coordinator at the Columbia Journalism School, archival researcher, writer, and served as an editorial intern at the international academic journal Disability Studies Quarterly (DSQ). Their concentration in the field of human rights is disability, historical, and transformative justice. Their research focuses on disability history, pride, and culture from the 19th century to the present. Using the lens of History, Disability and Mental Health law, Abolition, Oral History, and Storytelling, Jess aims to work as a disability oral historian whose activism centers on grassroots organizing, uplifting the lived experiences of people with disabilities from across all identity markers, and preserving historical sites of conscience.
---
Meryem Bahadir (she/her) is a recent graduate of the University of California, San Diego with a B.A. in English Literature/Writing with a concentration on the visual of violence in media. She is a current Human Rights M.A. student at the Institute for the Study of Human Rights at Columbia University with intent to research state-sanctioned violence in the Middle East. Previously, she worked as a Congressional Lobbyist and Advocacy Assistant for the I-NGO Americans for Democracy and Human Rights, interned as a Human Trafficking Monitoring, Evaluation, and Learning intern for Project Concern International (San Diego Division), and was an Engagement Intern at the World Justice Project in Washington DC.
Within her scope of interests lies writing in all forms of the medium, social justice and advocacy, and consuming concerning amounts of visual media. Her favorite Studio Ghibli movie is Princess Mononoke and her favorite music genre is alternative rock.
---
If you are interested in contributing to RightsViews or getting in touch with the editors, please email [email protected].