By: Isidora Roskic, RightsViews staff writer.
At the start of May, Montana broke the United States' record for enacting the highest number of anti-LGBTQ+ legislation in a given calendar year. On May 7th, Governor Greg Gianforte signed a new athletic bill that barred transgender athletes from participating in school and university sports teams that don't correspond with their sex assigned at birth. Supporters of the ban believed it would ensure transgender women did not have an unfair advantage over cisgender women in sports competitions. Despite the lack of research supporting such claims, similar bills have been passed in Alabama, Arkansas, Mississippi, Tennessee, and West Virginia. 
Much to the dismay of the LGBTQ+ community, Montana's latest attack on queer youth is not surprising, 2021 quickly became one of the worst years in the country for sexual and gender minorities. Alphonso David, President of Human Rights Campaign, warned that the wave of discriminatory legislation is the result of national anti-LGBTQ+ groups coordinating with anti-equality lawmakers to appeal to their conservative base by spurring moral panic around the supposed threat queer folk pose to the health and happiness of their heterosexual counterparts. Unfortunately, many of these groups have been successful in curtailing the rights of LGBTQ+ citizens. Thus far, 17  anti-LGBTQ+ bills have been enacted into law in 2021. This number surpasses the latest record of 15 bills in 2015.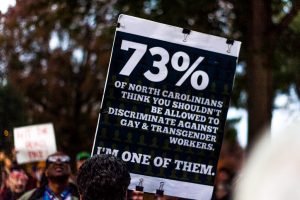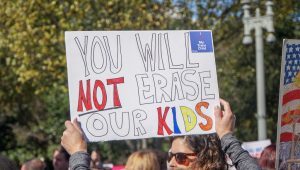 This aggressive attempt to oppress sexual minorities in the country has robbed the community of basic human rights. Aside from the recent spur of anti-trans sports bans, four new religious refusal bills have come into law in Arkansas, Montana, and South Dakota. These bills use religious exemption to justify discrimination against the LGBTQ+ community. For one, last March, South Dakota Governor Kristi Noem signed Senate Bill 124 which would permit goods and service providers to legally deny queer people. Besides the enormous impact this would have on the State's economy and reputation, Noem's decision is a direct attack on the health and safety of LGBTQ+ citizens fighting to survive in the midst of a global pandemic. Weaponizing religious liberty at the expense of queer safety will essentially cut off critical health services and food sources for an entire population. Sexual and gender minorities may legally be prevented from receiving treatment at religiously affiliated hospitals and healthcare systems, pharmacies, insurance companies, churches, private education facilities, and all other religiously affiliated institutions within the state. This can significantly damage the psychological and physical wellbeing of sexual and gender minorities throughout the pandemic as access to medical support, mental health services, safety supplies, and easily accessible food and water are of vital importance. 
To raise even greater concern, Human Rights Campaign found that over 250 anti-LGBTQ+ bills have been introduced in U.S State legislatures this year. Out of the 250, the majority were a direct attack on the transgender community. Similar to the athletic bill already passed in Montana, another 69 bills have set out to prohibit transgender youth from participating in sports inconsistent with their sex assigned at birth. Another 35 bills would prevent them from receiving gender-affirming health care. 15 more would prohibit transgender people from accessing restrooms, locker rooms, and other public facilities that do not align with their sex assigned at birth. This is merely an extension of the so-called 'bathroom bill,' a focal point of conversation and debate over the last few years among conservatives. 
Just early last month, the Log Cabin Republicans of Tennessee supported the implementation of a 'bathroom bill' in hopes it would prevent sexual predators from being able to assault women and girls in female restrooms. Put bluntly, the rhetoric of the supposedly impending sexual predator is nothing but an excuse for U.S elected officials to push forward transphobic laws under the guise of responding to baseless threats. Given the example of Tennessee, a PinkNews study reported the reasoning behind the 'bathroom bill' would never be realized in practice as there hasn't been a single recorded instance of transgender women sexually assaulting cisgender women in a Tennessee bathroom. Rather, greater protection should be offered to the trans community which is constantly at risk of transphobia-motivated attacks. According to the most recent FBI report, transphobic attacks have been on the rise. Out of the 189 gender-motivated hate crimes that occurred in 2018, 160 of them were motivated by an anti-transgender bias. Studies suggest this number has now risen by 20%. 
Given June marks international Pride Month, now is the moment to take action to promote and protect LGBTQ+ human rights across America and the rest of the world.
Some incredible ways to support the community include:
Volunteering for your local LGBTQ+ organization

Donating to an LGBTQ+ charity
Financially supporting community members in gender-reaffirming therapy
Following LGBTQ+ activists on social media
Signing petitions against anti-LGBTQ+ practices and policies
Photos
"WERK for Consent- A Queer and Trans Dance Protest 2798" by tedeytan is licensed under CC BY-SA 2.0
"2018.10.22 We Won't Be Erased – Rally for Trans Rights, Washington, DC USA 06817" by tedeytan is licensed under CC BY-SA 2.0
"Moral Mondays – 11.28.16" by Pilar Rose Timpane is licensed under CC BY-NC-ND 2.0