By Isidora Roskic, RightsViews staff writer and a graduate student in the human rights MA program.
With a total of 28 million infected, the United States stands as having the highest number of total virus cases in the world. Among those impacted, Covid-19's effects are felt most acutely by LGBTQ+ youth who are challenged with battling stressors unique to their marginalized identities and young age. 
As the pandemic rapidly evolved, the country implemented several state-based health mandates that, among other things, required citizens to self-isolate and socially distance. To further minimize the spread of the virus, supplementary measures were put in place which included the closures of K-12 schools, universities, local businesses, recreational facilities, businesses, and even some public spaces. While the extent to which these actions take place can vary from state-to-state, even short-term closures can have significant negative impacts on the mental and physical wellbeing of adolescents.
Above all, healthcare practitioners believe the switch from physical to digital education is particularly devastating, as school can sometimes be the only source of healthy socialization for LGBTQ+ youth. Marco P, 16 from NYC, speaks of the mental toll these changes have had: 
"I only know one other gay kid in my school but I haven't been able to see him the last couple of months […] I can't even talk to him now because his parents don't know he likes boys so he's scared they might see our messages and find out."
As Marco explains, an unintended consequence of Covid-19 restrictions is the potential loss of important connections to the queer community and support networks. In the hope to mediate the negative social impacts of physical distancing, Jessica C, 19 from Orlando, says she turned to dating apps for the first time. Having struggled with anxiety for much of her adolescence, "dating apps were kind of my safe haven, I found comfort in meeting other gay people who were also kind of freaking out about everything going on so I didn't feel as alone." 
This unconventional support system became particularly important for Jessica as she found herself to be one of many sexual minorities confined to an unsupportive living space during the pandemic. In comparison to their heterosexual peers, only one-third of LGBTQ+ youth are accepted by their families. Those that aren't are approximately 8 times more likely to attempt suicide and 6 times more likely to experience depression. Since families play such a crucial role in the mental health of adolescents, the long-term consequences of parental rejection also include high levels of shame, internalized homophobia, PTSD, and psychological distress. With almost two million LGBTQ+ youth living in the United States, the potential implications of the pandemic can seriously threaten the health of the community as a whole. 
Researchers suggest that the best way young people can maintain resilience while living in unsupportive environments during the pandemic is to strike a balance between concealing their sexuality to avoid harm and exploring their identities through supportive platforms. 
While many incredible LGBTQ+ organizations around the United States offer a fantastic set of mental health resources and services, young people should also enjoy other supportive avenues. For instance, Goodreads offers a wonderful set of free LGBTQ+ books online that anyone can download onto their personal computer. For those adolescents old enough to have Facebook, there are many queer-focused groups that meet online to discuss different books, including Big Gay Book Club, LBB Book Club, The Women's Book Club. 
If bonding over a book isn't of interest, Empty Closets and LGBT Chat are online LGBTQ+ forums that allow sexual minorities to ask questions, join a wide range of discussions, share links, resources, or start their own topic of conversation. For those that don't feel particularly comfortable chatting online, Gender Creative Kids and Trevor Project provide a preset list of FAQ answers on gender identity labels, binding, 'coming out', and more. TikTok can also provide incredible value to youth who are looking to curate video content, discover LGBTQ+ influencers or explore different queer topics using hashtags like #LGBTQ #loveislove.
Even with the ongoing social distancing restrictions, free online LGBTQ+ events are available almost every single week. Whether an adolescent would like to participate in an empowering round table talk,  listen in on a panel discussion, join a non-binary craft crew or even join in on next month's virtual pride, there are amazing opportunities to strengthen queer resiliency and build the social community. 
As we patiently wait on the distribution of Covid-19 vaccines, it's important we do not lose sight of the ways in which the pandemic has impacted the health and happiness of LGBTQ+ youth. While sexual minorities can benefit greatly from the resources provided above, it is critical that local healthcare providers and professionals play a part in elevating rather than erasing the identities and issues the LGBTQ+ community faces.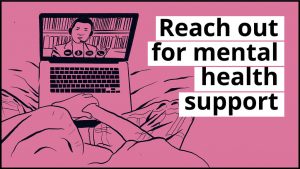 *The names in this article have been changed to protect privacy 
Photos
"New virtual mental health supports for COVID-19 on the way" by BC Gov Photos is licensed under CC BY-NC-ND 2.0