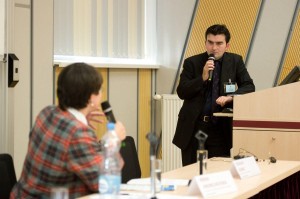 Erginbay Uğurlu is a Professor of Econometrics. Uğurlu received his B.A. in Econometrics from Marmara University in 2004. He has attended to İstanbul Technical University in 2004 and received M.Sc. in Economics in 2006. In the same year, he started his doctoral education at Gazi University. He had a Ph.D. degree in the field of Econometrics in 2011. He was carrying out research at Columbia University Department of Economics as a Visiting Scholar and The Columbia Consortium for Risk Management as a Post Doctoral Academic Researcher for the period June 19, 2013, through December 18, 2013. Uğurlu's research interests include econometrics, time series econometrics, panel data econometrics and limited dependent variables on economics and finance. His M.Sc. dissertation is Real Exchange Rate and Economic Growth: Turkey ( "Reel Döviz Kuru ve Ekonomik Büyüme: Türkiye" in Turkish), and Ph. D. Dissertation is Investigating Turkish Energy Market by Multivariate Linear Regression Analysis ("Türkiye Enerji Piyasasının Çok Değişkenli Doğrusal Regresyon Analizi İle İncelenmesi" in Turkish).  He got Assoc. Prof. degree in 2014.
He is a Head of the Department of International Trade at Istanbul Aydın University.
Please click for the department web page.