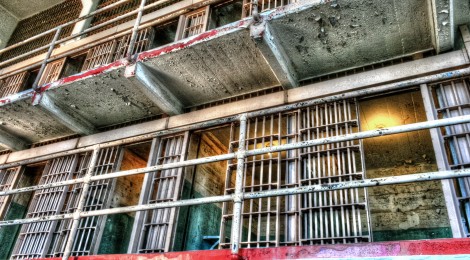 The Excessive Bail Clause of the Eighth Amendment of the Constitution of the United States of America, "Excessive bail shall not be required," institutionalizes the practice of bail within American jurisprudence and, in theory, should protect defendants from malpractice in adjudication.[1] The contemporary system of bail, however, has become a complex entanglement of laws, varying from judge to judge, from courtroom to courtroom, and from state to state. In regions of the United States with significant socio-economic disparity, bail presents an additional issue: it risks skewing the legal process for the indigent for whom detention could result in unemployment, family disruption, or permanent financial insecurity. In fact, due to the severely disproportionate effects bail has on its variety of defendants, it can be argued that this very practice violates the Equal Opportunity Clause of the Fourteenth Amendment. While significant legal reform is necessary to both mitigate and standardize the negative externalities of bail within American jurisprudence, cases nationwide have already affirmed the disproportionate burden placed on the socio-economically disadvantaged.
The bail system has undergone rigorous reform in the latter half of the twentieth century. Previously dependent on the Judiciary Act of 1789, bail was ill defined within modern jurisprudence. Seeking to entrench the right to bail, Congress determined to legislate specific criteria for the institution of bail during pretrial detention. The Bail Reform Act of 1966 allowed defendants in noncapital cases to be released either by personal recognizance or with an unsecured appearance bond, rather than exclusively a monetary bond – unless "such a release will not reasonably assure the appearance of the person as required."[2] An unsecured appearance bond fines the defendant only after failure to appear at court, unlike bail, which is determined and paid at anytime after arraignment and before trial. Regardless, amid a nationwide fear of crime in the late seventies, both state and federal laws expanded the preventative measures of bail to public safety.[3] The Bail Reform Act of 1984, which allowed judges to additionally consider the individual's risk to others if released, subsequently superseded the 1966 law.[4]
In United States v. Salerno, Anthony Salerno and Vincent Cafaro, two mafia "bosses," were detained after arraignment because the judge had no assurance that their release would uphold the safety of the community or any individual. At first, the Second Circuit Court of Appeals found that pretrial detention contingent upon potential public risk violated due process of law. Yet, Chief Justice Rehnquist's majority opinion concluded that the 1984 law hampered neither the due process clause of the Fifth Amendment nor the excessive bail clause of the Eighth Amendment because "sufficiently compelling governmental interests" can justify regulatory measures such as detention.[5]
The Supreme Court's discussion of the 1984 law did not, however, consider the varying effects of bail on defendants from various socio-economic backgrounds. The narrow ruling in United States v. Salerno failed to contemplate the regressive burden of bail, leaving impoverished members of society at a disadvantage when confronting indictment.
At the moment, approximately 450,000 defendants are in pre-trial detention in the United States. The New York Times reported that in New York City alone, nearly 45,000 defendants are jailed every year due to their failure to pay bail assigned at arraignment. New York courts set bail comparatively lower than the national average; however, even when bail is set at $500 or below, a mere 15 percent of defendants muster adequate funds to attain conditional liberty through bail.[6]
Furthermore, unsecure bonds, which are not backed by collateral, are nearly nonexistent in jurisdictions nationwide, accentuating the financial burden of bail. In New York City, defendants can hire commercial bondsmen to attenuate issues of liquidity since most bail amounts are too minor to qualify for third party services. Consequently, many defendants are forced to pay unaffordable bail, comply with incarceration, or plead guilty to accelerate the legal process. Regardless of their involvement in the crime, defendants find pleas of guilty more lenient than exorbitant bail and more attractive than the prospect of prison; not only does bail unnecessarily tarnish defendants' criminal records, but it also alleviates overburdened inner city courts, benefitting judges and district attorneys[7]
In 2015, Varden v. City of Clanton received national attention after the Department of Justice filed a Statement of Interest in the case. Christy Varden was arrested outside of the Clanton Walmart for four misdemeanors: shoplifting, drug paraphernalia, failure to obey a police officer, and resisting arrest. The city of Clanton insisted she pay a bond of $500 per charge, amounting to $2,000 total. [8] Varden, who was unemployed and had two children (later deemed indigent by the court), proceeded to sue the city, alleging that the incarceration of individuals singularly attributed to the inability to post bail violates the Fourteenth Amendment of the Constitution. [9]
In their Statement of Interest, the Department of Justice unequivocally supports Varden's claim and affirms the unconstitutional nature of unaffordable bail: "Any bail or bond scheme that mandates payment of pre-fixed amounts for different offenses in order to gain pre-trail release, without any regard for indigence, not only violates the Fourteenth Amendment's Equal Protection Clause, but also constitutes bad public policy." Furthermore, the department reaffirms the Bail Reform Act of 1984, corroborating "individualized assessment" of the defendant's probability of attendance and risk to community.[10]
The court eventually concurred with the Department of Justice's analysis and found the city of Clanton's practice of jailing defendants "without a hearing on the merits that meets the requirements of the Fourteenth Amendment regarding the person's indigence and the sufficiency of the bail setting" unconstitutional.[11] The New York Times reported in October 2015 that Clanton, with a population of 8,619, began to release most misdemeanor defendants immediately without payment of bail. The American Civil Liberties Union has similarly sued counties in Washington and Mississippi for neglecting to consider defendants' fiscal capability during arraignment and Christy Varden's attorney, has opened class action lawsuits against six additional jurisdictions in Missouri, Mississippi, Louisiana, Alabama, and Georgia within the past year. Each respective court reaffirmed the Department of Justice's interpretation of the unconstitutionality of this practice.[12]
Despite the momentum in bail reform, the recent progression of judicial battles has not accelerated to a point of watershed. Notwithstanding, jurisprudence of larger populations generally prompts greater indigent discrimination. The District of Columbia provides an ideal model for legal improvement. The relatively relaxed DC bail law enforces statutory detention for defendants who pose significant risk to the community and requires the least obstructive release for other defendants. Eschewing secure monetary bonds altogether, judges release 85 percent of defendants, incarcerating only 15 percent (compared to the 2010 national incarceration rate of 76 percent in federal district courts).[13] Those released, of whom 88 percent return to court, rely on statements of personal recognizance (legal obligations to return to court on certain dates).[14] Whether these revisions of statute would attenuate disproportionate pretrial burdens placed on individuals is contentious and not extensively studied. Nevertheless, with recent unequivocal federal and state endorsement to reconsider bail's role in pretrial procedure, the legal reform necessary to equalize the unconstitutional pretrial system for the indigent is slowly forthcoming
[1] U.S. Constitution, Amendment XIV.
[2]  Bail Reform Act of 1966, Pub. L. No. 89-465, 80 Stat. 1357 (1966).
[3] John S. Goldkamp, "Danger and Detention: A Second Generation of Bail Reform," The Journal of Criminal Law and Criminology (1973-) 76, no. 1 (1985): 1–74, doi:10.2307/1143353.
[4] U.S. Department of Justice, Bureau of Justice Statistics, Pretrial Release and Detention: The Bail Reform Act of 1984, Washington, D.C. (1988).
[5] United States v. Salerno et al., 481 U.S. 739 (1987).
[6] Nick Pinto, "The Bail Trap," The New York Times, August 13, 2015, http://www.nytimes.com/2015/08/16/magazine/the-bail-trap.html (accessed February 13, 2016).
[7] Ibid.
[8] Shaila Dewan, "Court by Court, Lawyers Fight Policies That Fall Heavily on the Poor," The New York Times, October 23, 2015, http://www.nytimes.com/2015/10/24/us/court-by-court-lawyers-fight-practices-that-punish-the-poor.html (accessed February 22, 2016).
[9]"Plaintiff in Lawsuit against City Dies," The Clanton Advertiser, March 11, 2015, http://www.clantonadvertiser.com/2015/03/11/plaintiff-in-lawsuit-against-city-dies/ (accessed February 22, 2016).
[10] U.S. Department of Justice, Statement of Interest of the United States, February 13, 2015, http://www.justice.gov/file/340461/download (accessed February 13, 2016).
[11] Jones v. The City of Clanton, No. 2:2015cv00034 – Document 76 (M.D. Ala. 2015) http://law.justia.com/cases/federal/district-courts/alabama/almdce/2:2015cv00034/56330/76/ (accessed February 26, 2016).
[12] Dewan, "Court by Court, Lawyers Fight Policies That Fall Heavily on the Poor."
[13] U.S. Department of Justice, Bureau of Justice Statistics, Pretrial Detention and Misconduct in
Federal District Courts, 1995-2010, Washington, D.C. (February 2013), http://www.bjs.gov/content/pub/pdf/pdmfdc9510.pdf (accessed February 27, 2016).
[14] "We Need More Bail Reform," Pretrial Services Agency of the District of Columbia, https://www.psa.gov/?q=node/390 (accessed February 22, 2016).