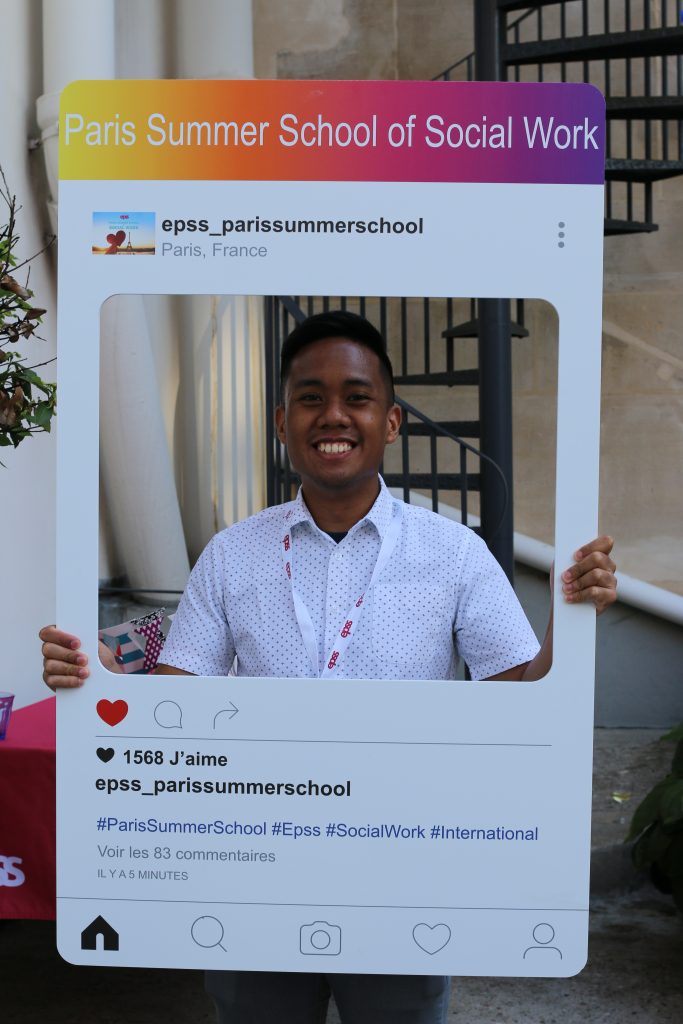 This past summer, Joshua Binag '21 participated in the Paris Summer School of Social Work, a study abroad program that blends formal and out-of-class cultural learning. Students are given the opportunity to learn about current societal issues faced in France and Europe through lectures, field visits, and placements. The program culminates with a social intervention project. 
Joshua was the only delegate from Columbia University among a cohort comprising of students from the United States, the United Kingdom, Canada, and Germany this past July.
What made you pursue the opportunity?
During my undergraduate years, I was a double major in Psychology and French Studies. I also had the opportunity to study abroad for one semester during my junior year in Aix-en-Provence, a city outside of Marseille in southern France. After graduation, I was really trying to find a way to integrate my studies in both psychology and French into a career that was truly in the service of others. Through supervision from my previous supervisors and other colleagues I met along the way, I eventually found social work and began working towards my MSW here at Columbia.
Last semester, I received an email from the Office of Career Services and Leadership Management about the program. I knew I wanted to return to France, and I saw it as a great opportunity to see France in a different light and to apply what I learned from my undergraduate studies and at CSSW.
What did you learn through the experience?
I learned that despite their differences, the United States and France face very similar issues. During the program, we attended various lectures on the state of social work issues in France, such as child welfare, mental health, addiction, social policy, social enterprise, and immigrant/refugee services, and visited and served at various social service/non-profit organizations throughout Paris and its suburbs. It was refreshing to see firsthand the ways in which French social service agencies, nonprofits, and various organizations address such issues. France has a long history of supporting progressive ideals and challenging individuals and systems in power. It's no surprise that France has remained a hotbed for progressive ideals and innovative social programs, policies, and entrepreneurship.
One particular organization that we visited and caught my attention was Les Grands Voisins. Based in a building that was formerly a hospital, Les Grands Voisins, which translates to "The Big Neighbors," is an organization that hosts and supports businesses run by individuals from marginalized populations such as refugees, minorities, and victims of domestic violence. The aim is to ultimately empower these businesses to eventually become self-sufficient, while building a community space where all individuals, regardless of their background, could come together. This type of environment really challenged me and my cohort to think critically and creatively to address various social issues around us, especially through lenses we wouldn't initially look through.
How did you apply your developing perspectives to address the social issues you mentioned?   
For our final project, we were split into groups and instructed to create a social intervention project (SIP) that addressed an issue that we noticed during our time in Paris. Two issues that our group identified were 1) the refugee asylum seeking process; and 2)food waste and insecurity. While brainstorming, our group identified that food is often the first factor an individual experience when encountering a foreign culture.
Our solution was to create a program called Let's Break Bread, a local event that would bring together members of the local community and newly-arrived refugees and asylum seekers through food and fellowship. Food for this event would be provided by various stakeholders, including food banks, restaurants, and supermarkets, with food surplus in order to simultaneously address food waste. We hope that this program would ease refugee and asylee integration efforts in a non-threatening manner, decrease social isolation among refugees and asylum seekers, and tackle food waste in France. Although there are many factors that must be considered to truly implement this program, from funding, stakeholders, to research, this project challenged us to assess French society, culture, and policy to creatively address the various issues we identified during our time in Paris.
How did this experience contribute to your career development?
I originally attended this program with the intention of witnessing the French social service system firsthand and understanding the implications their interventions could have on social work practice in the United States. While I was able to accomplish this while attending the program, this experience has really allowed me to expand upon the different directions I could take for my social work career. Although I know how to speak French and have studied in France previously, I never considered working in an international setting. I was able to establish numerous connections within my cohort and with various professionals I met along the way. These relationships could make working internationally a reality.
Perhaps more significantly, this program has truly made me reassess the course I want to take in my MSW and future career. I originally came to CSSW with a clinical focus. However, shortly after starting my MSW, my interests expanded, and I began to notice that I was starting to view social issues at a macro level. My recent experience with program development and social enterprise through our SIPs gave me a small glimpse of what it's like to intervene at the macro level, and it definitely seems like a path I'd like to pursue in the future. As a student in the Extended Program, I have a lot of time to think about the direction I want to go in, and I'm glad that this opportunity has afforded me a range of possibilities to advance my social work career.
Are there any tips or insights you would like to share with regard to the program?
Keep an open mind and be as flexible as possible because culture shock is part of the experience. This goes for both your work in the program and your personal downtime exploring Parisian life. Even though this program only lasted for one month, you'll be navigating a completely different culture with a set of values that may be different from your own. These differences were prevalent in every facet of the journey, such as the social service agencies and organizations we visited, the French social policies and programs, and our day-to-day interactions with Parisians. With this in mind, try your best to not be intimidated by these initial difficulties and look at them as opportunities for growth. They'll definitely help you grow as an individual, a global citizen, and a social worker.