Upcoming Events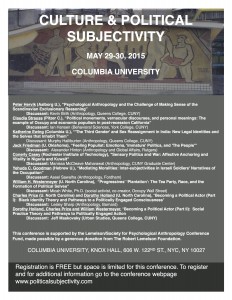 CULTURE & POLITICAL SUBJECTIVITY CONFERENCE
               May 29-30, 2015
      Columbia University, Knox Hall, 606 W. 122ND ST., NYC, NY 10027
---
Past Events
FANDRY
Award-winning Marathi film addressing issues of caste, gender and stigmatized labor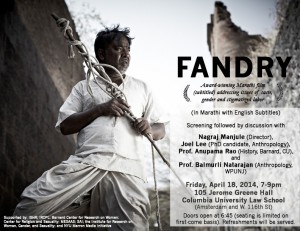 Screening, and discussion with director, Nagraj Manjule; Joel Lee (PhD candidate, Anthropology); Professor Anupama Rao (History); Professor Balmurli Natarajan (Anthropology, WPUNJ)
Friday, April 18, 2014, 7-9pm
105 Jerome Greene Hall,
Columbia University Law School (Amsterdam and W. 116th St)
Supported by: ISHR; IRCPL; Barnard Center for Research on Women; Center for the Study of Religion and Sexuality; MESAAS; NYU Marron Media Initiative; SAI; and the Institute for Research on Women, Gender, and Sexuality
---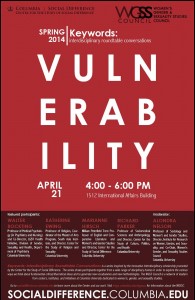 CSSD/WGSS Council Keywords discussion on "Vulnerability".
April 21st from 4-6pm in 1512 IAB.
Panelists:
Walter Brockting, Professor of Medical Psychology and Co-Director, LGBT Health Initiative at Columbia University
Katherine Ewing, Professor of Religion, Coordinator of the Master of Arts Program, South Asia Institute, and Director, Center for the Study of Religion and Sexuality, Columbia University
Marianne Hirsch, William Peterfield Trent Professor of English and Comparative Literature and Women's and Gender Studies, and Director, Center for the Study of Social Difference, Columbia University
Richard Parker, Professor of Sociomedical Sciences and Anthropology, and Director, Center for the Study of Culture, Politics, and Health, Columbia University
Moderator: Alondra Nelson, Professor of Sociology and Women's and Gender Studies, Director, Institute for Research on Women, Gender, and Sexuality and Co-Chair, Women's, Gender, and Sexuality Studies Council, Columbia University
"Keywords: Interdisciplinary Roundtable Conversations" is a series inspired by the innovative interdisciplinary scholarship promoted by the Center for the Study of Social Difference. The series draws participants together from a wide range of disciplinary homes in order to explore the various ways we think about fundamental critical/theoretical ideas and to generate new vocabularies and new methodologies. The WGSS Council is a network of leaders from centers, institutes, and initiatives at Columbia University dedicated to women's, gender, and sexuality studies.
---
Spring 2014 Law and Sexuality Colloquium: Law, Rights, Religion
The Ambivalent Middle Class: Weaving Sexual Rights into the Religious Fabric of
India
Katherine Ewing, Department of Religion and South Asia Institute, Director, Center for the Study of Religion and Sexuality, Columbia University
Tuesday April 1st
4:20 – 6:10pm
Case Lounge, Room 701
Jerome Greene Hall
435 W. 116th St.
---
Heather White, "The Talking Text: How the Bible Came to Speak about Homosexuality"     Monday, March 24, 2014, 4:00 pm, 208 Knox Hall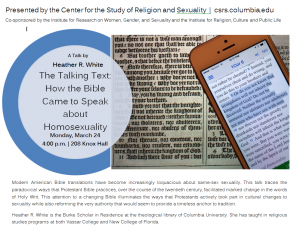 Co-sponsored by the Institute for Research on Women, Gender, and Sexuality and the Institute for Religion, Culture, and Public Life
Modern American Bible translations have become increasingly loquacious about same-sex sexuality. This talk traces the paradoxical ways that Protestant Bible practices, over the course of the twentieth century, facilitated marked change in the words of Holy Writ. This attention to a changing Bible illuminates the ways that Protestants actively took part in cultural changes to sexuality while also reforming the very authority that would seem to provide an timeless anchor to tradition.
Heather R. White is the Burke Scholar in Residence at the theological library of Columbia University. She has a Ph.D. in American Religion from Princeton University and has taught in religious studies programs at both Vassar College and New College of Florida. She is completing a book on American Protestants and homosexuality politics, tentatively titled Reforming Sodom: Protestants and the Making of Modern Sexual Identity.  She is in residence in New York this semester doing research on a second project, which examines liberal Protestant churches and leftist activism in New York during the 1960s and 1970s.
---
Bethany Moreton, "Market Value and Family Values: Spiritual Dimensions of Neoliberal Economies"
February 24, 2014, 4:00 p.m.
80 Claremont, Room 101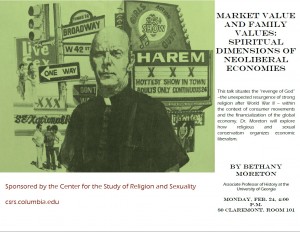 The "revenge of God" –the unexpected resurgence of strong religion after World War II –was in part the story of spiritual responses to the feminization of work; the commodification of reproductive labor; the restructuring of the household; and the growth of "occult economies" whether they involve witchcraft, Ponzi schemes, or mortgage-backed securities.  Many evangelical believers, for example, met the service economy with a renewed theological emphasis on Christian service, elevating reproduction—in the form of opposition to abortion and homosexuality–to its core issue during the very years that reproductive labor became the essential experience of work. Among some white-collar professionals, spiritual exercises and sexual discipline cultivated office virtues like concentration and "flow."  Similarly, the magical appearance and disappearance of wealth that accompanied the financialization of the global economy gave rise both to the sexually conservative Christian financial advice industries and to the various pro-natalist prosperity gospels flowering from Seoul to Kinshasa to Colorado Springs. Rather than a zero-sum showdown between "jihad and McWorld," in other words, we might be witnessing their recombination in unexpected ways that ask us to consider how sexual conservatism organizes economic liberalism.
Bethany Moreton is Associate Professor of History at the University of Georgia. She is the author of To Serve God and Wal-Mart: The Making of Christian Free Enterprise (Harvard University Press, 2009) and is a series editor for the Columbia University Press's Studies in the History of U.S. Capitalism.
---
Jeffrey Kripal, "Super Sexualities"
February 3, 2014, 4:00 p.m.
208 Knox Hall, 122nd Street and Broadway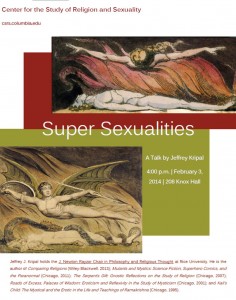 This lecture will explore the notion that people routinely have life-changing mystical and paranormal experiences in and around sexual arousal, and that our present methodologies, all finally materialist in orientation (contextualist, constructivist, historicist), are ill-equipped to recognize these, much less understand them. As scholars, we "take them off the table" to preserve the scientistic, mechanistic, and relativistic orientations of modern and postmodern reason and the illusion that such epistemologies are truly adequate to fathom the heights and depths of human nature. Such a nature, Dr. Kripal will suggest, is far more fantastic than we have imagined in our scholarship. Finally, Dr. Kripal will propose, in a speculative vein, that we begin to entertain more vitalist or panpsychist ontological possibilities in our work.
Jeffrey J. Kripal holds the J. Newton Rayzor Chair in Philosophy and Religious Thought at Rice University. He is the author of Comparing Religions (Wiley-Blackwell, 2013); Mutants and Mystics: Science Fiction, Superhero Comics, and the Paranormal (Chicago, 2011); Authors of the Impossible: The Paranormal and the Sacred (Chicago, 2010); Esalen: America and the Religion of No Religion (Chicago, 2007); The Serpent's Gift: Gnostic Reflections on the Study of Religion (Chicago, 2007); Roads of Excess, Palaces of Wisdom: Eroticism and Reflexivity in the Study of Mysticism (Chicago, 2001); and Kali's Child: The Mystical and the Erotic in the Life and Teachings of Ramakrishna (Chicago, 1995). His present areas of interest include the re-visioning and renewal of the comparative method in the study of religion, the comparative erotics of mystical literature, American countercultural translations of Asian religious traditions, and the history of Western esotericism from ancient Gnosticism to the New Age. He thinks he may be Spider-Man.
---
At the Intersection of Queer Studies and Religion
November 20, 2013, 6:30 p.m.
James Room, 4th Floor, Barnard Hall
Co-Sponsors: Utrecht University, Barnard Department of Religion, and the Columbia Center for the Study of Religion and Sexuality
As part of a broader research project, "Interdisciplinary Innovations in the Study of Religion and Gender: Postcolonial, Post-Secular and Queer Perspectives," hosted by Utrecht University, the Barnard Center for Research on Women and the Barnard Department of Religion present a discussion on the intersections of queer and religious studies. How has queer studies in religion shaped the field more generally? What epistemological contributions does a queer approach facilitate? What are the social and political implications of working at the intersections of these two fields? A selection of workshop papers following this public event will be published in a special issue of the journal Religion and Gender.
Roundtable participants include:
Kent Britnall, University of North Carolina

Patrick Cheng, Episcopal Divinity School

Amanullah De Sondy, University of Miami

Ju Hui Judy Han, University of Toronto

Sarra Lev, Reconstructionist Rabbinical College

Erin Runions, Pomona College

Claudia Schippert, University of Central Florida

Max Strassfeld, University of Michigan

Heather White, New College of Florida

Melissa Wilcox, Whitman College
More information is available at projectreligionandgender.org.
---
Queer Dreams and Nonprofit Blues
Dilemmas of the Nonprofit Tradition in LGBT Politics
October 4-5, 2013
Jerome Greene Hall, Columbia Law School
Over the last four decades, the formal, non-profit institutional structure has come to dominate social justice work in the US, replacing prior traditions of volunteer-led organizations, membership-based organizing and other more horizontal and participatory mechanisms of civic engagement. Nonprofit organizations have grown in part because of their designation by governments as sub-contractors for the delivery of a wide range of social services.
Today, formally constituted nonprofits perform the bulk of the work of advocacy, research, litigation, service delivery and organizing on issues of sexual orientation and gender identity both in the US and around the world. But questions persist about the nature of the gains made, the agendas being promoted, whom they have benefitted and which populations they leaves behind. This conference is interested in exploring the ways in which the nonprofit form and its attendant traditions of governance, financing, staffing, organizational performance, and goal setting have affected the aspirations, organization, mobilization and vision of US LGBT politics. This two-day conference will explore the organizational, legal, decision-making, financing and leadership dilemmas, logics and structures within which US-based and/or funded queer and trans organizations operate. Our goal is to explore the ways in which the nonprofit structure and its logics inform the scope, agenda, forms, and aspiration of queer and LGBT politics, and to explore the dilemmas and contradictions created within social movements run by nonprofit based leaders and organizations. This conference will also to examine alternative leadership and structural strategies that broaden participation, widen the sight of LGBT politics and center on redistribution rather than recognition.
This conference is sponsored by the Engaging Tradition Project at the Center for Gender and Sexuality Law at Columbia Law School and the Barnard Center for Research on Women.