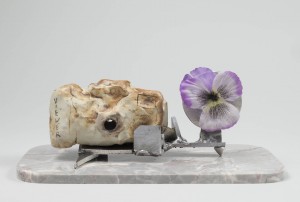 Machine_Gun_lover, 2014
JJ PEET (born 1974) utilizes a multitude of processes including ceramics, drawing and video in the investigation of current affairs, civil protests, class and power.
He was recently in the show "Satan Ceramics" at Salon 94 in New York and is preparing for an upcoming solo exhibitions next year at the Contemporary Austin titled "BRAIN to HAND to OBJECT_".
He received his M.F.A. from Yale University and is a former artist-in-residence at Anderson Ranch where he know teaches as a visiting artist. His work is represented by Redling Fine Art, Los Angeles and On Stellar Rays, New York. JJ teaches Contemporary Ceramics at Columbia University.
http://onstellarrays.com/artists/jj-peet/
http://redlingfineart.com/artists/jj-peet/
JJ will be giving studio visits with August Vollbrecht and Jenny Cho.