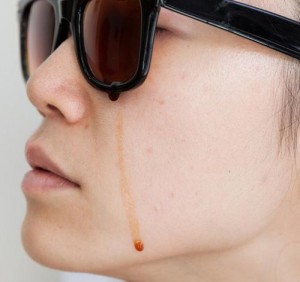 PERFORMANCE IS A CRAFT and not a right, as some artists and related others would have audiences think. Artist/performer Aki Sasamoto, however, is a rare example of someone for whom performance is both craft and right, and her latest show… is yet more proof of her uncommon expertise over this slippery medium. — Jennifer Krasinski, Artforum
Aki Sasamoto works in sculpture, performance, dance and whatever other medium it takes to get her ideas across. In her installation/performance works, Sasamoto moves and talks inside the careful arrangements ofsculpturally-altered objects to activate the bizarre emotions behind daily life.  Her works appear in gallery spaces, theater spaces and in odd sites. These works have been shown at the Kitchen, Chocolate Factory Theater, Soloway, Whitney Biennial 2010 at Whitney Museum, Greater New York 2010 atMOMA-PS1, New York; Mori Museum, Take Ninagawa, YokohamaTriennale 2008, Japan; Gwangju Biennial 2012, South Korea; and numerous other international and domestic venues. She has collaborated with visual artists, musicians, choreographers, mathematicians and scholars. She is also a co-founder of the nonprofit interdisciplinary organization, Culture Push Inc.
Sasamoto received her BFA for Wesleyan University in 2004 and her MFA from Columbia University in 2007.  She is currently an assistant professor of sculpture at the Mason Gross School of the Art at Rutgers University.
Reviews
http://artforum.com/picks/id=49277
http://www.artinamericamagazine.com/reviews/aki-sasamoto/\
Work
http://pica.org/event/aki-sasamoto-2/
http://cargocollective.com/akisasamoto
Studio Visit Lottery Winners: