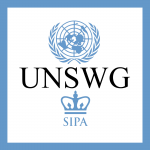 The UNSWG is a student body organization, working in close relation with United Nations Studies (UNS) at the School of International and Public Affairs (SIPA). It aims to connect students, and the entire SIPA community, to issues on the United Nations (UN) agenda and to build a better understanding about the functioning of the organization itself, based on the pillars of International Security, Human Rights, Humanitarian Affairs, Development and Environmental Change, as well as other areas relevant to the work of the UN and the UN System as a whole.
The UNSWG serves as a platform for delivery and exchange of knowledge, ideas, thoughts and reflection, debates and discussion on issues related to the United Nations and the UN Family.
The UNSWG works to foster a close relation between SIPA and the UN: to prepare conferences, seminars, discussion panels and groups; invite speakers and prepare presentations; organize student debates around relevant and current issues related to the UN.
The UNSWG aims to maximize opportunities for SIPA students to be involved with the UN and the greater UN family through meetings with officials; visits to the UN Secretariat and UN agency headquarters; inviting speakers to SIPA; organizing internships, career panels, and support for individual initiatives related to the UN.
UNSWG members are dedicated to principles of worldwide cooperation for peace and prosperity and other main goals of the UN. Its members are dedicated to professionalism, honesty, and to representing the interests of the Working Group, as well as SIPA and Columbia University.