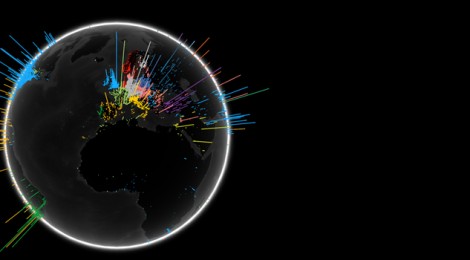 About the Event:
On October 7, please join the UNSPWG for a presentation by Francisco Mancini, the Senior Director of the International Peace Institute (IPI), "Global Trends and Challenges of the 21st Century."
Francesco Mancini will explain IPI's view on current global trends and drivers of conflict, expanding on his presentation from the 2013 UNSP/UNSPWG Retreat.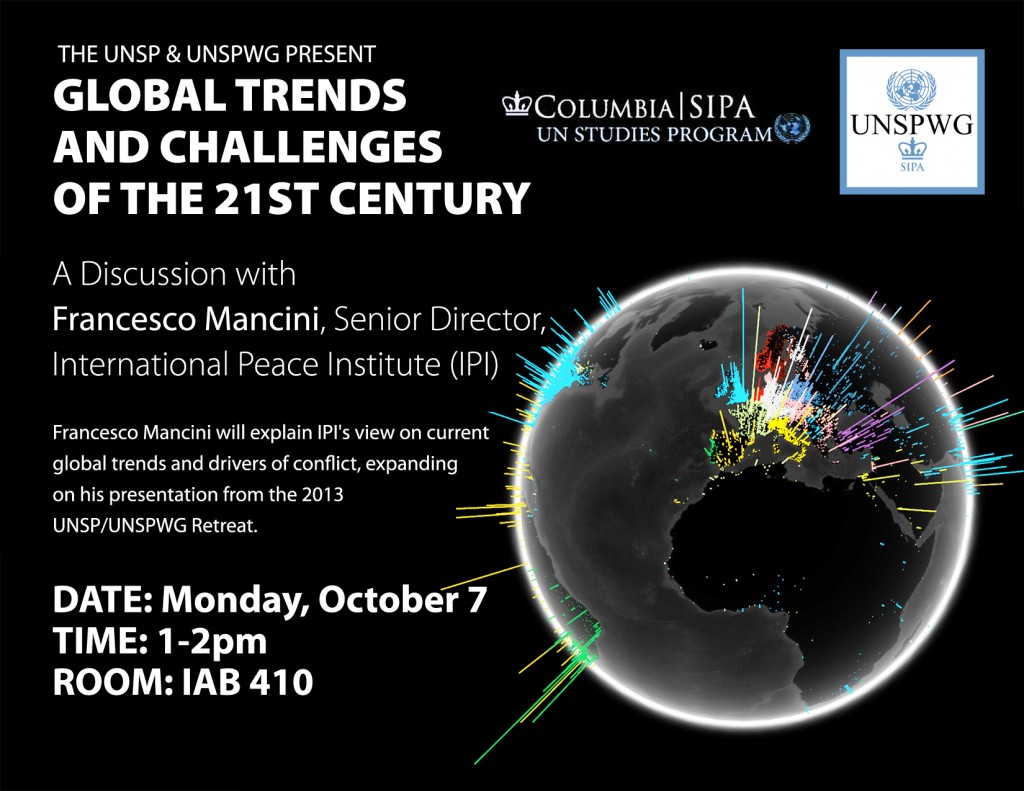 About Francesco Mancini:
Francesco Mancini, Senior Director of Research | mancini@ipinst.org
As Senior Director of Research at IPI, Francesco Mancini serves as principal liaison between the program staff and the President Terje Rød-Larsen. He helps to connect the different program agendas with institutional priorities. He also heads the larger IPI program Coping with Crisis, Conflict, and Change and directs IPI work on peace operations. When he joined IPI in 2004, he served in the Security-Development Nexus program, covering in particular security sector reform.
Francesco is also an Adjunct Associate Professor at Columbia University's School of International and Public Affairs, and held the same position for two years at New York University. Since 2004, he has been teaching a graduate-level seminar on conflict assessment.
Prior to joining IPI, Francesco served as an Associate at the EastWest Institute in New York, where he co-managed the Worldwide Security Initiative, a program designed to enhance international cooperation in addressing new security threats, particularly transnational terrorism.
From 1996 to 2001, Francesco was a senior management consultant at Charles Riley Consultants International in Paris, where he focused on business strategy and change management, managing multi-million dollar reforms in major public sector companies in France, Italy, and Morocco.
Francesco earned his BS in business administration from Bocconi University in Milan, Italy. He received a Master of International Affairs from Columbia University's School of International and Public Affairs, where he studied international security policy and conflict resolution. While at Columbia, he was awarded a fellowship within the Saltzman Institute of War and Peace Studies. In 2002, he researched the peace negotiations in Cyprus at the University of Cyprus in Nicosia.
Selected Publications
For Francesco's analysis on The Global Observatory, click here 
Adam Smith and Arthur Boutellis, eds, The Management Handbook for UN Field Missions, International Peace Institute, 2012, conceived and designed
Francesco Mancini, Introduction in "Preventive Diplomacy: Regions in Focus," International Peace Institute, 2012
Francesco Mancini and Adam Smith, eds, "Partnerships – A New Horizon for Peacekeeping?," Special Issue of theJournal International Peacekeeping, Vol. 18, No. 5, 2011
Francesco Mancini, "A Quiet Diplomat for Challenging Times," UN Chronicle, Number 4, 2011
Francesco Mancini, "Where the Security-Development Debate Falls Short," International Peace Institute, February 2011.
Neclâ Tschirgi, Michael S. Lund, and Francesco Mancini, eds., Security & Development: Searching For Critical Connections (Boulder, CO: Lynne Rienner, 2010).
Francesco Mancini, "Pulling the Rug Out From Under Al Qaeda," Journal of International Affairs 63, no. 1 (Fall-Winter 2009).
Francesco Mancini, "The Company We Keep: Private Contractors in Jamaica," Civil Wars 8, no. 2 (June 2006): 231-250; and in Managing Insecurity: Field Experiences of Security Sector Reform, edited by Gordon Peake, Eric Scheye, and Alice Hills (London: Taylor & Francis, 2008).
Encyclopedia of United States National Security (London: SAGE Publications, 2006; Richard Samuels, ed.), contributions including Osama Bin Laden,Bush Doctrine, Middle East Conflicts, Preemptive War Doctrine, Preventive War, UN Peacekeeping.
Francesco Mancini with Reyko Huang, "Counting What Counts: Ten Steps Toward Increasing the Relevance of Empirical Research in the UN System," New York: International Peace Academy, February 2006.
Francesco Mancini, "Maritime Power in A Flat World," Journal of International Affairs 59, no. 1 (Fall-Winter 2005).
Francesco Mancini, "In Good Company? The Role of Business in Security Sector Reform," London and New York: Demos and International Peace Academy, 2005.
About the International Peace Institute:
The International Peace Institute is an independent, international not-for-profit think tank with a staff representing more than 20 nationalities, located in New York across from United Nations headquarters.  IPI is dedicated to promoting the prevention and settlement of conflicts between and within states by strengthening international peace and security institutions.  To achieve its purpose, IPI employs a mix of policy research, convening, publishing and outreach.