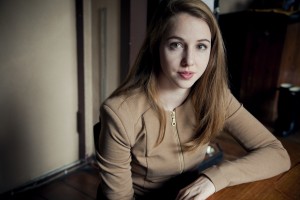 NAME: Callan Stout
HOMETOWN, COUNTRY: Called NY home for over a dozen years now.
But grew up in LA, CA
NAME OF THESIS PROJECT: you do not look
MENTOR: Daniella Topol
Can you provide me with a brief synopsis about your play or project that you are presenting as part of your thesis?
Gerda is trying to sell encyclopedias in order to stay in America. But she keeps getting side tracked as she tries to save a world of other women around her.  As the play loops and unravels in repeating patterns of PTSD, Gerda cannot escape running from her own traumatic past. you do not look challenges the audience to see female trauma that is too often purposefully overlooked. Developed with Fresh Ground Pepper and the Denmark Arts Center.
Can you tell me a little bit about the origin of this play? Where did the idea come from? Did you work on it in class?
This play started from a number of different impulses. For a long time, I've wanted to write about a female traveling sales person who is caught in a deeply unsettling reality where they have to sell a product that has been rendered obsolete by newer technologies, in a community where each house looks exactly the same and it slowly becomes impossible to tell each new street apart from the previous street.
I've also been researching re-homing, which is the quasi-legal practice of the private re-adoption of older "problem" children. These are child who have often been adopted from abroad and later in their lives and have a traumatic history for which they have not received psychiatric care or a safe, caring environment in which to heal. In the practice of rehoming, adults looking to unload a child will turn to the internet and find another adult who is willing to take the child off their hands. There is no official vetting process of the new home and child often end up in bad, often abusive or negligent new home situations. These children are re-traumatized and outside the awareness of child services. I saw a lot of parallels between the practices of re-homing and human trafficking, and wanted to draw them explicitly, while also exploring the female experience of PTSD recovering.
I worked on early ideas of scenes for this play during my second year, but the script really became what it is now while I was on a theatre making retreat this past summer with Fresh Ground Pepper, and the deep exploration of PTSD and trauma recovering happened while I was workshopping the play in Maine at the Denmark Arts Center.
 Who is your mentor? Why did you want them as your mentor?
 Daniella Topol is my mentor. She's the new Artistic Director of Rattlestick Playwrights Theater and before that has worked extensively as a director of original new plays by women playwrights. I first met her almost 10 years ago when she was directing Topsy Turvy Mouse by Peter Gil-Sheridan as part of the Cherry Lane Theatre's Mentor Project. I liked the way she thought through the play with the actors and playwright in rehearsal. She has a very dramaturgical brain, but also a director's brain and I wanted to work with a mentor who could expand my thinking about my own text.
 Is there a question that your play is asking, or that you were seeking to answer when you started writing this play?
This play explores how trauma and traumatic events follow us even as we try to recover and move forward in our lives.
 What has been most challenging about this process?
 Every play I write is a challenge. For each new play I feel like I'm reinventing the art of playwriting. Each time I feel like I'm teaching myself how to write all over again.
 What would you like to be doing in 10 years?
Still writing plays. And making theatre. And telling stories. And falling in love with theatre, theatre makers and my collaborators over and over again.
____________________________
Callan Stout is a New York based playwright, who grew up in Los Angeles. Her plays have been seen in New York, London, Los Angeles, Cameroon, and other US cities. Her plays include LEG (Princess Grace Semifinalist, Hope on Stage Award Finalist, Cherry Lane Theatre 2014 Mentor Project Semifinalist, everything but 3 New Plays, Truffle Theatre Company, 12 Peers Theatre), Girl Becomes Bone (Pipeline Theatre Company), Breathing in the Rain (Columbia University), A Song for A Surfer (Savage Players, The Vagrancy and LA Female Playwrights Initiative, Truffle Theatre Company), American in Camera (Fresh Ground Pepper), The Pastry Queen (Writer's Guild of Great Britain), More than Breakfast (NYU, eyeBLINK). Her children's plays Brownies, Bicycles & Bigfoot and her adaption of The Jungle Book, both are published by YouthPLAYS. The Jungle Book has been performed across the US and in Cameroon. She is a founding member of Cockpit Writers Group, an alum of Fresh Ground Pepper's Playground Play Group, an alum of Pipeline Theatre Company's PlayLab and a member of The Dramatist Guild. She graduated from NYU's Tisch School for the Arts with a BFA in Dramatic Writing and from University of Aberdeen with a Masters in Folklore. Callan is currently an MFA candidate in playwriting at Columbia University. www.callanstout.com