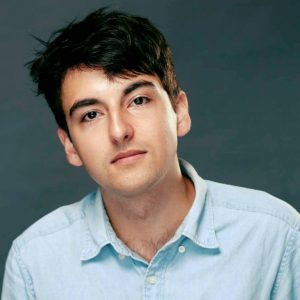 NAME:  Aeneas Sagar Hemphill
HOMETOWN, COUNTRY:  Vienna, VA (USA)
NAME OF THESIS PROJECT:  Black Hollow
 MENTOR:  Naomi Wallace
Can you provide me with a brief synopsis about your play or project that you are presenting as part of your thesis?
Black Hollow is an American myth about the uniquely American problem of gun violence.

Can you tell me a little bit about the origin of this play? Where did the idea come from? Did you work on it in class?
This idea originated in Lynn Nottage's "American Spectacle" class during my first year, in which we drew inspiration from theatrical forms outside of the realm of theatre proper. Black Hollow was inspired by the structure of a trial. I had been thinking about the underlying principles of justice in our society and how much it resembles Aristotelian dramatic structure: eliminate the deviant, achieve catharsis, and restore order. Our method of justice, of consequence, revealed itself as inadequate to me in dealing with issues that are systemic and historical. It made me think of how so many of our public discussions are dead ends, how we refuse to truly examine where so many of our problems really come from. Our conversations around gun violence are one of the clearest and most maddening examples of this. So I tried to wrestle with it in a way I hadn't seen anyone do before. In this play the town, without anyone to punish, deprived of that catharsis, turns inward, examining itself to find answers, and a way to move forward.
Who is your mentor? Why did you want them as your mentor?
Naomi Wallace was a perfect choice for this project for many reasons. I've long been a fan of her work: it's political, poetic, and grounded. She is extremely thoughtful, bold, and has a deep understanding of what she explores. I wasn't seeing very many in the current field talking about what she talks about in the way she talks about it. In many ways she is the kind of writer I want to be, and a perspective I want to bring into the mainstream. I think her work is even more vital than it's ever been in this era of politics we have now entered.
 Is there a question that your play is asking, or that you were seeking to answer when you started writing this play?
The questions and themes this play deals with have evolved over time, but the main thrust has always been to interrogate violence and our response to it as a society. I try to walk the line between recognizing the phenomenon of American gun violence as unique and connecting it to notions we have about terrorism. I think those connections are important, as they speak to a more basic fundamental problem in humanity.
 What has been most challenging about this process?
This is a very difficult subject, especially to dramatize. I'm trying to come at it from a unique angle, and speak a truth that is not apolitical but moves beyond the parameters of our current politics. This is a play that I want all kinds of people to be able to experience and react to. I don't want to preach to the choir, to reinforce a particular viewpoint. For this play to truly matter, it has to contend with the issue on a human scale, and it has to be healing in some way.
 What would you like to be doing in 10 years?
My hope is to have made some progress in multiple disciplines. I am emphasizing playwriting, but I hope to also work in film, television, music, and journalism. I want to be a more
 Anything else you would like to say?
Art has never been more important, and it has never been more important to have purpose.
_____________________________________
Aeneas is a writer and performer from Washington, DC. He is a graduate of Kenyon College and is currently pursuing an MFA in playwriting at Columbia University.