FRIDAY, APRIL 1ST, 2011
NAC Presents the First Annual CU Pow Wow
Columbia University's Native American Council hosted their first annual Pow Wow at Pupin Plaza.
The day was full of dancing, great food, and a celebration of Native culture. It was a successful first Pow Wow!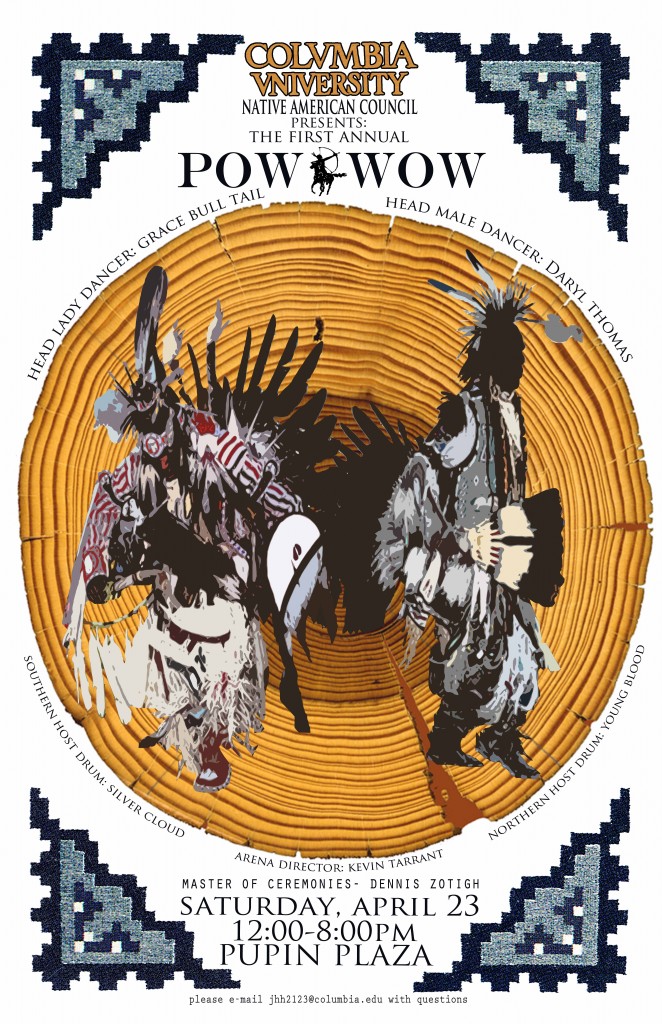 A huge thank you to those who put this together. Graphics credit: Dustin Martin (CC 2011)
(Dustin's prior work: http://www.indigodesignnetwork.org/?p=774)
October 12, 2012
NAC in the news: Columbia Spectator
Students crowd Low for Columbus Day
TUESDAY, SEPTEMBER 21, 2010
The first meeting of the year is set for this Tuesday, September 21 at 8:30 pm in the East Campus residence hall in Room #1806.  Come to learn more about NAC and how you can get involved!  Call Halley 910-987-0676 or John 405-209-8656 when you get to East Campus so one of us can sign you in (if you're not a Columbia student).  See you there! Map of Columbia – For those who don't know how to get to East Campus
TUESDAY, APRIL 13, 2010
2010 All-Ivy Native Council Conference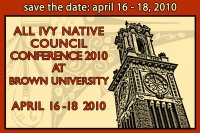 Brown University will host the All Ivy Native Council Conference from April 16th – 18th,  2010. The All Ivy Native Council (AINC) is a student organization comprised of Native  American representatives from all of the Ivy League schools. The Conference, hosted by an Ivy  College every Spring, is dedicated to raising awareness about Native American issues in our  collegiate and local communities. It also serves as an opportunity for Native American  students and alumni in the Ivy League to network and support each other across their diverse  campuses. A this year's conference, we hope to bring scholars and distinguished guests to infuse dialogue in the Brown community and our fellow Native American Ivy League scholars with our theme "Natives Near and Far: A Congruent Evolution – Growth, Progress, and Adaptation". Some of the topics and discussions we hope to have during the Conference include – * Keynote presentation by Dr. Ferlin Clark, President of Dine College, Navajo Nation, Arizona * Presentation by new American-Indian Studies faculty at Brown University * Panel discussion by Native American alumni on 'Life After College' * Inter-racial marriage in the Native American community * Domestic violence * State-tribal relationships and history of New England tribes * Presentations by graduate schools and companies recruiting Native American students INFORMATION REGARDING REGISTRATION CAN BE FOUND AT THIS LINK: http://www.brown.edu/Student_Services/TWC/native-conference.html
SATURDAY, OCTOBER 10, 2009
Come out to Low Plaza Monday against Columbus day and for implacement of Indigenous peoples day. Columbia Spectator Article
Check it out at: drumsalongthehudson.org Lotus Music and Dance is hosting this Native festival this weekend at Inwood Hill Park, located at 218th St and Indian Road. This Eighth Annual event is being sponsored by Lotus in collaboration with the New York City Department of Parks & Recreation, the New York City Department of Cultural Affairs, WABC-TV, Councilman Robert Jackson, and JP Morgan Chase.
Its the only big outdoor Manhattan-based powwow, and its been going since 2002. If you're around the city, and looking for something fun and exciting to do this Sunday (besides Summer move in; I know I'm feeling the pain right along with you), you should come out. Its an organization worth our support. I'll definitely be headed uptown Sunday afternoon.
All Ivy Native Council CONFERENCE at Yale coming up! April 3-5 Register online before March 20th for cheaper, early fee: http://spreadsheets.google.com/viewform?formkey=cGRLUERQUkRET0xiQnktM3dwVkdnWGc6MA.. we will be taking the metro north to new haven. Might get half of the cost reimbursed.
MONDAY, FEBRUARY 23, 2009
Stephen Silliman, who spoke at NAHM's archaeological panel event, hosts a field school each summer. Applications are up, and will be due in March. It sounds like a really great program, if you are at all interested in archaeology and especially if you would like to experience first hand how archaeology and Native American society can work together. The pdf copy of the application can be found here: http://www.faculty.umb.edu/stephen_silliman/fieldschoolapplication-2009.pdf
WEDNESDAY, NOVEMBER 19, 2009
Repatriating Native Alaskan Songs at Columbia University Wed, Nov 19, 8:30p – 9:30p Fayerweather 313 Currently, Columbia University owns over 120 Iñupiat songs gathered by Laura Bolton, an eminent folk music collector of the 20th century. Today, these songs are in the process of being returned to their communities of origin in Barrow, Alaska. Two Columbia Professors involved in the repatriation of the collection, Aaron Fox and Chie Sakakibara, will be sharing some of these songs, as well as presenting their knowledge on the joint project between Barrow, Alaska and Columbia and discussing the importance of considering intellectual property rights in repatriation policies. Snacks will be provided.
MONDAY, NOVEMBER 17, 2008
Hey Everyone, Please be sure to read this letter sent by Sandy Grande.
Tecumseh Project "To counter the threat of white encroachment and dispossession, Tecumseh conceived of an alliance of all remaining Indigenous peoples, from Canada to the Gulf of Mexico, from the prairies of the Midwest to the swamplands of Florida. All Indian people would set aside their ancestral rivalries and unite into a single movement to defend their culture, their homelands, and their very lives."

The Tecumseh Project is dedicated to advancing and expanding sovereignty and self-determination for Indigenous peoples both in the U.S. and internationally. To this end, it is committed to building transcultural and transnational solidarities among Indigenous and other peoples working toward decolonization and the effort to develop a world free of exploitation. Background As the global Indigenous solidarity movement gains momentum, there has been, consequently, considerable turn over in Indigenous leadership. At the same time, the unprecedented involvement of Presidential nominee Barak Obama with Native American constituencies has had a ripple effect throughout Indian Country. These changes have sparked revitalization among several organizations and constituencies, creating a synchronicity of initiatives.

For example:

• Ford Foundation, launching of the Native American Arts and Cultures Foundation • Columbia University and Barnard College efforts to launch a Native Studies initiative

• Formation of the new national Native American Studies Association

• D'Arcy McNickle Center's launching of the Newberry Consortium in American Indian Studies that will include institutions nationally and internationally

• NYU Hemispheric Institute, getting ready to launch Cultural Center in Chiapas

• The passing of the United Nations Declaration of the Rights of Indigenous Peoples Clearly, this is an opportune moment to bridge visions and consolidate resources in a broader effort to promote Indigenous sovereignty and self-determination.

There has long been a need for an organizational entity that helps to bridge the gap between scholarly research and public discourse as generated by the academic, activist, and policy-making sectors. Moreover, while there is wide interest in developing a Native Studies initiative in New York City (as demonstrated through the symposia of Native scholars held at Columbia University 2007-2008), the diversity of populations and interests renders traditional approaches incompatible. New York City, however, presents its own unique set of assets, most notably; it is the home of the largest, most diverse, and fastest growing urban Indian population in the United States as well as the home of numerous governmental and non-governmental institutions that work on behalf of Indigenous peoples including: The United Nations, the National Museum of the American Indian, the Hemispheric Institute (NYU), the American Indian Community House, and the Natural History Museum among others. Project Description The broad aim of the proposed Tecumseh Project would be to advance a more inclusive and robust public discourse on Native Americans in New York City as well as on the challenge of achieving intellectual and political sovereignty across Indigenous communities globally. In so doing, the Project aims to bring to the forefront Indigenous perspectives on democracy and human rights that have been marginalized or distorted within traditional venues, producing counter-narratives of sovereignty and self-determination. Efforts would be driven by a core of Indigenous and non-Indigenous scholars, activists, and community members committed to building transcultural and transnational solidarity among Indigenous peoples and others committed to reimagining a world free of myriad forms of exploitation. Toward this end, the Project would engage a range of issues, from education and public health to the arts and environmental science.

Possible Activities

• Production of policy papers, reports, articles, original research

• Develop conferences, workshops, for the scholarly community, activists, public schools, and governmental and non-governmental entities

• Develop a mapping of Native New York collecting existing resources, histories, archives, leaders, community members, activists, scholars, and artists

• Develop partnerships with other centers and institutes at Barnard, Columbia, NYU and CUNY schools working on issues of race and social justice

• Build solidarities among key constituencies serving the Indigenous community in NYC

• Build solidarities among key constituencies serving the Indigenous community nationally and globally

• Develop an electronic clearinghouse on important source materials

• Host an annual lecture and film series

• Host fellowships for Indigenous leaders and scholars interested in working in New York City

• Provide course offerings for students interested in Native American Studies Theoretical Framework The framework for the Project draws from Grande's work on Red Pedagogy (2004) and is guided by the following principles of Red Pedagogy:

• Red Pedagogy is a pedagogical project wherein pedagogy is understood as being inherently political, spiritual, and intellectual.

• Red Pedagogy is fundamentally rooted in indigenous knowledge and praxis

• Red Pedagogy is informed by critical theories. A red pedagogy searches for ways it can both deepen and be deepened by engagement with critical and revolutionary theories of education and society.

• Red pedagogy promotes an education for decolonization. The root metaphors of decolonization (equity, emancipation, sovereignty, and balance) help to define a pedagogy that makes no claim to political neutrality but rather engages a method of analysis and social inquiry that troubles the capitalist-imperialist aims of unfettered competition, accumulation, and exploitation.

• Red Pedagogy is a project that interrogates the relationship between democracy and indigenous sovereignty. In this context sovereignty is broadly defined as "a peoples right to rebuild its demand to exist and present its gifts to the world…an adamant refusal to dissociate culture, identity, and power from the land " (Lyons, 2000).

• Red Pedagogy actively cultivates a praxis of collective agency. That is, it builds transcultural and transnational solidarities among indigenous peoples and others committed to reimagining a democratic/sovereign space free of imperialist, colonialist and capitalist exploitation. • Red Pedagogy is grounded in hope. That is, not the future centered hope of the Western imagination, but rather a hope that lives in deep contingency with the past – one that trusts the beliefs and understandings of our ancestors, the power of traditional knowledge, and the possibilities of new understandings.