This past weekend Columbia attended the New Haven Regional Championship Tournament hosted by Yale University and brought home two bids to the next round of Competition! Only 8 of the 25 teams that attended this tournament will advance to the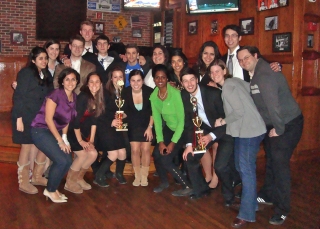 Opening Round Championship Series (ORCS). Team 515 took home a perfect 8 ballots and ended their weekend as the Regional Champions. Team 514 finished at sixth place with a total of 6 ballots. Both teams are thrilled to compete in one month at the White Plains ORCS hosted by Pace Law School.
Along with avancing two teams, Columbia also brought home three individual awards. David Berman, Adrianne Isaacson, and Harshitha Kilari received Outstanding Attorney awards each receiving a total of 18 ranks. A huge congratulations to them and to the rest of Columbia Mock Trial for a truly outstanding job! Both teams will compete in White Plains on March 10th and March 11th and hope to advance to the National Championship Tournament in Minneapolis, Minnesota in April!