Greg Blotnick – WTAW – per Dave Lutz
YUAN RIPS– China strengthened the renminbi's trading range on Friday by the most in more than a decade[ft.com] as investors awaited data expected to show Beijing is continuing to burn through its reserves to support the currency.  Following the biggest two-day surge in the offshore version of the renminbi in history, the People's Bank of China on Friday fixed the midpoint for the onshore market 0.9 per cent stronger at Rmb6.8668 per dollar, the biggest rise since unpegging from the US currency in 2005.
Goldman Sachs advised clients[bloomberg.com] that the best times to bet against the yuan have tended to be after interventions that flushed out bearish positions, or when China concerns were off traders' radar screens.
greg blotnick 1
The cost for banks in Hong Kong to borrow yuan from each other overnight soared to 61.3% on Friday, the highest since Jan. 12, 2016[wsj.com].  To bet on a drop in the yuan, investors often "short" the currency by borrowing yuan in Hong Kong, swapping them for dollars and later swapping them back at a more favorable rate. As the cost of borrowing yuan rises, so does the cost of that trade. That can force investors to buy back yuan in Hong Kong, driving the currency higher[wsj.com].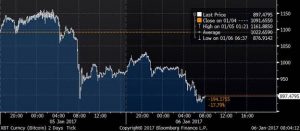 The Chinese government is due at the weekend to release data on its December foreign exchange reserve holdings[ft.com]. November's fall of $70bn in the total — the largest in 10 months — was seen as a sign of rising outflow pressures and sparked debate about how much the PBoC was prepared to burn through to slow the renminbi's slide.  Bitcoin has been slammed for 17% in the last 2 days on the squeeze
All eyes are on[bloomberg.com] China's foreign-exchange holding data tonight, which will update with last month's figures on Jan. 7. If they drop below the psychologically-significant $3 trillion threshold, the currency would come under further pressure.  Analysts at Bank of America Merril Lynch expect reserves to dip to $3tn, a drop of $25bn in December – "China can clearly prevent people shorting its currency but can only do so as long as its still large FX reserve pile lasts" said Rabobank[ft.com].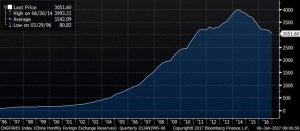 greg blotnick 4
Lotta guys are short the Chinese ADRs as a proxy for being short the Yuan.   JD, NTES, BABA, TAL all ripped higher on the Yuan move.    Chinese Internet Names up ~400bp on average yesterday.  Good timing for MS to do a quick spot secondary in JD.  KWEB, The Chinese Internet ETF, has leapt 6% in last 2 days to the 200dma,
EMPLOYMENT!– Today is Jobs Day, and after ADP / ISM Employment yesterday – expectations for a miss are ramping.  Economists forecast a net gain of 183,000 jobs and an unemployment rate of 4.7%.  "The only reason to expect less than 210,000 [on Friday] is that it's getting harder and harder to find people to fill the positions that employers have open. It's a supply issue, not a demand issue," said analysts at DBS.