Early Life
Jean-Michel's Childhood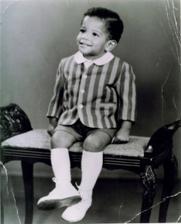 Jean Michel Basquiat born December 22, 1960 in Brooklyn to a Puerto Rican mother and a Haitian father. His mother was an artistic woman herself and she greatly encouraged Basquiat's development. At an early age, Jean-Michel decided he wanted to be a cartoonist and so his mother took him to art museums in order to incite his childhood drawing. When he was eight years old, he was seriously injured in a car accident and hospitalized for a month. His mother brought him a copy of Grey's Anatomy which later influenced his work greatly. She also enrolled him as a junior member in the Brooklyn Museum of Art where his teachers early recognized his artistic ability and encouraged him to continue. After his parents separated in 1971 and his mother was committed to mental institutions, Basquiat ran away from home and slept on park benches eventually being arrested. That same year, Basquiat dropped out of Edward R. Murrow High School after throwing a pie at his principal. His father barred him from coming back home and so Basquiat couch hopped with his Brooklyn friends. He sold his own T-shirts and homemade postcards to support himself and further delved into his artistic expression by exploring graffiti.
Jean-Michel's Graffiti Days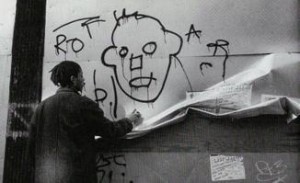 In 1971, the tag "Taki 183" was spread throughout the subways of New York City and it jump started the modern graffiti movement. This tag had a major effect on Jean-Michel as he noticed these works and used it later in his art. In 1977, Jean-Michel Basquiat developed his own graffiti tag which later gained widespread popularity. He first developed "SAMO"  with a friend from high school, Al Diaz. SAMO stood for "Same Old Shit" and represented the inner workings of Basquiat's precocious teenage mind. It was his ability to see history repeating itself before his very eyes that catapulted him to greatness. The designs featured inscribed messages such as "Plush safe he think.. SAMO" and "SAMO as an escape clause"and were featured on neighborhood buildings in Lower Manhattan.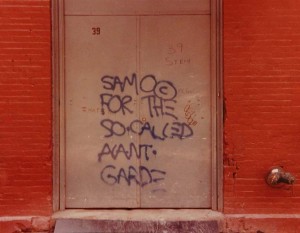 In December 1978 Village Voice article on the SAMO graffiti interviews Basquiat and Diaz and in 1979, he was interviewed on Glenn O'Brien's New York City cable TV talkshow "TV Party." The 1980′s saw the astonishing rise of Basquiat's career and the late 1970′s served as a great launching pad. In 1980, Basquiat is picked for the lead role of a down and out painter in New York Beat, a film showcasing New York's downtown music scene. Filming starts in December 1980 and finishes January 1981 (released in 2001 as Downtown 81).
[youtube]https://www.youtube.com/watch?v=EzGWSl7iO7Y[/youtube]