The Last Years (1987)
His heroic addiction and deepening depression due to Andy Warhol's death in 1986 severely curtailed his output of his work during this period. Although Basquiat did produce a few masterpieces during this time era, it all came to an end on August 12, 1988 due to a heroin overdose. 
She Installs Confidence and Picks His Brain Like a Salad (1987)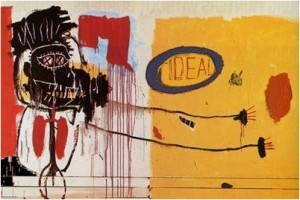 The feeling encapsulated in "She Installs Confidence and Picks His Brain Like a Salad" is one not usually seen in Basquiat's work. It represents, as the title clearly shows, the positive interactions that occur between a man and a woman who love each other. Whether it be a mother-son pairing or a romantic relationship, this painting is optimistic with respect to both its message and its bright hues. This change in theme is jarring and yet much appreciated as it serves to balance out the tone of whatever Basquiat exhibit this painting should be a part of; the circling of the word "Ideal" celebrates the way things should be rather than the way that depicting or criticizing the way things actually are. Either way, the assignment of gender serves to illuminate that particular stage of Basquiat's life. He either had or wished to have a woman help him in 1987 through the death of Andy Warhol and his worsening drug problem. He puts a positive twist on the bleakness of his life by celebrating the strength of women.
Riding with Death (1988)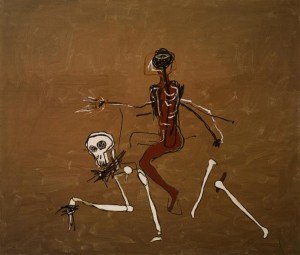 Perhaps my most favorite piece from this less than prolific Basquiat era is "Riding with Death". It is both visually stunning and has a prescient subject matter. Considering Basquiat's death later that year, it is as if the artist knew what was going to happen to him and this eerie premonition makes sense when remembering the phrase " Most Young Kings Get Their Head Chopped Off" from Charles The First. The canvas had been grounded with a dull, brown paint, which is unlike most of Basquiat's previous work. It is a departure from the colorful backgrounds the artist typically employed and probably reflects the less than bright mood of the artist. Basquiat's depression was getting worse and his heroin addiction was becoming more paralyzing. Basquiat knew he was headed down the path to death and at the exact moment he painted this, he already felt his limbs and skull falling off. In the center of "Riding with Death", a faceless figure is shown riding a skeleton, the back of its head facing the viewer and its arms flailing to the side. The two bodily instruments an artist needs-his mind and his arms- were falling by the side and perhaps this represents the lack of output during these last years. The fame that Basquiat had become a double-edged sword. It allowed for him and his family to live comfortably, but it also enabled his drug addiction to become unmanageable, and eventually, fatal.