Basquiat's Art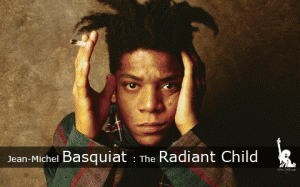 In 1981, renowned critic Rene Ricard published an article "The Radiant Child" in The Artforum Magazine that brought Basquiat to the attention of the art world. Ricard noted that Basquiat's early work had the potential to create a massive shift in the art world and ultimately he was right. Basquiat's singlehandedly stole the spotlight from art's savior Andy Warhol, whom Basquiat actually met at a coffee shop in 1981 and became great friends with, while at the same time helped guide the transition from Pop to Neo-Expressionism. It certainly did not hurt his mystique that he was a black artist. Never before in the history of art had the art society focused its attention so astutely on a black man: a black man who voiced the plights and accomplishments of his race during the 1980s. He did not do so with his words but with his transcendent art. One can simply google Basquiat's work and see an often recurring figure in all of his paintings: an unnamed head or stick figure painted in a black hue. But then again, it makes senses that Warhol's protege would be so keen on using art as a platform to show the wrongs of 20th century American society. It was Warhol who started this trend.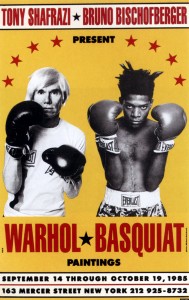 The poster above is an iconic image of the contemporary art history. It depicts Andy Warhol and Jean-Michel Basquiat, the two last greats of American art, standing side by side as collaborative competitors and the best of friends. Their friendship developed through a love for their profession with the bond perhaps being cemented by recognizing each other's greatness. If Jean Michel-Basquiat (1960-1988) was the last great American artist, then Andy Warhol was certainly his predecessor. He was the greatest artist of the 1960's and 1970's and maybe through his recognition of this lineage, he chose to work closely with Basquiat. The two worked closely on over 150 paintings over the course of 3 years, but unfortunately these works were not received well by critics. The expectations of their output were astronomical considering their names of course so any average work would have been considered mediocre by their standards; however, after their deaths in the late 1980s, the popularity of their collaborative work has soared.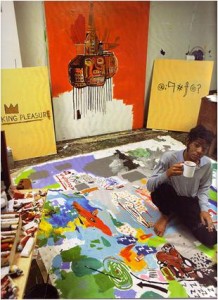 This picture was taken in 1987 at the Great Jones Street Studio in New York yet at the time this picture was taken, Basquiat's presence in a studio was an anomaly. His heroic addiction and deepening depression due to Andy Warhol's death in 1986 severely curtailed his output of his work during this period. Although Basquiat did produce a few masterpieces during this time era, it all came to an end on August 12, 1988 due to a heroin overdose.