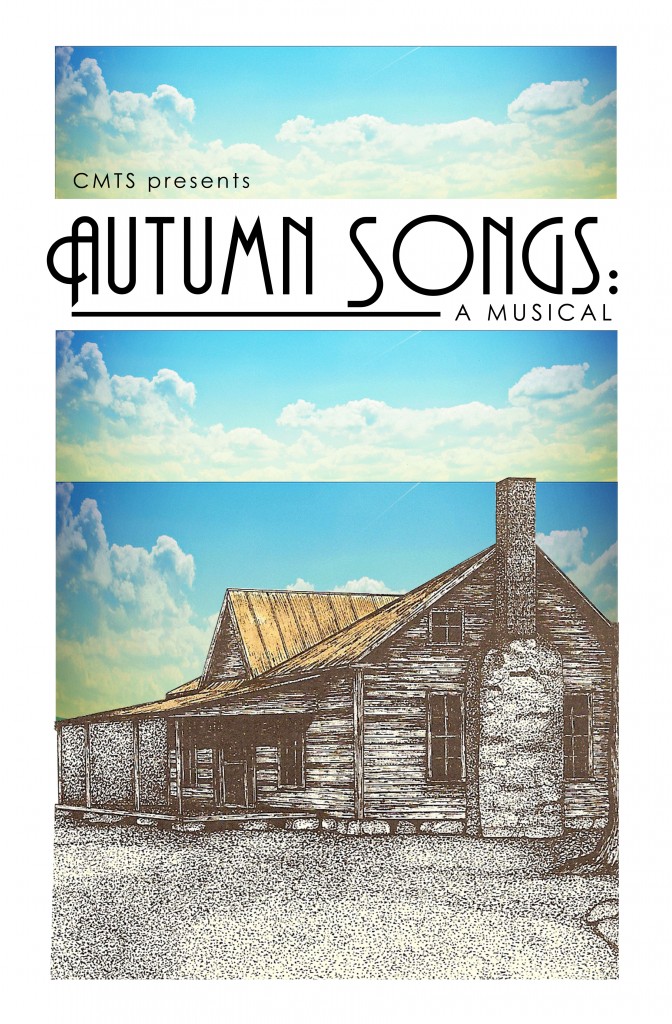 Autumn Songs: A Musical

The moving story of two sisters in Depression-era South Carolina, one dreaming of fame and the other longing to settle down. Conceived of by Alex Hare (Director), Autumn Songs is told entirely through song and draws on contemporary musicals including Side Show, Floyd Collins, Violet, Grey Gardens, and The Spitfire Grill. The show explores the complicated relationship between young people and their hometowns, marked by both emotional attachment and a desire to escape.

Autumn Songs played November 30 and December 2, 2011 in Roone Arledge Auditorium.
Playbill

Coming!
Cast and Crew
Cast

Devin Lloyd (CC '15) as Lizzie Montgomery
Jenny Singer (BC '15) as June Montgomery
Zach Vargas-Sullivan (CC '14) as Pvt. Sammy Wright
Tommy Doyle (Marymount '15) as Lee Ramsey
Allie Carierri (CC '15) as Florence/Chorus
Molly Forgang (BC '14) as Hannah/Chorus
Chloe Gogo (BC '13) as Katie/Chorus
Elizabeth Hertzog (BC '12) as Shelby/Chorus

Creative Team

Director: Alex Hare (CC '13)
Musical Director: Solomon Hoffman (CC '14)
Choreographer: Adrianna Aguilar (BC '13)
Art Director: Rikki Feuerstein (CC '13)
Producer: Hillary Kritt (BC '12)
Producer: Cody Haefner (CC '12)

Production and Design Teams

Assistant Director: Katie Cacouris (CC '15)
Assistant Choreographer: Olivia Peluso (BC '13)
Assistant Producer:Emile Barraza (SEAS '13)
Stage Manager : Claire Ding (CC '14)
Technical Director: Michael Hsu (SEAS '12)
Assistant Tech Director: Becca LoSchiavo
Lighting Designer : Brett Berger (SEAS '15)
Set Designer: Jiin Choi (CC '14)
Assistant Set Designer: Lola Conte
Costume Designer: Ilana Breitman (BC/JTS '13)
Media
Watch Autumn Songs

The November 30th production of Autumn Songs was filmed.

[youtube]http://www.youtube.com/watch?v=49_-trPCi-k[/youtube]

Video courtesy of Stewart Feuerstein.
Production Photos

[slideshow id=1]

Photos courtesy of Michael Hsu.
Press
In anticipation of Autumn Songs, the Columbia Spectator published an article about the creation of Autumn Songs.

Bwog's review of Autumn Songs can be found here.